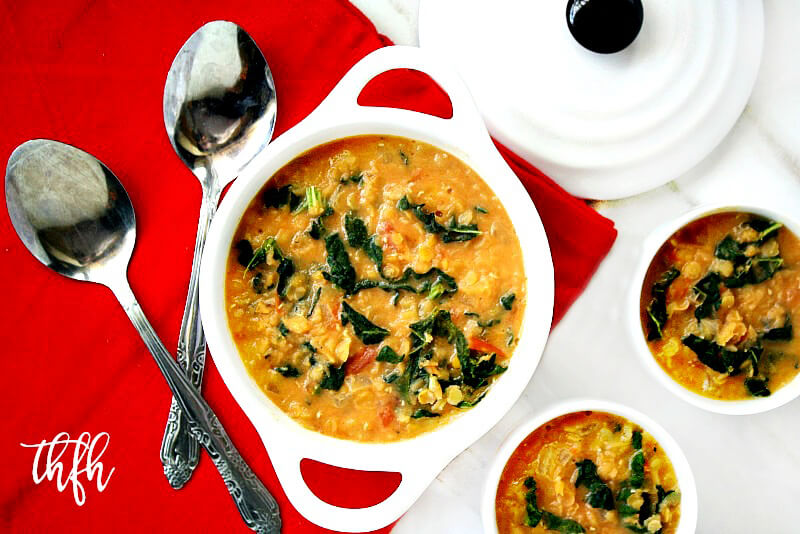 Creamy Vegan Red Lentil and Kale Soup
Yield 4 servings
Vegan / Gluten-Free / Dairy-Free / Nut-Free
Ingredients
For the soup:
For the add-ins:
Instructions
Prepare the veggies:  Dice the onions and tomatoes; de-stem the kale and chop into small strips.
Add all ingredients for the soup to a medium sized pot, stir together well and bring to a boil.
Reduce the heat to simmer (low/medium heat), cover and cook for 20-30 minutes, or until the lentils are soft.  Stir occasionally to prevent burning and add a little more veggie broth if needed.
Once the lentils are soft, remove from heat and add the chopped kale and entire can of coconut milk. 
Stir to make sure everything is well combined.  Adjust seasonings to your preference.
Enjoy!
Notes
Get all your organic ingredients delivered straight to your door at up to 25 - 50% off retail by cutting out the middleman and retail markups with a Thrive Market Membership and save 15% off on your first order.
  The recipe and photographs for "Creamy Vegan Red Lentil and Kale Soup" by Karielyn Tillman of The Healthy Family and Home website are licensed under a Creative Commons Attribution Non-Commercial No Derivatives 4.0 International License and cannot be used without my written permission.
Recipe Roundups: Food Bloggers are always welcome to use a photo and a link back to my original post to share on recipe roundups without requesting permission.
Recipe by The Healthy Family and Home at https://thehealthyfamilyandhome.com/creamy-red-lentil-and-kale-soup/