These Crispy Peanut Butter Protein Cups take only 5 minutes to make and only 5 clean ingredients.
The hardest part about making them is you have to practice patience and wait about an hour or so for them to harden in the freezer, but the reward is definitely worth the wait!
They're ~kind of~ similar to my Healthy Peanut Butter Cup recipe, except they are completely peanut butter with an added crispy crunch from the brown rice cereal.
It's almost like eating a peanut butter Nestle Crunch Bar!
And of course, a peanut butter treat just wouldn't be the same without a little chocolate, so I added a cacao drizzle to the top.
To give them an extra boost of nutrition, I used a clean, organic plant-based superfood protein powder, Epic Plant-Based Protein.
While these aren't exactly the same, it's a crispy peanut butter treat, so let's look at the very long ingredient list:
S.A.D. (Standard American Diet) South Beach Living Chocolate Peanut Butter Crispy Bars
Ingredients: Soy Protein Crisps (Soy Protein Isolate, Tapioca Starch, Salt), Maltitiol Syrup, Multigrain Crisp (Wheat Flour Whole Grain, Corn Meal Degermed Yellow, Oats Flour Whole Grain, Salt) Oligofructose, Peanut Butter (Peanuts Ground Roasted, Palm Kernel Oil Fractionated, Cane Juice Invert Syrup Evaporated, Sugar, Glycerine, Maltitol, Corn Syrup, Contains less than 2% of), Milk Non Fat, Milk Protein Concentrate, Milk Protein Isolate, Peanuts Oil, Soy Lecithin, Chocolate, Cocoa Processed with Alkali, Flavors Natural and Artificial, Salt, Inlin, Caramel Color, Butter (Cream, Salt), Cream Heavy, Monoglyceride, Carrageenan, Ascorbic Acid, Biotin, Calcium Pantothenate, Calcium Phosphate, Ferric Orthophosphate Iron III, Folic Acid Vitamin B9, Niacinamide Vitamin B3, Riboflavin Vitamin B2, Sucralose, Thiamine Mononitrate Vitamin B1, Vitamin B12, Pyridoxine Vitamin B6, Vitamin E Acetate, Zinc Oxide, Magnesium Oxide, Chromium Chloride, Potassium Iodide, Sodium Molydate, Sodium Selenite, Copper Gluconate, Manganese Sulfate, Phytonadione, Vitamin A Acetate, Vitamin and Mineral Blend
It's a box of fake, processed food made with GMO's (soy protein isolate, soy lecithin, cornmeal, corn syrup, dairy), white refined sugar and salt, non-organic peanuts that can contain up to 8 different pesticides, and a long list of synthetic "vitamins and minerals".
My healthier, clean version is made with clean, real food ingredients and it's organic, vegan, gluten-free, dairy-free and contains no refined sugar.

Expert Tips + Ingredient Substitutions For Crispy Peanut Butter Protein Cups
Here are some expert tips to make this recipe perfectly:
Tip #1: I added my favorite vanilla plant-based protein powder, Epic Plant-Based Protein, for extra nutrition. You can use your favorite vanilla protein powder (use 4 tablespoons) or leave it out completely if you prefer.
Tip #2: This would be a good recipe to use with homemade peanut butter. Non-organic peanut butter can contain up to 8 different pesticides.
Tip #3: I used the organic, gluten-free Erewhon Crispy Brown Rice Cereal with the following ingredients: organic brown rice, organic brown rice syrup, sea salt.
Tip #4: I like to use these muffin cups and they are reusable and easy to clean. They are standard-sized muffins cups and the recipe will make 8 of these.
Want More Healthy Vegan No-Bake Dessert Recipes?
Check out these:
or my CLEAN DESSERTS Cookbook with 72 plant-based vegan + gluten-free no-bake dessert recipes made with clean, real food ingredients just like this one that you will love!
Crispy Peanut Butter Protein Cups (Vegan, Gluten-Free, Dairy-Free, No Refined Sugar)
Print recipe
Ingredients
For the peanut butter cups
4 tablespoons Epic Plant-Based Protein Vanilla Lucuma (or your favorite vanilla protein powder)
1 cup organic crispy brown rice cereal
1/4 cup organic coconut oil (melted/liquid)
1/4 cup organic maple syrup
1 cup organic peanut butter
For the cacao drizzle
1 tablespoon organic maple syrup
1 tablespoon organic raw cacao powder
1 tablespoon organic coconut oil (melted/liquid)
Directions
Step 1
Add all the ingredients for the peanut butter cups to a medium sized bowl and stir until well combined.

Take a tablespoon at a time and fill your muffin cups about 3/4 full.

Put them in the freezer for about 60 - 90 minutes, or until they are hardened.

When you're ready to serve them, prepare the cacao drizzle by mixing the raw cacao powder, coconut oil and maple syrup in a small bowl.

Remove the peanut butter cups from the freezer and drizzle the cacao mixture over the top.

The cacao mixture will start to harden as soon as it touches the peanut butter cups. You can serve them as is or put them back in the freezer for about 15 - 30 minutes for the cacao drizzle to get harder.

Store them in the freezer until ready to serve because they will get soft and lose their shape if left out at room temperature.

Enjoy!
Note
This recipe will make approximately (8) standard-sized muffins cups.

The recipe and photographs for "Crispy Peanut Butter Protein Cups" by Karieklyn Tillman of The Healthy Family and Home are licensed under a Creative Commons Attribution-NonCommercial 4.0 International License and cannot be used without my written permission.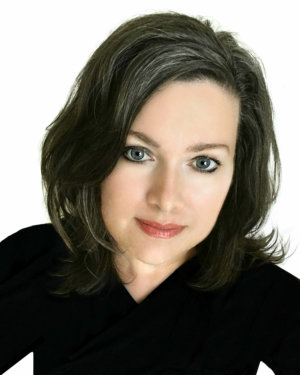 Hi, I'm Karielyn! I'm a cookbook author and creator of The Healthy Family and Home website. I specialize in creating easy, healthy plant-based recipes that are gluten-free + vegan and made with clean, real food ingredients that you can feel good about eating.