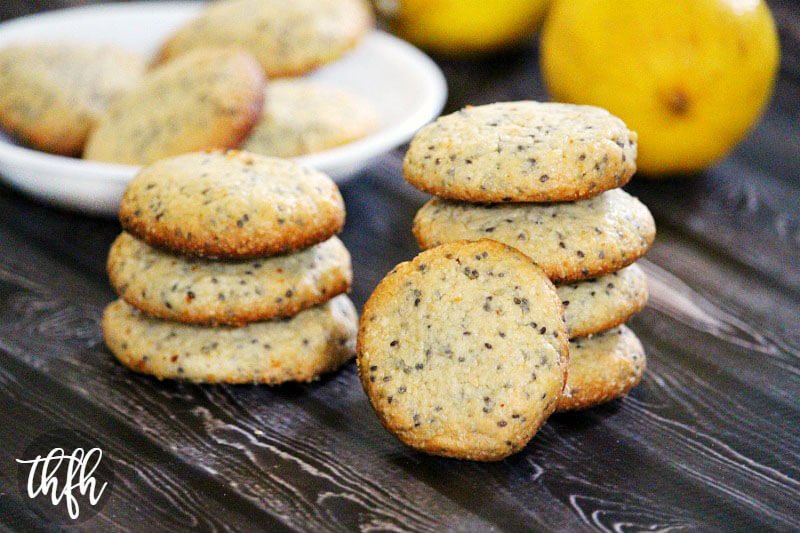 Flourless Gluten-Free Vegan Lemon Chia Seed Cookies
Yield 18 small cookies
Vegan / Gluten-Free / Dairy-Free / Grain-Free / Egg-Free / Soy-Free / Flourless / Paleo-Friendly / No Refined Sugar
Instructions
Preheat oven to 350 degrees.
Add the cashews and coconut oil to a food processor and process until they are creamy and smooth. This will take about 3-5 minutes as the cashews will turn from nuts, to flour, then to nut butter.  Stop every minute or so to scrape the sides and help it along.
Transfer the cashew butter to a medium-size bowl and add the remaining ingredients (lemon juice, granular sweetener, coconut flour, chia seeds, Himalayan pink salt).
Stir everything together until it is well combined.
Take out a spoonful at a time, roll the mixture into a small ball, then flatten it in the palms of your hands to make a small cookie shape, about 1 1/2 inches in diameter.
Place the cookies on a baking pan lined with parchment paper and bake at 350 degrees for approximately 12-14 minutes, or until the edges are golden brown.
Allow the cookies to cool completely before removing them from the baking pan.
Store in an air-tight BPA-free container.
Enjoy! 
Notes
Get all your organic ingredients delivered straight to your door at up to 25 - 50% off retail by cutting out the middleman and retail markups with a Thrive Market Membership and save 15% off on your first order.
  The recipe and photographs for "Flourless Gluten-Free Vegan Lemon Chia Seed Cookies" by Karielyn Tillman of The Healthy Family and Home website are licensed under a Creative Commons Attribution Non-Commercial No Derivatives 4.0 International License and cannot be used without my written permission.
Recipe Roundups: Food Bloggers are always welcome to use a photo and a link back to my original post to share on recipe roundups without requesting permission.
Recipe by The Healthy Family and Home at https://thehealthyfamilyandhome.com/flourless-gluten-free-vegan-lemon-chia-seed-cookies/