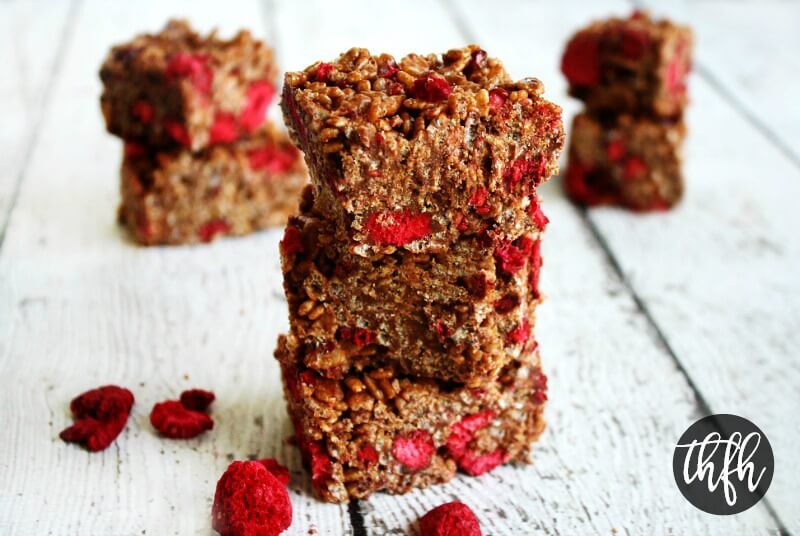 Gluten-Free Vegan Chocolate Raspberry Crispy Treats
Yield 16 squares
Vegan / Gluten-Free / Dairy-Free / No-Cook / No Refined Sugar
Instructions
Add the brown rice cereal to a large bowl.  Set aside.
Add the cashew butter, coconut oil, maple syrup and raw cacao powder to a small saucepan and melt everything together on low heat, stirring until it's well combined.
Pour the cashew butter mixture over the brown rice cereal and gently stir until it's evenly distributed and the brown rice cereal is completely covered.
Add the freeze-dried raspberries and gently stir them in, taking care not to break them up too much.
Transfer the mixture to an 8 x 8 baking dish lined with parchment paper then put the dish in the freezer for approximately 1-2 hours, or until they harden.
Remove from the freezer and leave out on the counter top for about 5-10 minutes prior to cutting and serving.
Store in the freezer until ready to serve because they will get soft and lose their shape if left out at room temperature.
Enjoy!
Notes
Get all your organic ingredients delivered straight to your door at up to 25 - 50% off retail by cutting out the middleman and retail markups with a Thrive Market Membership and save 15% off on your first order.
  The recipe and photographs for "Gluten-Free Vegan Chocolate Raspberry Crispy Treat Squares" by Karielyn Tillman of The Healthy Family and Home website are licensed under a Creative Commons Attribution Non-Commercial No Derivatives 4.0 International License and cannot be used without my written permission.
Recipe by The Healthy Family and Home at https://thehealthyfamilyandhome.com/gluten-free-vegan-chocolate-raspberry-crispy-treat-squares/