This decadent and rich Gluten-Free Vegan Chocolate Turtle Ice Cream is my submission for this months theme for The Recipe Redux.
The theme for April 2017 is:
"Easy Ways to Reduce Food Waste – In honor of Earth Day on April 22, we're challenging ReDux members to show how they reduce food waste. Whatever you would normally toss, use it up. Share tips for reducing food waste in meal planning, prep or using up scraps".
I kind of cheated on this theme because the primary item I used in this recipe I would never "normally toss" and would never be classified as "food waste".  I used my Gluten-Free Vegan Caramel Sauce because when I make a batch, I always have some left over, even though the extra never gets tossed or goes to waste.
So I thought I would share with you a way you could use it in a recipe if you happen to have some left over, like from one of these recipes: Gluten-Free Vegan No-Bake Brownie Bottom Cheesecake or Gluten-Free Vegan Chocolate Pudding and Brownie Parfait.
I based the ice cream off of my Vegan Chocolate Peanut Butter Swirl Ice Cream recipe so it starts with a chocolate non-dairy, vegan ice cream I made with my Vitamix, then has my vegan caramel sauce and chopped pecans swirled in.  When you're ready to serve it (or devour it!), you can drizzle a little more (or a lot more!) caramel sauce on top and garnish with more chopped pecans.
So now you have another recipe in your arsenal to use after making a batch of my Gluten-Free Vegan Caramel Sauce and it's vegan, gluten-free, dairy-free, egg-free, soy-free, paleo-friendly and contains no refined sugar.
Want more healthy dessert recipes?  Check out Vegan Black Forest Ice Cream, Vegan Pecan Praline Ice Cream, Clean Eating Vegan Chocolate Covered Turtles or my Clean Eating Cookbook with an entire chapter of 20 healthy, clean eating recipes just like this one that you will love!
5 Fast Facts About Cashews:*
packed with dietary fiber
rich in "heart friendly" mono-saturated fatty acids
rich source of minerals
high in magnesium and copper
excellent source of antioxidants
5 Fast Facts About Coconuts:*
2 tablespoons contain 4.6 g RDA of dietary fiber
healthy source of medium-chain fatty acids
can help to decrease cholesterol
high in lauric acid
excellent source of manganese at 60% RDA and iron at 11% RDA
5 Fast Facts About Coconut Sugar:*
low glycemic (GI of 35)
raw, vegan and gluten-free
unrefined and unbleached
contains 17 amino acids
is an abundant source of minerals and broad spectrum B vitamins
5 Fast Facts About Raw Cacao Powder:*
super high in anti-oxidants
promotes cardiovascular health
contains essential fats
can help to decrease blood pressure
contains over 300 compounds including protein, calcium, copper, zinc and iron
5 Fast Facts About Almonds (Almond Butter):*
helps to regulate cholesterol and blood pressure
energy booster
loaded with calcium and fiber
1/4 cup contains 8 grams of vegan protein
high in anti-oxidants
5 Fast Facts About Coconut Oil:*
super high in lauric acid
rich in antioxidants
contains natural microbial and anti-bacterial agents
helps to improve metabolism
improves cholesterol levels
5 Fast Facts About Maple Syrup:*
contains manganese and zinc
super high in anti-oxidants
helps with inflammation
1/4 cup contains more calcium than the same amount of milk
1/4 cup contains more potassium than a banana
5 Fast Facts About Pecans:*
contains naturally occurring anti-oxidants
helps to lower cholesterol
high quality source of protein
contains more 19 vitamins and minerals
excellent source of vitamin E
*These statements have not been evaluated by the Food and Drug Administration.  This information is not intended to diagnose, treat, cure or prevent any disease.
Tip #1:  This recipe requires a little bit of advance preparation.  You will need to have the inner bowl of your ice cream maker completely frozen and ready to use before making the recipe. Overnight should be fine but the longer it stays in the freezer, the better results you will have. (I store mine in the freezer so it's always ready at a moments notice).
Tip #2:  Soaking the cashews is optional and takes about 4 hours, but the results are definitely worth the extra step.  The cashews will be soft and the mixture will be extra smooth and creamy.
Gluten-Free Vegan Chocolate Turtle Ice Cream (Vegan, Gluten-Free, Dairy-Free, Egg-Free, Soy-Free, Paleo-Friendly, No Refined Sugar)
Print recipe
| | |
| --- | --- |
| Serves | 2 - 4 |
| Prep time | 10 minutes |
| Cook time | 2 hours |
| Total time | 2 hours, 10 minutes |
| www.thehealthyfamilyandhome.com | The Healthy Family and Home |
Ingredients
For the ice cream
1 1/2 cup organic raw cashews (soaked for 4 hours)
1 can organic full-fat coconut milk (15 ounce can)
1/2 cup organic coconut sugar
1/2 cup organic raw cacao powder
1 teaspoon organic pure vanilla extract
1 - 2 pinch Himalayan pink salt
For the caramel
1/2 cup organic almond butter
1/2 cup organic coconut oil (melted / liquid)
1/2 cup organic maple syrup
1/2 teaspoon organic vanilla bean powder
1/8 teaspoon Himalayan pink salt
For the mix-in
1/2 cup organic pecans (chopped)
Directions
Prepare the caramel
Step 1
If you don't have a batch of caramel sauce already prepared, not to worry. It only takes a few minutes to make.

Prepare the coconut oil: Melt the coconut oil completely before adding to the other ingredients. (I don't use a microwave so I melt mine on the stove top).

Add the melted coconut oil, almond butter, maple syrup, vanilla bean powder and Himalayan salt to a small bowl and whisk together until everything is well blended.

Set aside until you are ready to add to the ice cream.

Store any extra in an air-tight container.

Prepare the ice cream
Step 2
Optional: Soak the cashews in a bowl of filtered / purified water for about 4 hours, then drain them when finished. It is not critical, but it will make the cashews soft and the ice cream extra creamy.

Add all the ingredients for the ice cream (cashews, entire can of coconut milk, coconut sugar, raw cacao powder, vanilla extract and Himalayan salt) to a Vitamix and blend until it's creamy and smooth.

Transfer the mixture to the inner bowl of an electric ice cream maker (you will need to already have the inner bowl completely frozen and ready to use). Prepare the ice cream according to your machines directions.

When the ice cream is finished, transfer it from the ice cream maker to an air-tight freezer safe bowl (I use a glass bread loaf pan) and spread it evenly.

Add 5-6 (or more!) tablespoons of the vegan caramel sauce and the chopped pecans to the top of the ice cream mixture. Using the tip of a sharp knife, swirl the caramel sauce and pecans in, making sure some gets all the way down to the bottom.

Cover the freezer safe bowl very tightly and place in the freezer for approximately 2 - 4 hours, or until it gets to the firmness consistency that you prefer.

When you remove it from the freezer, add the amount you want in each serving bowl and drizzle some of the vegan caramel sauce over the top and garnish with some extra chopped pecans. The caramel sauce will "harden" once it touches the ice cream due to the coconut oil, but it tastes amazing!

Store in the freezer in an air-tight container.

Enjoy!
Note
This recipe will make approximately (2) large servings or (4) smaller servings.

The recipe and photographs for "Gluten-Free Vegan Chocolate Turtle Ice Cream" by Karielyn Tillman of The Healthy Family and Home website are licensed under a Creative Commons Attribution Non-Commercial No Derivatives 4.0 International License and cannot be used without my written permission.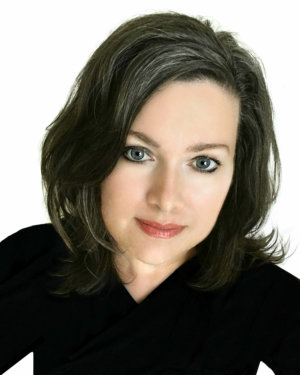 Hi, I'm Karielyn! I'm the published cookbook author of CLEAN DESSERTS and content creator of The Healthy Family and Home website since 2012. I specialize in creating easy, healthy plant-based recipes that are gluten-free + vegan and made with clean, real food ingredients that you can feel good about eating.