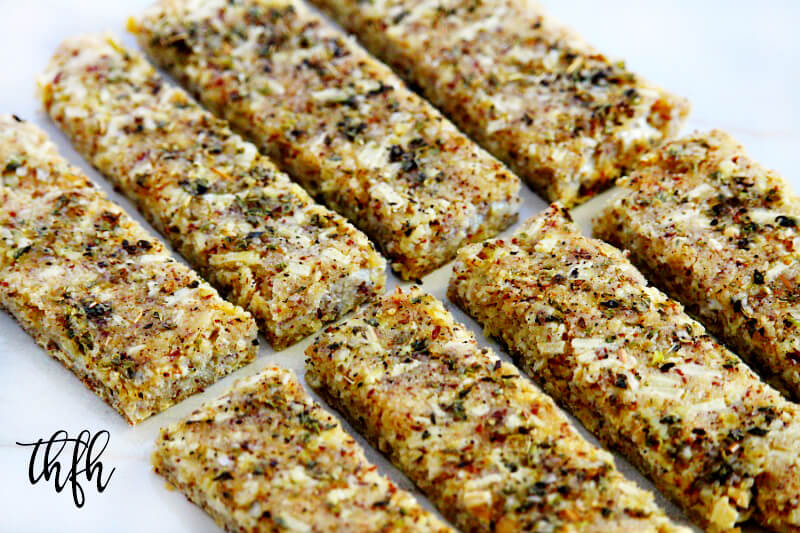 Gluten-Free Vegan Flourless "Cheesy" Garlic Breadsticks
Yield 10 - 12 breadsticks
Vegan / Gluten-Free / Dairy-Free / Lectin-Free / Egg-Free / Grain-Free / Flourless 
Ingredients
For the breadsticks:
2 cups almond flour
2 cups Daiya Mozzarella Cheese
1 teaspoon organic extra-virgin olive oil
1 teaspoon organic ground garlic powder
1/2 teaspoon Himalayan pink salt
3 flax eggs (3 tablespoons ground flax seeds + 9 tablespoons filtered/purified water)
For the garlic topping:
4 cloves organic garlic (freshly crushed)
1 tablespoon organic extra-virgin olive oil
1 tablespoon organic dried oregano
1/8 teaspoon Himalayan pink salt
1/8 teaspoon organic ground black pepper
Instructions
Preheat oven to 350 degrees.
Prepare the breadsticks:
Add all the ingredients for the breadsticks to a medium sized bowl and stir until well combined.
Transfer the mixture to a baking pan lined with parchment paper.
Form the mixture into a ball shape, then using your hands, flatten it out into a square shape approximately 1/2 inch thick and approximately an 8 x 8 square.
Bake at 350 degrees for approximately 15-20 minutes, or until it's golden on the top and edges.
Remove the oven to add the garlic topping.
Prepare the garlic topping:
Add all ingredients for the garlic topping to a small bowl and stir together until well combined. Adjust seasonings to your preference.
Pour the topping on top of the bread sticks and spread a thin layer evenly across the top.
Use a knife or pizza cutter to cut into breadstick shapes or bite-sized pieces.
Best when served warm straight from the oven.
Enjoy!
Courses Snack
Cuisine American
Recipe by The Healthy Family and Home at https://thehealthyfamilyandhome.com/gluten-free-vegan-flourless-cheesy-garlic-breadsticks/