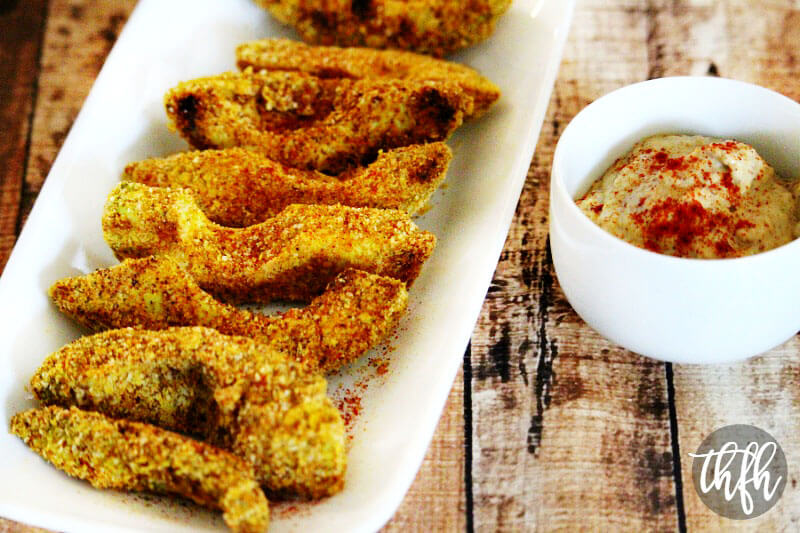 Gluten-Free Vegan Oven-Baked Avocado Fries
Yield 2 - 4 servings
Vegan / Gluten-Free / Dairy-Free / Lectin-Free / Egg-Free / Paleo-Friendly
Instructions
Preheat oven to 420 degrees.
Prepare the bread crumbs:
Add all ingredients for the bread crumbs to a small bowl and stir until everything is well combined. Adjust seasonings to your preference.  Set aside.
Prepare the avocados:
It's important that you have firm, slightly under ripe avocados for best results. Mushy or soft avocados will not work well.
Slice the avocados in half and remove the pits.
Carefully scoop out the avocados from the skins, and cut them from top to bottom into 3-4 thick strips (depending on the size of your avocados). Set aside.
Assembly:
Make an assembly line from left to right: a) plate with sliced avocado b) small bowl with non-dairy milk c) small bowl with bread crumbs d) baking pan lined with parchment paper.
Dip each avocado slice into the bowl of milk, making sure they are completely covered, then dip the avocado slice into the bowl of bread crumbs, making sure they are completely covered on both sides.
Place the coated avocado slices on the baking pan lined with parchment paper.
Bake at 420 degrees for approximately 10 minutes, then turn them over and bake for an additional 5-10 minutes.  Baking times will vary but the outside of the avocado fries should be golden when ready.
Serve with your favorite dip or sauce and they are best when served hot from the oven.
Enjoy!
Notes
Get all your organic ingredients delivered straight to your door at up to 25 - 50% off retail by cutting out the middleman and retail markups with a Thrive Market Membership and save 15% off on your first order.
  The recipe and photographs for "Gluten-Free Vegan Oven-Baked Avocado Fries" by Karielyn Tillman of The Healthy Family and Home website are licensed under a Creative Commons Attribution Non-Commercial No Derivatives 4.0 International License and cannot be used without my written permission.
Recipe Roundups: Food Bloggers are always welcome to use a photo and a link back to my original post to share on recipe roundups without requesting permission.
Recipe by The Healthy Family and Home™ at https://thehealthyfamilyandhome.com/gluten-free-vegan-oven-baked-avocado-fries/