If you are a fan of sneaking in a healthy vegetable ingredient into a decadent dessert recipe, then these Healthy Chocolate Mint Fudge bites are just for you!
What is the secret healthy vegetable ingredient that you would never know was in them?
Pumpkin!
Yes, it's true!
The pureed pumpkin doesn't really give it a flavor, but adds a smooth creaminess to this healthy dessert.
While I'm a big fan of anything chocolate, a chocolate-mint combination just can't be beat.
5 Fast Facts About Pumpkin:
high in beta-carotene

full of iron, zinc and vitamin C
rich in anti-oxidants
contains 246% DV of vitamin C
good source of B-complex vitamins, niacin and thiamin
5 Fast Facts About Raw Cacao:
contains over 300 compounds including protein, calcium, magnesium, copper and zinc

super high in anti-oxidants
contains essential fats
can help to decrease blood pressure
contains 4 different neuro-transmitters that promote a positive outlook
5 Fast Facts About Raw Honey:
contains anti-bacterial and anti-fungal properties

immune boosting anti-viral properties
super high in B vitamins (B1, B2, B3, B5 and B6)
contains natural anti-oxidants
promotes restorative sleep
5 Fast Facts About Cashews (Cashew Butter):
packed with dietary fiber

rich in "heart-healthy" mono-saturated fatty acids
rich source of minerals
high in magnesium and copper
high in anti-oxidants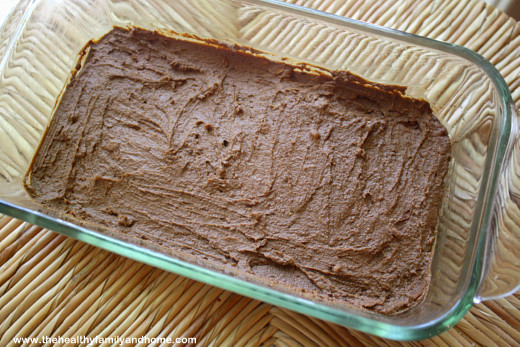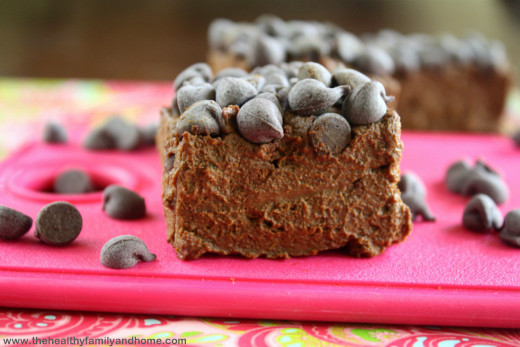 Tip #1:  You can substitute any sweetener you like to make it vegan or even low-sugar.  I've used raw honey, maple syrup, non-GMO xylitol and even raw coconut crystals and all were good.
Tip #2:  The original recipe calls for it be put in the freezer prior to serving and to store in the freezer, but I actually like mine straight from the refrigerator because it gives it a softer mousse-y type texture.
Tip #3:  You can substitute organic peanut butter for the cashew butter.  I've used both and they are both really good.
Tip #4:  The original recipe shows an option to add protein powder to add extra nutrition and I've also added a tablespoon of maca powder to mine before.
Tip #5:  The original recipe calls for it to be put into an 8 x 8 glass dish, but I put mine in a 5 x 9 glass bread pan so they would be thicker.
Healthy Chocolate Mint Fudge (Raw, Vegan, Gluten-Free, Dairy-Free)
Print recipe
Ingredients
For the fudge
1 can organic pumpkin puree (15 ounce can)
1/3 cup organic cashew butter
1/4 cup organic raw cacao
1/8 cup organic raw honey (or sweetener of your choice for vegan)
1/2 teaspoon organic mint extract
For the topping
1/3 - 1/2 cup vegan/gf chocolate chips (Enjoy Life brand)
Directions
Step 1
Put all ingredients for the fudge (pumpkin puree, raw cacao, sweetener, mint extract, cashew butter) in a medium sized bowl and stir until well combined.

Spread the mixture in a 5 x 9 glass bread pan.

Sprinkle the chocolate chips on the top.

Put in the freezer for 2 - 4 hours or until hardened.

Cut into squares and serve. Store in freezer.

Enjoy!
Note
Recipe adapted from:  https://www.damyhealth.com/2011/12/clean-eating-chocolate-mint-fudge/