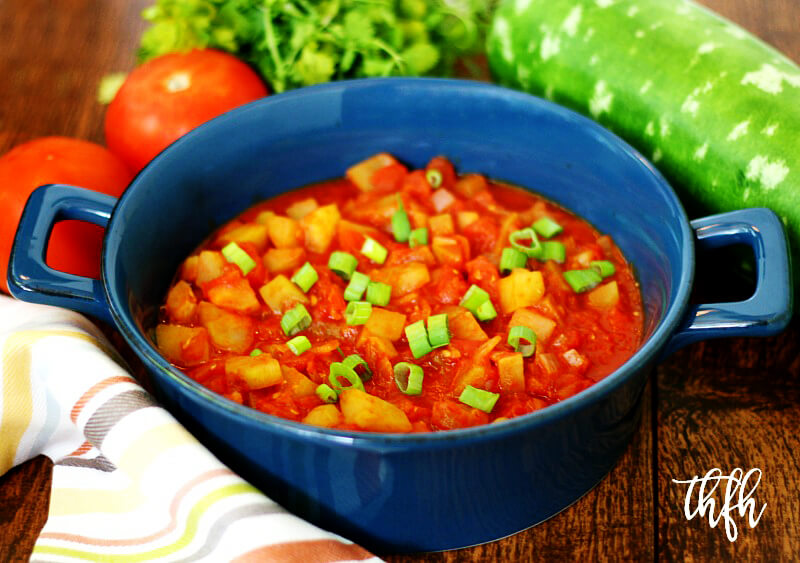 Italian Cucuzza Squash Bake
Yield 4 servings
Vegan / Gluten-Free / Dairy-Free / Paleo-Friendly
Instructions
Prepare the veggies:  peel and dice the squash, dice the tomatoes and onions.
Add the squash, onions, garlic, olive oil and Himalayan pink salt to a skillet and saute on medium heat for approximately 5-7 minutes, or until the onions become soft.
Add the diced tomatoes and tomato sauce (optional: add 2 links of vegan sausage) and simmer (covered) for approximately 15 minutes, or until the squash are soft and semi-translucent, stirring occasionally. If it gets too thick, just add a tablespoon of filtered/purified water until it thins out to your preference.
Adjust seasonings to your preference.
Serve as main dish or over angel hair pasta, rice, baked potato or spaghetti squash.
Enjoy!
Notes
Get all your organic ingredients delivered straight to your door at up to 25 - 50% off retail by cutting out the middleman and retail markups with a Thrive Market Membership and save 15% off on your first order.
  The recipe and photographs for "Italian Cucuzza Squash Stew" by Karielyn Tillman of The Healthy Family and Home website are licensed under a Creative Commons Attribution Non-Commercial No Derivatives 4.0 International License and cannot be used without my written permission.
Recipe Roundups: Food Bloggers are always welcome to use a photo and a link back to my original post to share on recipe roundups without requesting permission.
Recipe by The Healthy Family and Home at https://thehealthyfamilyandhome.com/italian-cucuzza-squash-stew/