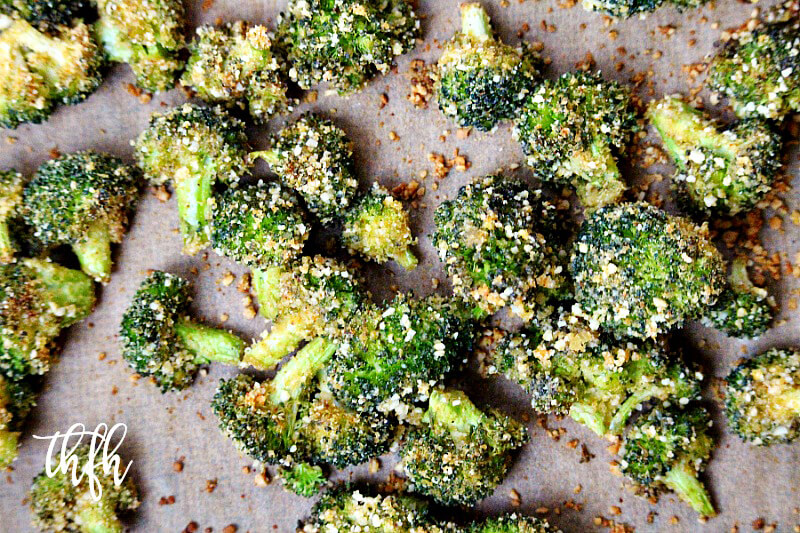 Lectin-Free Vegan "Cheesy" Broccoli Bites
Yield 3 cups
Vegan / Gluten-Free / Dairy-Free / Lectin-Free / Paleo-Friendly
Ingredients
For the broccoli:
For the seasoning:
Instructions
Preheat the oven to 400 degrees.
Prepare the seasoning:
Add all the ingredients for the seasoning to a small bowl and stir until well combined. Adjust seasonings to your preference.  Set aside.
Prepare the broccoli:
Add the broccoli florets to a large bowl, then drizzle the avocado oil over the top.
Toss the broccoli until the avocado oil is evenly distributed and all pieces are covered.
Sprinkle 1/2 the seasoning mixture on top of the broccoli pieces and gently toss until it's evenly distributed and all pieces are covered.
Place the seasoned broccoli pieces on a baking pan lined with parchment paper and bake at 400 degrees for approximately 10 minutes.
Remove the pan from the oven and transfer the broccoli pieces back into the large bowl.
Sprinkle the remaining 1/2 of the seasoning mixture on top and gently re-toss until it's evenly distributed and all pieces are covered.
Return the baking pan to the oven and bake for an additional 20-25 minutes, or until crispy.
Enjoy!
Notes
Get all your organic ingredients delivered straight to your door at up to 25 - 50% off retail by cutting out the middleman and retail markups with a Thrive Market Membership and save 15% off on your first order.
  The recipe and photographs for "Lectin-Free Vegan "Cheesy" Broccoli Bites" by Karielyn Tillman of The Healthy Family and Home website are licensed under a Creative Commons Attribution Non-Commercial No Derivatives 4.0 International License and cannot be used without my written permission.
Recipe Roundups: Food Bloggers are always welcome to use a photo and a link back to my original post to share on recipe roundups without requesting permission.
Recipe by The Healthy Family and Home™ at https://thehealthyfamilyandhome.com/lectin-free-vegan-cheesy-broccoli-bites/