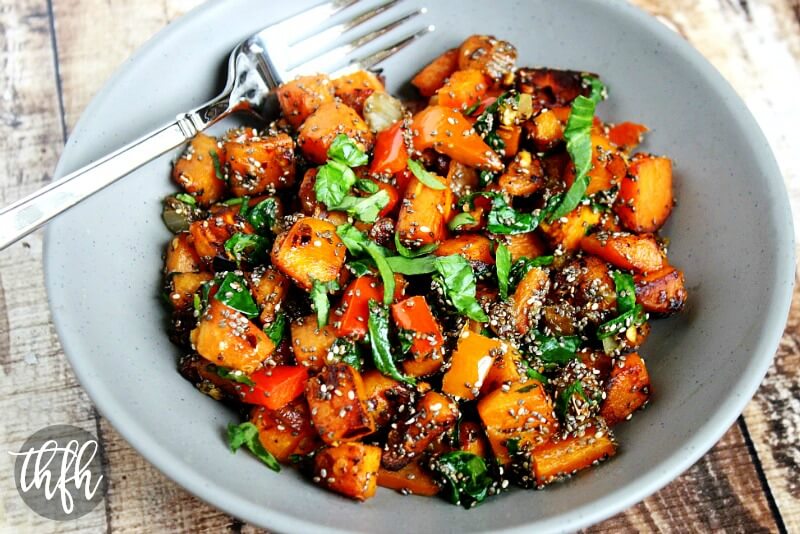 Spicy Red Pepper and Spinach Sweet Potato Hash Browns
Yield 2 servings
Vegan / Gluten-Free / Dairy-Free / Nut-Free / Paleo-Friendly
Instructions
Prepare the veggies:
Peel and cube the sweet potatoes, dice the onion and red bell pepper, chop the spinach into thin strips.
Prepare the meal:
Add all ingredients (EXCEPT the diced red bell peppers, chopped spinach and chia seeds) to a skillet and lightly saute' on medium heat for approximately 20 minutes, or until the sweet potatoes are soft and slightly crispy on the outside.  Adjust seasonings to your preference.
Add the diced red bell peppers, chopped spinach and chia seeds and gently toss for about 1-2 minutes, or just long enough for the spinach to wilt.
Remove from heat, garnish with fresh chopped spinach and serve.
Enjoy!
Notes
Recipe slightly adapted from:  "The Chia Cookbook" by Janie Hoffman
Get all your organic ingredients delivered straight to your door at up to 25 - 50% off retail by cutting out the middleman and retail markups with a Thrive Market Membership and save 15% off on your first order.
  The recipe adaptations and photographs for "Spicy Red Pepper and Spinach Sweet Potato Hash Browns" by Karielyn Tillman of The Healthy Family and Home website are licensed under a Creative Commons Attribution Non-Commercial No Derivatives 4.0 International License and cannot be used without my written permission.
Recipe by The Healthy Family and Home at https://thehealthyfamilyandhome.com/spicy-red-pepper-and-spinach-sweet-potato-hash-browns/