This Sweet Potato Fettuccine and Creamy Rosemary with Roasted Garlic Sauce was so amazing and I couldn't wait to share it with you!
It's made with a vegan, gluten-free gourmet Sweet Potato Fettuccine (yes, gluten-free!) and my Creamy Rosemary with Roasted Garlic Pasta Sauce which is also vegan, gluten-free and dairy-free.
The rustic aroma from this dish is literally mesmerizing!
There is a sweet smell of cinnamon and nutmeg from the fettuccine and rosemary and roasted garlic from the sauce.
The nice folks at Pastamore' sent me their gourmet Sweet Potato Fettuccine and Rosemary with Roasted Garlic Dipping Oil to use in creating a new recipe.
I actually made several recipes with it...this one, Creamy Rosemary and Roasted Garlic Pasta Sauce, Rosemary and Roasted Garlic Hummus and Rosemary and Roasted Garlic Chickpeas.
The sweet potato fettuccine is an all-natural, GMO-free, gluten-free and vegan pasta that is described as "velvety with a hint of cinnamon and nutmeg for a surprising twist".
It's made with:  brown and white rice flour, sweet potato, xanthan gum, nutmeg, annatto seeds, extra virgin olive oil and cinnamon.
The dipping oil is also all-natural, GMO-free, gluten-free, vegan and is described as  "extra virgin olive oil combined with roasted garlic, herbs and Dijon mustard to create the perfect bread dipping oil".
It's generously filled with a herb paste made from rosemary, sage, parsley, black pepper, cayenne and chili pepper.
One of the reasons I really liked this brand is because Pastamore' was started over 16 years ago by participating in local Farmer's Markets in Colorado and this is exactly the kind of product you would find at a Farmer's Market.
I just love when I can buy local products like this from my Farmer's Market.  And, they believe it giving back to their communities and contribute to their local Food Bank...very nice!
Now unless I just never paid attention, I don't remember ever seeing this kind of selection of gourmet oils, vinegars, gluten-free pasta and marinades when I shop at Whole Foods.
Just look at some of the unbelievable flavor varieties they offer:
Oils:
Asian with a Hint of Ginger Dipping Oil
Basil Parmesan Dipping Oil
Fresh Jalapeno Oil
Meyer Lemon Oil
Roasted Garlic Balsamic Dipping Oil
Roasted Garlic Grapeseed Oil
Roasted Tomato Dipping Sauce
Rosemary with Roasted Garlic Dipping Oil
White Truffle Oil
Vinegars:
Blackberry Balsamic Vinegar
Citrus Balsamic Vinegar
Dark Chocolate Balsamic Vinegar
Dark Sweet Cherry Balsamic Vinegar
Elderberry Balsamic Vinegar
Fig Balsamic Vinegar
Passion Fruit Balsamic Vinegar
Raspberry Balsamic Vinegar
Traditional Barrel-Aged Balsamic Vinegar
White Balsamic Vinegar with Pear
Gluten-Free Pastas:
Artichoke with Rosemary Linguine
Chipotle Fettuccine
Fresh Cracked Pepper Fettuccine
Garlic Chive Fettuccine
Garlic with Toasted Onion Fettuccine
Hatch Green Chilie Fettuccine
Italian Blend Penne
Lemon Garlic Orzo
Lemon Pepper Linguine
Plain Fettuccine
Plain Linguine
Plain Pappardelle
Spinach Basil Garlic
Sweet Potato Fettuccine
Sweet Potato Orzo
Tomato Basil Fettuccine
Wild Mushroom Linguine
Marinades and Grilling Sauces:
Cabernet and Roasted Garlic
Chardonnay and Roasted Garlic
Chipotle Chili Marinade and Grill Sauce
Kentucky Bourbon Marinade and Grill Sauce
Sweet & Smokey Marinade and Grill Sauce
Zesty Wing & Rib Marinade and Grill Sauce
Any of these products would make a great gift and you can even create your own gift basket online.
Giveaway time!
Now, before I share this delicious recipe with you, how about a giveaway?
The generous folks over at Pastamore' will provide (1) package of Sweet Potato Fettuccine and (1) bottle of Rosemary and Roasted Garlic Dipping Oil for the giveway prize!
It's enough to make this recipe plus a couple other yummy things with the dipping oil...yay!
enter the giveaway through Rafflecopter below...there are (4) different entry opportunities to increase your chances of winning
contest is open to all U.S. residents
winner will receive their products shipped directly from Pastamore'
a Rafflecopter giveaway
 If you don't want to wait for the giveaway to end or you see something else you'd like to try,  just visit the Pastamore' website to order.  
Tip #1:  This recipe will make approximately 4 servings.  
Sweet Potato Fettuccine with Creamy Rosemary with Roasted Garlic Sauce (Vegan, Gluten-Free, Dairy-Free)
Print recipe
Ingredients
1 packet Pastamore' Sweet Potato Fettuccine (12 ounce package)
For the sauce
2 cups organic cashews
1 cup distilled/purified water
1/2 cup Pastamore' Rosemary with Roasted Garlic Dipping Oil
1/2 - 1 teaspoon Himalayan pink salt
Directions
Prepare the pasta
Step 1
Prepare the pasta according to package directions: cook 12 - 14 minutes in boiling water or until "al dente", then rinse thoroughly and toss with a pink of salt.
Prepare the sauce
Step 2
While the pasta is cooking, add all the ingredients for the sauce into a Vitamix and blend until creamy and everything is well combined.
Step 3
Pour the pasta sauce over the cooked pasta and gently toss it until it is completely covered in the sauce.

Optional: garnish with fresh rosemary.

Enjoy!
Disclaimer: I was given products from Pastamore' to review and use in creating a new recipe.   I was under no obligation to give a positive review and was not paid for this review or endorsement. All thoughts, opinions and comments are my own.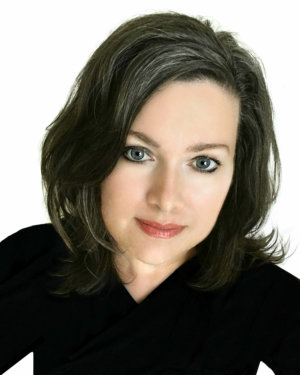 Hi, I'm Karielyn! I'm the published cookbook author of CLEAN DESSERTS and content creator of The Healthy Family and Home website since 2012. I specialize in creating easy, healthy plant-based recipes that are gluten-free + vegan and made with clean, real food ingredients that you can feel good about eating.