I really, really enjoy my Excalibur Dehydrator.  I was very lucky when I purchased it years ago because I got a good one without doing any research.
I have been very pleased with mine and end up using it several times each week.
I primarily use it for two things:  1) raw food recipes and 2) to dehydrate/preserve foods and herbs for later use.
The most important thing to me is knowing that whatever I put in my dehydrator is going to LIVE and RAW.
I never dehydrate anything over 115 degrees because anything over that temperature will kill the living enzymes and nutrients in the food.
My dehydrator gives me variety in eating raw foods because I don't have to just eat salads or juices or smoothies.  I can eat chips, cookies, raw cheeses, raw veggie burgers, raw breads, crackers, and so much more!
And I'll say it again…IT"S ALL LIVE FOOD!  No cooked, dead food.
I use the model that has the 9 tray and even though this is the biggest one Excalibur makes, I sometimes find I need more trays!  If you are going to invest in an Excalibur Dehydrator, I definitely recommend getting the 9 tray over the smaller 4 or 5 tray unit.   It doesn't really take up any additional counter space and it's better to have too many trays than not enough.  Even though the 9 tray will cost you more than the smaller units, it is worth it.   Go with the larger model – you will be glad you did.
My model does not have a timer on it and I prefer to not have a timer.  Why?  Because many times I leave the dehydrator on overnight or if I leave to run an errand.  When dehydrating, you don't just set a timer like you do on an oven and it is 99% likely to be ready.   When dehydrating, nothing ever cooks for the same amount of time (at least for me) and I have to just keep checking it periodically to make sure it is completely dry, or crunchy or whatever texture I am looking for.  If a timer just cut off automatically, it could stop before the food is ready and if I'm not there or available to check it, it might get left or unnoticed.  That's just me.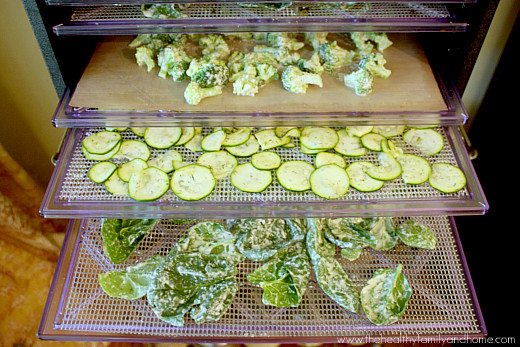 Usually, Saturday's are my dehydrating days.  That's the day I go to the Farmer's Market and do my grocery shopping.  I come home with lots and lots of produce and herbs.  Some of the produce I get from the Farmer's Market,  I just don't know what to make with it, so I dehydrate those items for later.  Some things I know I will not get around to making before they go bad, so I dehydrate them.
Since I will already be using my dehydrator, this is when I will also make either some chips, cookies, snack or raw recipe and put everything in together.
---
Dehydrated Fruits
Dehydrated Strawberries
One Saturday, I bought 3 flats of strawberries.  We ate and ate and ate so many strawberries until we just couldn't eat anymore.  My intention was to dehydrate the rest so we could have some after strawberry season was over, but that's not what happened.  I made some strawberry leather with some, some strawberry jam in my Zojirushi Bread Maker and dehydrated the rest.  I spent almost all day cleaning, cutting and sorting the strawberries to be dehydrated.  My boys ate them off the dehydrator tray faster than I could get them off.
Dehydrated Apples
These are really easy to make and instead of cutting them into chuck type sizes, I cut them into slivers and it left a pretty star shape in the middle.  You could sprinkle these with some cinnamon and they would be sooo good.  Here's my recipe for Clean Eating Cinnamon Vanilla Apple Chips.
Dehydrated Bananas
These are my boys most favorite food from the dehydrator, second only behind the strawberries.  I will buy a bunch of bananas, cut them into slices and dehydrate them and they are literally gone before the end of the day.  It's also a good solution when you have bananas that are about the go bad.  Just cut them up and dehydrate them and I promise you they won't go to waste.
Dehydrated Pear Chips
These Cinnamon Sugar Pear Chips are really easy to make and super kid-friendly too!
Chocolate Covered Dehydrated Kiwi
If you've never tried dehydrated kiwi, it is so addictive!  This Chocolate Covered Dehydrated Kiwi treat is a great kid-friendly (and adult!) snack favorite!  And they're great with our without the chocolate topping.
---
Dehydrated Chips
Dehydrated Veggie Chips
These are super easy to make and you can put them all in at the same time.  I like to use zucchini, yellow squash and sweet potatoes and lightly coat them with some olive oil and them season them with some pink himalayan salt and a little pepper.  These are wonderful to dip into hummus or just eat plain.
Dehydrated Sweet Potato Chips
I made these Dehydrated Sweet Potato Chips with a handy little mandoline slicer I got and it made the cutting job so much easier.  These are a much healthier alternative to any traditional chips you would buy in the store and are tasty with just a light coating of olive oil and some pink himalayan salt.
Dehydrated Lemon Dill Zucchini Chips
I also used my mandoline slicer to make these and the tangy Lemon Dill Zucchini Chips is a nice change from just a regular salted chip.  These are sooo good and a great way to use the zucchini you get over the summer.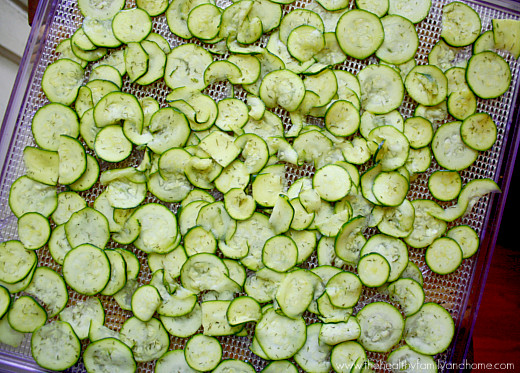 Dehydrated Kale Chips
These are my all time favorite.  I could eat these all day long and a full batch never comes out of the dehydrator.  I end up eating half of them while they are still dehydrating!  There are so many possibilities for these little guys.  I've made Cheezy Raw Kale Chips, Jalapeno Kale Chips,  Habanero Kale Chips, Raw Vegan Sour Cream and Onion Kale Chips, Lemon Dill Kale Chips or you could just make Plain Kale Chips.  These are to die for!
Dehydrator Raw Corn Chips
These Raw Corn Chips are really easy to make and are much healthier than store bought chips.
---
Dehydrator Snacks
Raw Broccoli Balls
These super easy Raw Broccoli Balls are a great idea for a party appetizer or for a healthy snack for your children.   I have eaten these raw and also after they have been dehydrated and both versions are good.  The raw version is a little moist  and soft and the dehydrator version is slightly crunchy on the outside and a little firmer.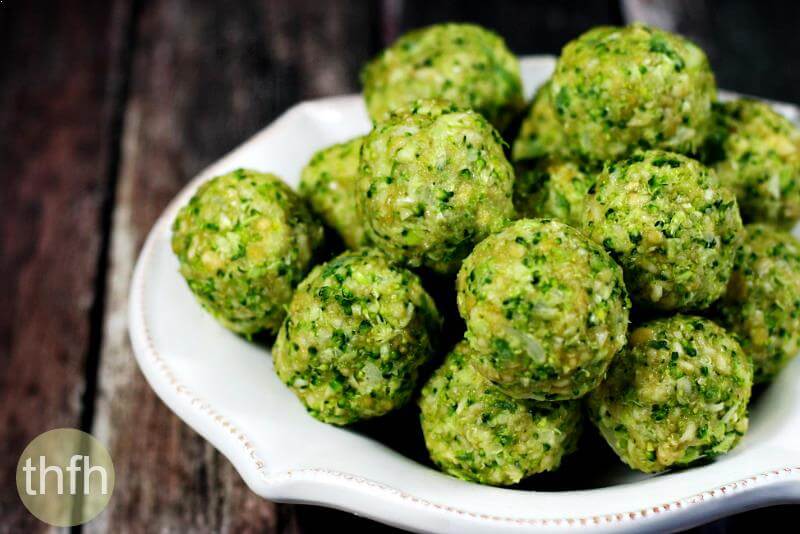 Marinated Raw Onions
These Marinated Raw Onions will make you forget you ever craved those unhealthy, fried and greasy traditional onion rings.
Marinated Raw Mushrooms
Even though these little guys aren't too easy on the eyes, they make up for it in taste.  These Marinated Raw Mushrooms are great as a snack or to sprinkle over salads or baked potatoes.  I've even put them as a topping on a veggie burger and they add such intense flavor.
Raw Vegan Cheese Sticks
These Raw Vegan Cheese Sticks are super easy to make and are perfect to dip in a homemade marinara sauce.
Raw Vegan Carrot and Flax Crackers
My favorite way to use leftover carrot pulp from fresh carrot juice is these Raw Vegan Carrot and Flax Crackers.
Habanero Pepper Crackers
If you love a little heat in your snacks, these Habanero Pepper Crackers are just for you!
---
Dehydrator Cookies
Raw Cacao Pecan Creme Mini Sandwich Cookies
Cookies are another of my favorite snacks to make in my dehydrator and these Raw Cacao Pecan Creme Mini Sandwich Cookies are to die for.
Pumpkin Seed Cookies
If you want to make healthy snacks for your children, there is no better way than with a dehydrator.  You can make super nutritious raw cookies like these Pumpkin Seed Cookies that they will devour.
---
Dehydrated Herbs and Seasonings
Dehydrated Jalapenos
Dehydrated Green Onions
Dehydrated Basil
Dehydrated Mushrooms
---
Dehydrated Foods
Dehydrated Raw "Cheese"
Make some flavorful Raw Cheese in your dehydrator in a snap and cut it into squares like regular sliced dairy cheese.  You will never find dairy cheese with this kind of flavor!
Dehydrated Veggie Burgers
This is a wonderful way to make Raw Carrot and Beet Burgers with the leftover pulp from juicing carrots and beets.  They are so flavorful and even look like regular "hamburgers".
Dehydrated Bread
I made this recipe for Mango Essence Bread and it is a raw bread with diced mangos and soaked grains.  How delicious does that sound?
Dehydrator Raw Meatloaf
I made this recipe for a Raw Meatloaf and Homemade BBQ sauce and it is loaded with tasty vegetables and is very filling.
---
Miscellaneous
Help Traditional Bread Dough Rise
I like to use my dehydrator to help my traditional bread dough rise.  My kitchen is drafty and getting the dough to rise is sometimes tricky.  I just remove the dehydrator trays, put in my mixing bowl and put it on 95 degrees and my dough rises perfectly every time.  I like to use this technique with my Homemade Vegan Hamburger Bun recipe.
Drying Raw Soaked Nuts and Seeds
In summary, there are so many different things you can make with your dehydrator to:
help you maintain a healthy vegan and raw lifestyle
prepare healthy snacks for your family and SAVE MONEY
preserve and store herbs and seasonings
dehydrate foods for long-term storage
preserve your harvest from your summer garden
dry soaked grains, nuts and seeds
make dog treats
make jerky (for non-vegan).  I've seen where these are very popular with hunters or people who purchase meat in bulk to make jerky.
I have owned my Excalibur Dehydrator for over 11 years and it has more than paid for itself.   I look at mine as an investment because it helps me to prepare healthy, live  and wholesome foods for my family.
If you are ready to invest in an Excalibur Dehydrator, please consider supporting The Healthy Family and Home website and buying through the link below:
Affiliate Disclosure: This post contains affiliate links. This means that if you were to make a purchase through one of these links, "The Healthy Family and Home" website would receive a small commission at no additional cost to you.
Amazon Disclosure: "The Healthy Family and Home" website is a participant in the Amazon Services, LLC Associates Program, an affiliate advertising program designed to provide a means for sites to earn advertising fees by advertising and linking to Amazon.com.
Thank you for your support of this website!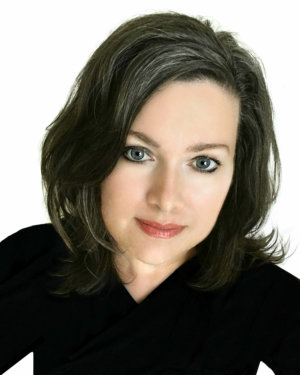 Hi, I'm Karielyn! I'm a cookbook author and creator of The Healthy Family and Home website. I specialize in creating easy, healthy plant-based recipes that are gluten-free + vegan and made with clean, real food ingredients that you can feel good about eating.