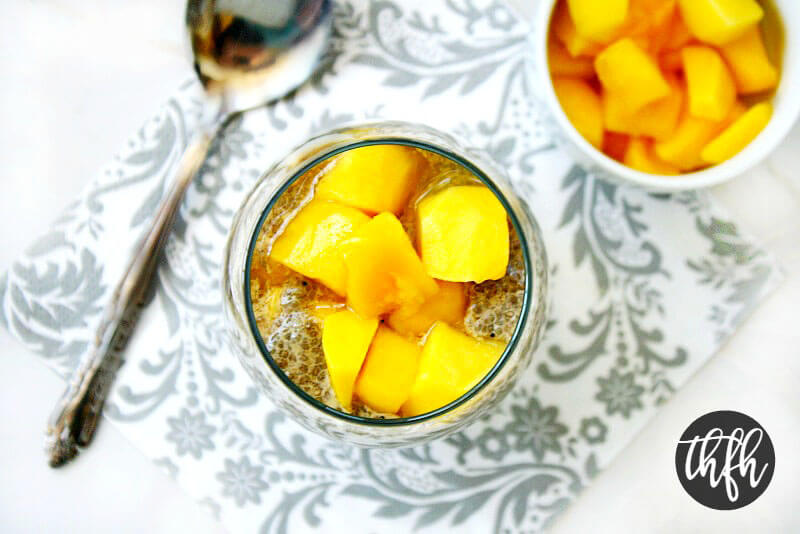 Gluten-Free Vegan Vanilla Bean and Mango Chia Seed Pudding
Yield 1 - 2 servings
Raw / Vegan / Gluten-Free / Dairy-Free / Soy-Free / Paleo-Friendly / No Refined Sugar
Instructions
Prepare the mango:  Peel the mango and dice into small pieces.
Add the diced mango and all other ingredients to a glass mason jar.  Adjust sweetener to your preference.
Seal the lid to the mason jar tightly and shake vigorously until everything is mixed together well.
Place the mason jar in the refrigerator for approximately 30 minutes, or until it firms up a little.
Optional: Add extra diced mango and/or organic shredded coconut flakes on top for garnish.
Enjoy! 
Notes
Get all your organic ingredients delivered straight to your door at up to 25 - 50% off retail by cutting out the middleman and retail markups with a Thrive Market Membership and save 15% off on your first order.
  The recipe and photographs for "Gluten-Free Vegan Vanilla Bean and Mango Chia Seed Pudding" by Karielyn Tillman of The Healthy Family and Home website are licensed under a Creative Commons Attribution Non-Commercial No Derivatives 4.0 International License and cannot be used without my written permission.
Recipe Roundups: Food Bloggers are always welcome to use a photo and a link back to my original post to share on recipe roundups without requesting permission.
Recipe by The Healthy Family and Home at https://thehealthyfamilyandhome.com/vanilla-bean-and-mango-chia-seed-pudding/