These Vegan Banana Walnut Muffins are a healthier version of the traditional banana walnut muffins that are made without eggs, refined sugar and butter.
They usually make their appearance at breakfast when I've bought too many bananas that we can't eat fast enough, so it's a good recipe to use when you need a "my bananas are getting ready to go bad and I need something to make with them" recipe.
If you like the banana walnut combination, make sure you check out these delicious Gluten-Free Vegan Flourless Chocolate Chip Banana Walnut Cookies and if you need a gluten-free muffin recipe, check out my Gluten-Free Vegan Banana Walnut Muffins or my Gluten-Free Vegan Chocolate Chip Banana Walnut Muffins with chocolate chips added in.
Store-bought (and even traditional homemade) muffins have a long list of unhealthy ingredients:
S.A.D. (Standard American Diet) Otis Spunkmeyer Banana Nut Muffins:
Ingredients: Sugar, Wheat Flour Enriched (Wheat Flour, Bleached, Barley Malted Flour, Niacin, Vitamin B3, Iron Reduced, Thiamine Mononitrate Vitamin B1, Riboflavin Vitamin B2), Flour Enriched (Wheat Flour, Niacin Vitamin B3, Iron Reduced, Thiamine Mononitrate Vitamin B1, Riboflavin Vitamin B2, Soybean Oil, Eggs, Water, Bananas Puree, Walnuts, Contains 2% or less of the following: (Flavors, Natural and Artificial, Salt, Potassium Sorbate, Preservative, Whey, Leavening (Sodium Aluminum Phosphate, Baking Soda, Monocalcium Phosphate)
This is a quick and easy breakfast full of healthy fats that are good for you and you can feel good about serving to your family and they're vegan, dairy-free and egg-free.
Want more healthy breakfast recipes? Check out Dark Cherry and Acai Berry Smoothie Bowl, Fluffy Vegan Pancakes, Quinoa and Fruit Breakfast Porridge or my Clean Eating Cookbook with an entire chapter of 20 healthy, clean eating breakfast smoothie recipes you will love!
5 Fast Facts About Bananas:*
combats depression (high levels of tryptophan which converts to serotonin)
aids in weight loss
high in fiber
strengthens the immune system
helps to lower blood pressure
5 Fast Facts About Walnuts:*
high-quality vegan protein
high in antioxidants
rich in omega-3 fatty acids
high in vitamin c
improves blood lipids and other cardiovascular risk factors
5 Fast Facts About Coconut Oil*:
super high in lauric acid
rich in antioxidants
contains natural microbial and antibacterial agents
improves metabolism and prevents fatigue
improves cholesterol
5 Fast Facts About Himalayan Pink Salt:*
contains 84 minerals
unrefined, unprocessed, raw
promotes stable pH balance in cells
controls water levels in the body
aids digestion and facilitates better nutrient absorption
*These statements have not been evaluated by the Food and Drug Administration. This information is not intended to diagnose, treat, cure or prevent any disease.
Vegan Banana Walnut Muffins (Vegan, Dairy-Free, Egg-Free, No Refined Sugar)
Print recipe
Ingredients
Dry ingredients
2 cups organic unbleached all purpose flour
1/2 cup organic vegan granular sugar
1 teaspoon baking soda
1/2 teaspoon Himalayan pink salt
Wet ingredients
1/2 cup organic coconut oil (melted/liquid)
2 organic bananas (mashed)
2 flax eggs (2 tbs ground flax + 6 tbs water)
1 teaspoon organic vanilla extract
4 tablespoons homemade almond milk
Add-in
1/2 - 1 cup organic walnuts (chopped)
Directions
Step 1
Prepare the flax eggs: whisk together 2 tablespoons ground flax seeds + 6 tablespoons of water; set aside.

Mix all remaining wet ingredients together in a medium sized bowl until well combined.

Mix all dry ingredients together in a medium sized bowl until well combined.

Add the wet ingredients and the flax "eggs" into the dry mixture and stir until well combined.

Add in the walnuts and gently stir.

Scoop the mixture into your muffin cups.

Bake at 350 degrees for approximately 15 - 20 minutes or until golden brown on the tops.

Cool on a wire rack for about 5 minutes.

Enjoy!
Note
This recipe will make approximately (8) muffins.

The recipe and photographs for "Vegan Banana Walnut Muffins" by Karielyn Tillman of The Healthy Family and Home are licensed under a Creative Commons Attribution Non-Commercial 4.0 International License and cannot be used without my written permission.

Affiliate Disclosure: This post contains affiliate links. This means that if you were to make a purchase through one of these links, "The Healthy Family and Home" website would receive a small commission.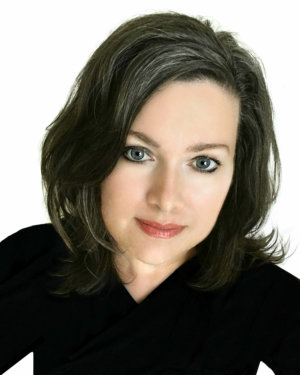 Hi, I'm Karielyn! I'm a cookbook author and creator of The Healthy Family and Home website. I specialize in creating easy, healthy plant-based recipes that are gluten-free + vegan and made with clean, real food ingredients that you can feel good about eating.