Summer, peaches and ice cream are the perfect combination to beat the summertime heat!
So I made this Vegan Vanilla Bean and Peach Ice Cream as a cold, healthy treat for you to enjoy and help you cool off.
It only needs 4 clean ingredients and if you prefer the "soft-serve" version (which is my favorite!) it can be ready in less than 30 minutes using only a Vitamix and an ice-cream maker.
I changed it up a little bit from my other ice-cream recipes and added dates instead of a granulated sweetener, so the color of the dates combined with the vanilla bean powder gives it a little darker color.
Then I added peaches to the base mixture ~and~ added diced peaches so you can taste them in every bite!
Some of my other vegan ice creams that I've enjoyed making are Vegan Black Forest Ice Cream, Vegan Pecan Praline Ice Cream, Vegan Superfood Ice Cream, Vegan Chocolate Chip Raspberry Swirl Ice Cream and Vegan Chocolate Peanut Butter Swirl Ice Cream.
Want more healthy dessert recipes? Check out Healthy Peanut Butter Cups, Crunchy Raw Protein Balls, Clean Eating Peanut Butter Fudge or my Clean Eating Cookbook for an entire chapter of 20 healthy, clean eating dessert recipes just like this one that you will love!
5 Fast Facts About Coconut:*
2 tablespoons contain 4.6 g RDA of dietary fiber
healthy source of medium-chain fatty acids
can help to decrease cholesterol
high in lauric acid
excellent source of manganese at 60% RDA and iron at 11% RDA
5 Fast Facts About Medjool Dates:*
natural energy booster
high in iron content
rich in potassium
good source of dietary fiber
excellent source of vegan protein
5 Fast Facts About Peaches:*
rich in potassium and iron
high amounts of potassium at 333 mg
excellent anti-oxidant
1 peach contains 3 g of fiber
contains 10 different vitamins including 11.6 mg of vitamin C
5 Fast Facts About Vanilla Bean Powder:*
anti-microbial
high in anti-oxidants
can help reduce inflammation
contains small traces of minerals
1 tablespoon contains 2 g of fiber
*These statements have not been evaluated by the Food and Drug Administration. This information is not intended to diagnose, treat, cure or prevent any disease.
Where to Buy:
My favorite places to buy organic ingredients online at up to 50% off and delivered straight to my door are Thrive Market and Vitacost.
Make sure you check out my Shopping Resources section to see all the places I purchase ingredients and equipment to make the recipes on my website!
Vegan Vanilla Bean and Peach Ice Cream (Vegan, Gluten-Free, Dairy-Free, Nut-Free, Egg-Free, Soy-Free, Paleo-Friendly, No Refined Sugar)
Print recipe
Ingredients
1 can organic full-fat coconut milk (13.5 ounce can)
1 cup organic peaches (peeled and sliced)
1 cup organic medjool dates (pitted)
1 teaspoon organic vanilla bean powder
1 piece Himalayan pink salt
For the add-in
1/2 - 1 cup organic peaches (peeled and diced)
Directions
Step 1
Prepare the peaches: Peel and slice 1 cup of peaches for the ice cream, and 1/2 - 1 cup for the add-in.

Add the 1 cup of sliced peaches, entire can of full-fat coconut milk, medjool dates, vanilla bean powder and Himalayan salt to a Vitamix and blend until it is creamy and well combined.

Transfer the mixture to your ice cream maker and follow the manufacturers instructions. At the end of the cycle (or when your machine instructions call for the add-ins), add the 1/2 - 1 cup of diced peaches.

Option 1: Enjoy it with a soft-serve texture right out of the ice cream maker.

Option 2: If you prefer a more traditional ice cream texture, transfer the ice cream mixture to a freezer-safe container, cover and leave it in long enough to harden (approximately 1 - 2 hours).

Enjoy!
Note
This recipe will make approximately (1) large or (2) smaller servings.

The recipe and photographs for "Vegan Vanilla Bean and Peach Ice Cream" by Karielyn Tillman of "The Healthy Family and Home" are licensed under a Creative Commons Attribution Non-Commercial 4.0 International License and cannot be used without my written permission.
Affiliate Disclosure: This post contains affiliate links. This means that if you were to make a purchase through one of these links, "The Healthy Family and Home" website would receive a small commission.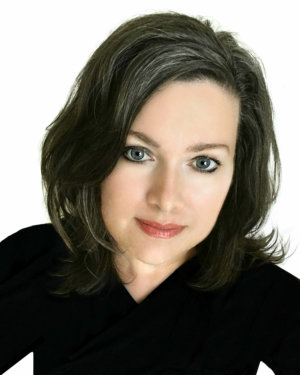 Hi, I'm Karielyn! I'm the published cookbook author of CLEAN DESSERTS and content creator of The Healthy Family and Home website since 2012. I specialize in creating easy, healthy plant-based recipes that are gluten-free + vegan and made with clean, real food ingredients that you can feel good about eating.