This Zucchini Pasta with Vegan Basil Pesto is my August 2016 Recipe Redux submission - with added vacation photos!
The theme this month is: "A vacation inspired recipe – start unpacking your favorite vacation memories. Think about a trip you took state-side or internationally and create a healthy recipe from an unforgettable meal you enjoyed. Or, create a recipe from a native ingredient you saw or tasted on your travels".
If you've been following my website for any length of time, you may have noticed that I don't really share many personal stories or photos here. Despite what I do here on my website and social media, I am actually a very shy and private person.
And while I would have loved to share a little bit from our last vacation here on my website, I never did because I figure people are so busy and mostly just come here for the recipes.
But after seeing the theme for The Recipe Redux this month, I decided I would not only share a vacation inspired recipe, but a brief summary of our recent vacation (a rare occasion here at THFH)!
A couple of months ago back in April, my husband, our two boys and I took an amazing trip to Europe.
We left on a 16-day Trans Atlantic cruise with Celebrity Cruises that embarked in Miami, Florida and disembarked in Rome, Italy. We were at sea for an entire week and the rest of the time on the cruise we had several stops and excursions in Spain, France and Italy.
After the cruise was over, we stayed in Rome for 3 extra days then took the 12+ hour flight back home to New Orleans, Louisiana.
All in all, we were gone for a total of 21 days. It was a great experience for my boys because they got to see so many historical sites and artifacts in person, rather than just reading about them in a text book.
If you can imagine, we had an abundance of not only food, but food choices the entire time. We were able to enjoy foods from 3 different countries, as well as, many different foods and meals on the cruise ship.
Thinking back to everything I ate during the trip (and it took me a while to think about it all!) the one dish that stood out in my mind the most, and one that I still desperately crave to this day - a pesto pasta dish.
A true, authentic Italian pesto. I've never tasted anything like it in my life.
Coming from an Italian family (on my father's side), I've been fortunate to have been able to enjoy a red pasta sauce that my grandmother used to make ~every single time~ we visited her for many, many years. No one else in the family has yet been able to re-create that sauce like she used to make it.
I was much younger back then and the thought of preserving old, traditional family recipes never crossed my mind, but how I wish I would have stood next to her and watched every step of how she used to make that red pasta sauce. I miss and crave it just as much as I miss the pesto pasta from our trip.
By luck, we found this small, family owned restaurant tucked on a quiet side street along the cobblestone roads within walking distance of our hotel and the Vatican.
We loved it so much, we ate there a couple of times while we stayed in Rome.
It was amazing and the people were so friendly and the food was ~so~ good! They even had cute outdoor café style tables and red and white checkered tablecloths on the tables.
Although that pesto pasta dish was a special treat for me, I thought I would attempt to re-create a healthier version even though I know it will never taste the same.
The changes I made were using fresh zucchini pasta noodles instead of traditional white spaghetti pasta and I substituted nutritional yeast for the Parmesan cheese.
Even though it didn't taste exactly like the real Italian pesto dish, it was still really good and brought back some good memories!
And...this is what two little boys look like who have been cruising and vacationing for 21 days, followed by a 10+ hour flight and who are ready to get back home.
A perfect ending to our amazing vacation! 🙂
5 Fast Facts About Zucchini:*
low calorie food – 94% water
high in manganese
helps lower blood pressure
anti-inflammatory
helps lower cholesterol
5 Fast Facts About Basil:*
2 teaspoons provide 60% dv of vitamin K
2 teaspoons provide 5.9% dv of calcium
provides anti-inflammatory benefits
good for digestive tract health
anti-oxidant and anti-bacterial
5 Fast Facts About Extra-Virgin Olive Oil:*
lowers blood cholesterol levels
rich in anti-oxidants
improves bone mineralization and calcification
excellent protection from heart attack and stroke
contains anti-inflammatory benefits
5 Fast Facts About Pine Nuts:*
great source of iron
contains protein and magnesium
high in anti-oxidants
good as an appetite suppressant
good source of fiber
5 Fast Facts About Garlic:*
regulates blood sugar levels
lowers high blood pressure
contains anti-bacterial and analgesic properties
anti-viral
helps to lower cholesterol levels
5 Fast Facts About Nutritional Yeast:*
vegan source of vitamin B12
contains 18 amino acids and is a complete protein
boosts immune system
excellent anti-oxidant
contains 15 minerals
5 Fast Facts About Himalayan Pink Salt:*
contains 84 minerals
unrefined, unprocessed, raw
promotes stable pH balance in cells
controls water levels in the body
aids digestion and facilitates better nutrient absorption
*These statements have not been evaluated by the Food and Drug Administration. This information is not intended to diagnose, treat, cure or prevent any disease.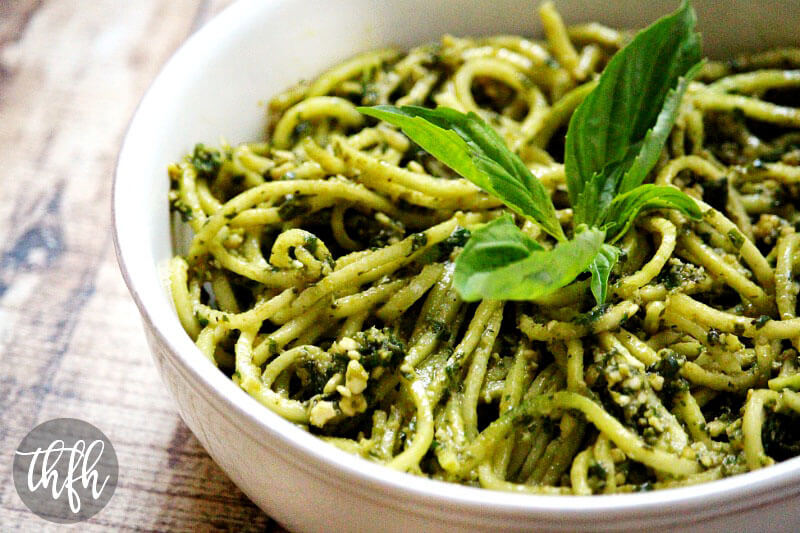 Zucchini Pasta with Vegan Basil Pesto (Raw, Vegan, Gluten-Free, Dairy-Free, Paleo-Friendly)
Print recipe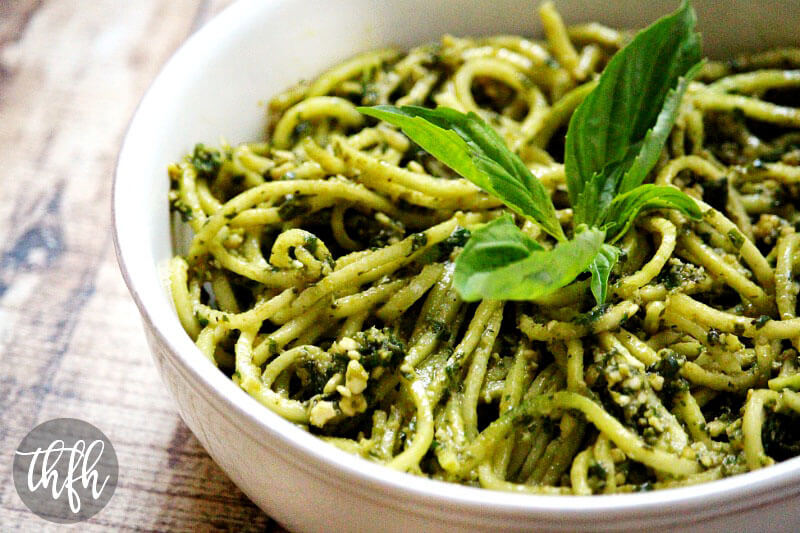 Ingredients
For the pasta
2 cups organic zucchini pasta noodles
For the pesto
2 cups organic fresh basil leaves
1/2 cup organic extra-virgin olive oil
1/3 cup organic pine nuts
1/4 cup nutritional yeast
1 - 2 clove organic garlic
1/2 teaspoon Himalayan pink salt
1/4 teaspoon organic ground black pepper
Directions
Prepare the zucchini
Step 1
Wash the outside of the zucchini and cut off each end. Place it in a Spiralizer (using the blade of your choice) and spiralize your zucchini. Set aside.
Prepare the pesto
Step 2
Add all ingredients for the pesto to a food processor and process until the nuts are ground into tiny pieces and all ingredients are blended together well.
Step 3
Add the zucchini pasta to a medium sized bowl with the pesto sauce and gently toss until the pesto is evenly distributed.

Optional: garnish with extra fresh basil leaves.

Enjoy!
Note
This recipe will make approximately (1) large serving or (2) smaller servings.

The recipe and photographs for "Zucchini Pasta with Vegan Basil Pesto" by Karielyn Tillman of "The Healthy Family and Home" website is work is licensed under a Creative Commons Attribution Non-Commercial 4.0 International License and cannot be used without my written permission.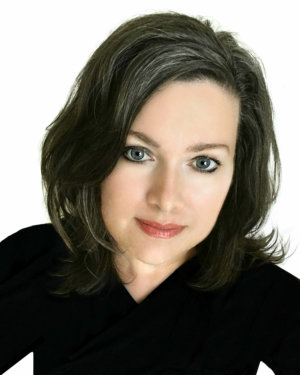 Hi, I'm Karielyn! I'm the published cookbook author of CLEAN DESSERTS and content creator of The Healthy Family and Home website since 2012. I specialize in creating easy, healthy plant-based recipes that are gluten-free + vegan and made with clean, real food ingredients that you can feel good about eating.