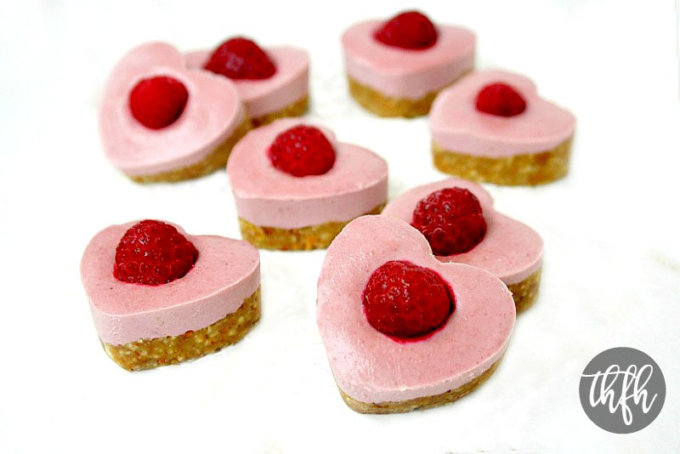 Raw Vegan No-Bake Strawberry and Raspberry Cheesecake Hearts
Yield 16 pieces
Raw / Vegan / Gluten-Free / Dairy-Free / Soy-Free / No-Bake / Paleo-Friendly / No Refined Sugar
Ingredients
For the filling:
For the crust:
For the garnish:
Instructions
Prepare the crust:
Add all the ingredients for the crust to a food processor and process until it's moist and crumbly.
Divide the crust mixture between 16 mini-heart molds and press the mixture down evenly and firmly. Set aside.
Prepare the filling:
Add all the ingredients for the filling to a Vitamix and blend until the mixture is creamy and smooth.
Divide the filling mixture between 16 mini-heart molds and pour on top of the crust.
Assembly:
Place the mold tray on a baking pan and put it in the freezer for approximately 30-60 minutes, or until they harden.
When ready to serve, remove from the freezer and let them sit on the counter top for just a few minutes, if they are frozen solid. Add a single raspberry to the center of each one for garnish.
Store extras in an air-tight BPA-free container until ready to serve because they will get soft if left out at room temperature.
Enjoy!
Notes
Get all your organic ingredients delivered straight to your door at up to 25 - 50% off retail by cutting out the middleman and retail markups with a Thrive Market Membership and save 15% off on your first order.
  The recipe and photographs for "Raw Vegan No-Bake Strawberry and Raspberry Cheesecake Hearts" by Karielyn Tillman of The Healthy Family and Home website are licensed under a Creative Commons Attribution Non-Commercial No Derivatives 4.0 International License and cannot be used without my written permission.
Recipe Roundups: Food Bloggers are always welcome to use a photo and a link back to my original post to share on recipe roundups without requesting permission.
Recipe by The Healthy Family and Home™ at https://thehealthyfamilyandhome.com/strawberry-and-raspberry-cheesecake-hearts/