Vegan non-dairy ice cream is amazing and I have several delicious and tempting combinations on my website to choose from.
But this Vegan Superfood Ice Cream is for those who want to take ice cream to a whole new level.
This recipe transforms a traditional dessert into a powerhouse of nutrients that you will never find in a store-bought ice cream.
The star of the show in this recipe is the superfood, Moringa.
I was introduced to it by Ana at MOREMoringa.com and have fallen in love with it.
The nutritional profile leaves me speechless.
Just imagine this…by enjoying this non-dairy, vegan ice-cream treat and adding the Moringa superfood powder, you could also get (gram for gram):
17 x the calcium of milk
25 x the iron of spinach
10 x the vitamin A of carrots
9 x the protein of yogurt
15 x the potassium of bananas
And the entire recipe is organic, "almost" raw (coconut milk), vegan, gluten-free, dairy-free, paleo-friendly and contains no refined sugar!
Want more healthy dessert recipes?  Check out Creamy Mango and Chocolate Chip Ice Cream Popsicles, Vegan Black Forest Ice Cream, Vegan Chocolate Peanut Butter Swirl Ice Cream or my Clean Eating eCookbook with an entire chapter of 20 healthy, clean eating dessert recipes just like this one that you will love!
5 Fast Facts About Coconut (Flakes):*
2 tablespoons contain 4.6 g RDA of dietary fiber
healthy source of medium-chain fatty acids
can help to decrease cholesterol
high in lauric acid
excellent source of manganese at 60% RDA and iron at 11% RDA
5 Fast Facts About Moringa Powder:*
17 x the calcium of milk
25 x the iron of spinach
10 x the vitamin A of carrots
9 x the protein of yogurt
15 x the potassium of bananas
5 Fast Facts About Baobab Powder:*
low glycemic sweetener
ORAC value of 28,000
2 tablespoons provide 16% dv of fiber
2 tablespoons provide 10% dv of vegan calcium
2 tablespoons probide 40% dv of vitamin C
5 Fast Facts About Raw Cacao Nibs:*
excellent source of anti-oxidants
contains one of the highest dietary sources of magnesium
one ounce has 9 g of fiber
one ounce contains 4 g of raw vegan protein
one ounce contains 6% DV of iron
*These statements have not been evaluated by Food and Drug Administration.  This information is not intended to diagnose, treat, cure or prevent any disease.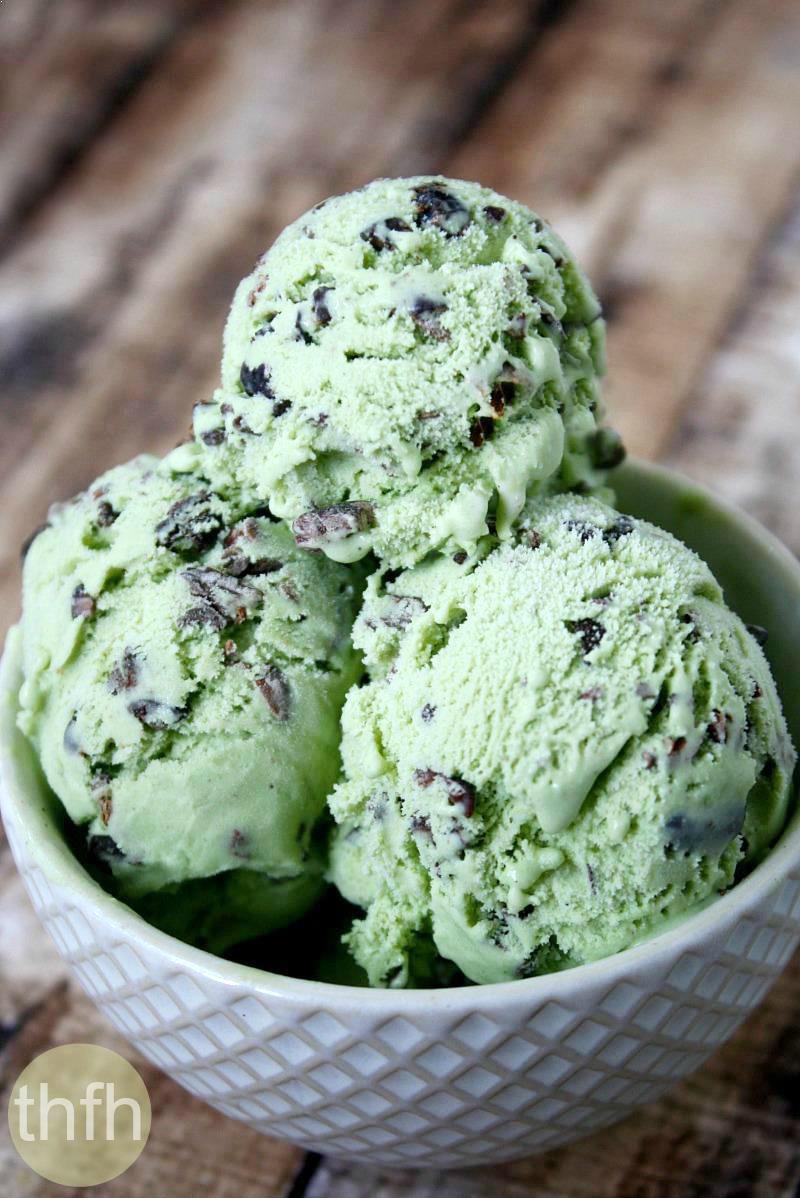 Where to Buy:  If you have trouble finding any of the ingredients or equipment to make this recipe, you can order online from Amazon and have them delivered straight to your door:
 You can purchase the organic, raw, vegan, gluten-free, dairy-free, paleo-friendly MoreMoringa superfood I used from www.moremoringa.com
Tip #1:  I used raw cacao nibs which are not sweet at all.  If you'd like your ice cream a little sweeter, you can substitute with vegan, gluten-free mini chocolate chips.
Vegan Superfood Ice Cream ("Almost" Raw, Vegan, Gluten-Free, Dairy-Free, Egg-Free, Paleo-Friendly, No Refined Sugar)
Print recipe
Ingredients
For the ice cream
1 can organic full-fat coconut milk (13.5 ounce can)
1/4 cup organic unrefined granular sweetener
2 teaspoons organic moringa powder
1 teaspoon organic baobab powder
For the mix-in
1/2 cup organic raw cacao nibs
Directions
Step 1
Add the canned coconut milk, organic granular sweetener and moringa powder to a Vitamix, or other blender, and blend until it is smooth and well combined. Taste the mixture and add more sweetener, if you prefer.

Pour the ice cream mixture into your ice cream maker and prepare according to your machine's directions.

When it's finished, stir in the cacao nibs (or mini chocolate chips) by hand.

Option #1: For a soft-serve ice cream, serve and enjoy.
Option #2: For a firmer ice cream, put the inner ice cream container into the freezer for approximately 1 - 2 hours and it will be firm enough for you to scoop it out as shown in the photos.

Enjoy!
Note
This recipe will make approximately (2) servings.

The recipe and photographs for "Vegan Superfood Ice Cream" by Karielyn Tillman of The Healthy Family and Home are licensed under a Creative Commons Attribution-NonCommercial 4.0 International License and cannot be used without my written permission.

Affiliate Disclosure: This post contains affiliate links. This means that if you were to make a purchase through one of these links, "The Healthy Family and Home" website would receive a small commission.
Amazon Disclosure: "The Healthy Family and Home" website is a participant in the Amazon Services, LLC Associates Program, an affiliate advertising program designed to provide a means for sites to earn advertising fees by advertising and linking to Amazon.com.
Miscellaneous Disclosure: I received product from MoreMoringa to review and use in creating a new recipe. I was under no obligation to give a positive review and was not paid for this review or endorsement. All thoughts, opinions and comments are my own.