This Creamy Red Lentil and Kale Soup is a one-pot meal that can be made in about 30 minutes.
I'm a big fan of making hearty vegan soups and some of my favorite are Vegan Cream of Asparagus Soup, Creamy Vegan Tomato Basil Soup, Vegan Stuffed Pepper Soup and Spicy Chickpea and Tomato Soup.
I've been making this Creamy Red Lentil and Kale Soup for a while now, and it's taken me a long time to get it to where I could finally say…perfect!
Normally when I make it, it has a broth-type of gravy and it was "ok" and everyone ate it, but I just wasn't feeling it.
It needed something else to make it creamy and give it some depth.
So I added a can of full fat coconut milk and it transformed it into a creamy, bisque-type soup.
And it was perfect!
It gives it just a tiny hint of coconut flavor and a beautiful light orange color that is only intensified after adding the kale.
This is also a very budget-friendly meal because you can buy organic red lentils right under $4.00 a pound, organic vegetable broth around 0.13 cents/ounce, canned organic coconut milk around 0.18 cents/ounce and you probably have everything else on hand to make it.
You can feel good about making this recipe for your family because it's organic, vegan, gluten-free and dairy-free.
Want some more healthy soup recipes?  Check out Spicy Chickpea and Tomato Soup, Raw Vegan Cream of Mushroom Soup, Vegan Black Bean Soup or my Clean Eating Cookbook with an entire chapter of 20 meal and entree recipes you will love!
5 Fast Facts About Red Lentils:*
excellent source of fiber – 1 cup contains 15 g
helps to stabilize blood sugar
excellent source of vegan protein – 1 cup contains 18 g
high in folate, vitamin A, potassium and magnesium
good source of iron and anti-oxidants
5 Fast Facts About Onions:*
rich source of sulfur compounds
excellent for cardiovascular health
inhibits bone loss in women
reduced blood pressure
lowers blood cholesterol levels
5 Fast Facts About Tomatoes:*
contains lycopenes which are cancer fighting agents
high in beta-carotene
excellent anti-oxidant
high in vitamin A and K
high in chromium which helps control blood sugar levels
5 Fast Facts About Kale:*
high in iron
excellent for detoxification
contains powerful anti-oxidants
high in calcium
contains anti-inflammatory benefits
5 Fast Facts About Himalayan Pink Salt:*
contains 84 minerals
unrefined, unprocessed, raw
promotes stable pH balance in cells
controls water levels in the body
aids digestion and facilitates better nutrient absorption
*These statements have not been evaluated by the Food and Drug Administration.  This information is not intended to diagnose, treat, cure or prevent any disease.
Tip #1:  I used roma tomatoes, but any type of tomato (approximately 2 cups) would be fine.  For the tomato sauce, I like to use the kind in a jar to avoid the BPA lined cans/tomato acid issue.
Tip #2:  Make sure you use a can of "full-fat" coconut milk because that is what will make it extra creamy.  I don't think boxed or homemade coconut milk would give it the same texture.
Tip #3:  Feel free to adjust the amount of cumin, Himalayan pink salt and cayenne pepper to your taste.
Tip #4:  I've used both curly kale and lacinato kale and both work fine.
Tip #5:  This recipe will make approximately 4 servings.
Creamy Red Lentil and Kale Soup (Vegan, Gluten-Free, Dairy-Free)
Print recipe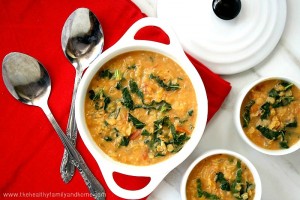 Ingredients
1 1/2 cup organic red lentils (uncooked)
2 3/4 cups organic vegetable broth
1 can organic full-fat coconut milk (13.5 ounce can)
3 organic roma tomatoes (diced)
1/2 organic onion (diced)
1 cup organic kale (chopped)
2 tablespoons organic tomato sauce
1 1/2 teaspoon organic ground cumin powder
1 teaspoon Himalayan pink salt
1 - 2 pinch organic cayenne pepper
Directions
Step 1
Prepare veggies: dice onions and tomatoes and chop kale into small pieces.

Put all ingredients (EXCEPT: chopped kale and coconut milk) into a medium-sized pot, stir well and bring to a boil.

Reduce heat to simmer (low/medium) and cover and cook for 30 - 40 minutes (or until the lentils are soft), stirring occasionally.

Remove from heat, add the chopped kale and coconut milk, stir well.

Add additional vegetable broth/pink himalayan salt/seasonings, if needed.

Enjoy!


Note
This recipe will make approximately (4) servings.

The recipe and photographs for "Creamy Red Lentil and Kale Soup" by The Healthy Family and Home are licensed under a Creative Commons Attribution-NonCommercial 4.0 International License.

Affiliate Disclosure: This post contains affiliate links. This means that if you were to make a purchase through one of these links, "The Healthy Family and Home" website would receive a small commission.