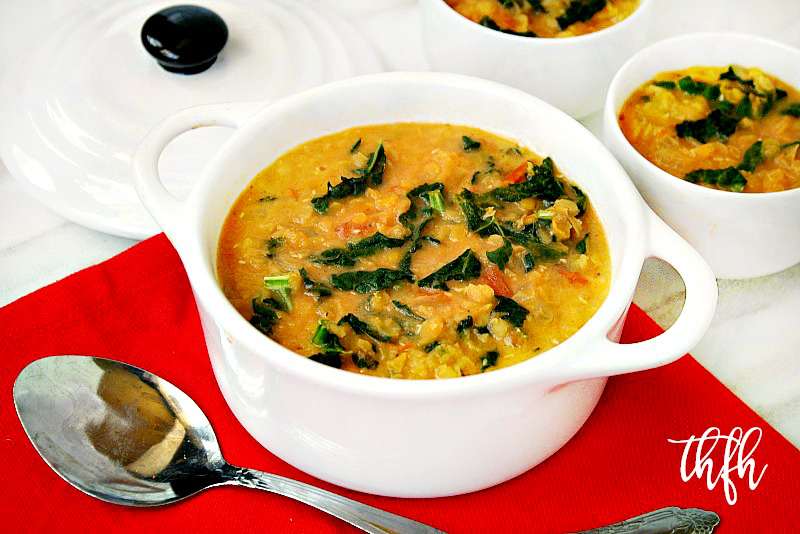 This Creamy Vegan Red Lentil and Kale Soup is a one-pot meal that can be made in about 30 minutes and an extra bonus - it's freezer-friendly too!
Here's Why This Recipe Works
Here's why this recipe works - my top 3 reasons:
Budget-friendly
Freezer-friendly
One-pot meal ready in about 30 minutes
Budget-Friendly
We all love meals that are healthy and filling and don't stretch our grocery dollars.
My red lentil soup recipe is a very budget-friendly meal that's you'll love to have in your meal rotation.
For example, you can buy organic red lentils right around $3.00 for a 14-ounce bag, organic vegetable broth around 0.20 cents/ounce, canned organic coconut milk around 0.15 cents/ounce and you probably have everything else on hand to make it!
Freezer-Friendly
I love to not only make this as a quick weeknight meal but also to make a batch for an even quicker meal later by freezing it.
Once the soup has cooled down, store it in an air-tight BPA-free container in the freezer in either individual serving sizes or as a whole batch for the family.
Now dinner can be ready in about 5 minutes!
One-Pot Meal Ready in About 30 Minutes
I'm a big fan of making hearty plant-based vegan soups and some of my favorite are Vegan Cream of Asparagus Soup, Creamy Vegan Tomato Basil Soup, Vegan Stuffed Pepper Soup, Spicy Chickpea and Tomato Soup or my Creamy Vegan Vegetable Minestrone Soup.
The main reason I love them so much is that they can be made in one pot and are ready to enjoy in about 30 minutes.
This recipe is no exception - simply add all the ingredients to your saucepan and let it simmer for about 20 minutes.
That's it!
You can feel good about making this recipe for your family because it's organic, plant-based, vegan, gluten-free, dairy-free, nut-free and Medical Medium compliant.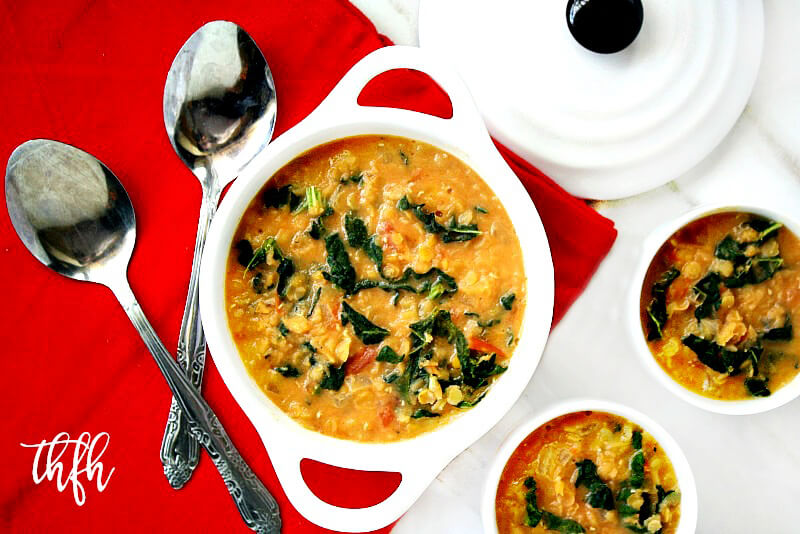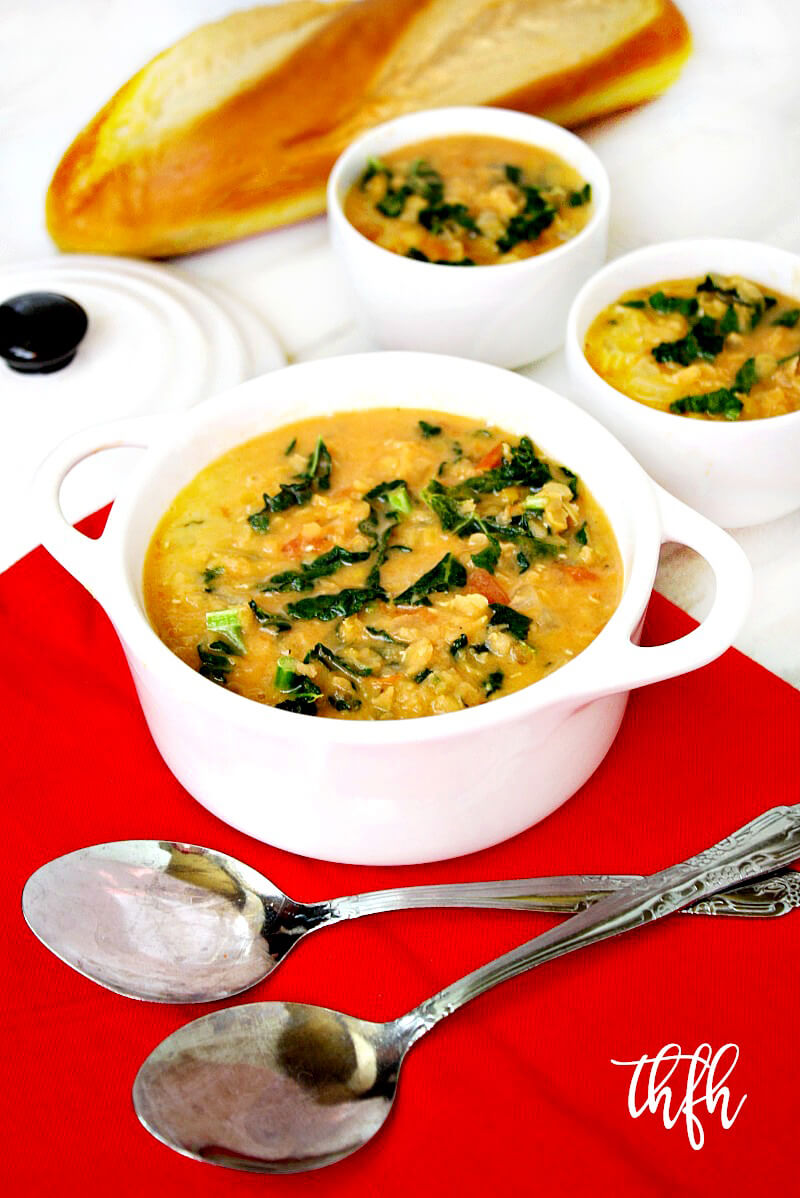 Expert Tips + Ingredient Substitutions
Here are some expert tips to make this recipe perfectly:
Tip #1: I used both fresh organic Roma tomatoes and also organic diced tomatoes in a BPA-free can and also organic diced tomatoes in a glass container. Any type of tomato will work, just make sure you have approximately 2 cups. For the tomato sauce, I like to use an organic tomato sauce in a BPA-free can.
Tip #2: Make sure you use a can of "full-fat" coconut milk because that is what will make it extra creamy. I don't think boxed or homemade coconut milk would give it the same texture.
Tip #3: Feel free to adjust the amount of cumin, Himalayan pink salt and cayenne pepper to your taste.
Tip #4: I've used both curly kale and lacinato kale and both work fine. If you don't have kale on hand, chopped organic baby spinach works perfectly too. Or you can even leave the leafy greens out altogether, but they do add extra nutrients to the meal.
Tip #5: This is a "freezer-friendly" meal and is perfect to make ahead to freeze and have ready for a quick meal on a busy night. Just make sure you use an air-tight BPA-free glass container and avoid plastic containers.
Want More Healthy Plant-Based Soup Recipes?
Check out these:
Did You Make This Recipe?
I'd love to hear about it! Please give it a rating and leave a comment below...it would make my day! 🙂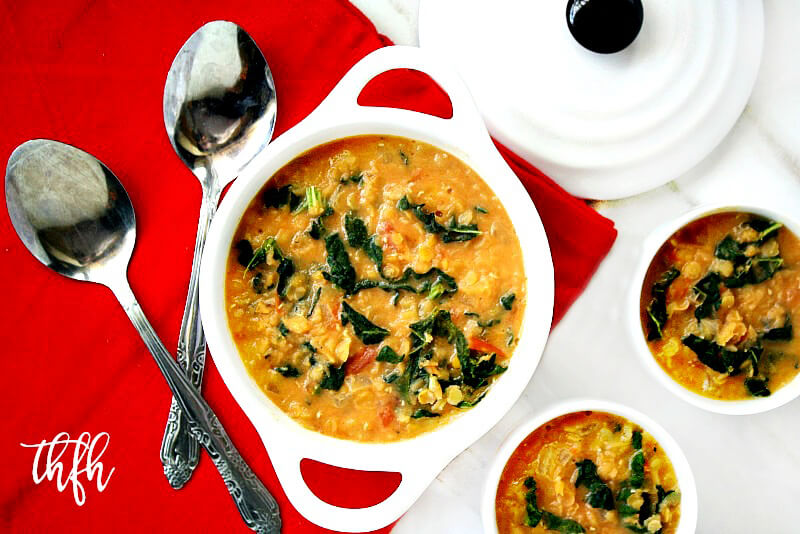 Print
Creamy Vegan Red Lentil and Kale Soup
Yield 4 servings
Vegan / Gluten-Free / Dairy-Free / Nut-Free
Ingredients
For the soup:
1 1/2 cups organic red lentils (uncooked)
3 cups organic vegetable broth
2 cups organic diced tomatoes
1/2 organic onion (diced)
2 tablespoons organic tomato sauce
1 1/2 teaspoons organic ground cumin
1 teaspoon Himalayan pink salt
1-2 pinches organic cayenne pepper
For the add-ins:
1 cup organic kale (destemmed, chopped)
1 can organic full-fat coconut milk (13.5 ounce can)
Instructions
Prepare the veggies:  Dice the onions and tomatoes; de-stem the kale and chop into small strips.
Add all ingredients for the soup to a medium sized pot, stir together well and bring to a boil.
Reduce the heat to simmer (low/medium heat), cover and cook for 20-30 minutes, or until the lentils are soft.  Stir occasionally to prevent burning and add a little more veggie broth if needed.
Once the lentils are soft, remove from heat and add the chopped kale and entire can of coconut milk. 
Stir to make sure everything is well combined.  Adjust seasonings to your preference.
Enjoy!
Courses Soup
Cuisine American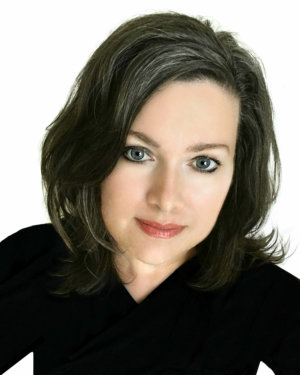 Hi, I'm Karielyn! I'm the published cookbook author of CLEAN DESSERTS and content creator of The Healthy Family and Home website since 2012. I specialize in creating easy, healthy plant-based recipes that are gluten-free + vegan and made with clean, real food ingredients that you can feel good about eating.