These ORIGINAL Healthy Gluten-Free Vegan No-Bake Chocolate Peanut Butter Oat Cookies from 2015 are an easy recipe made with only 6 clean, real food ingredients. They're ready to enjoy in about 30 minutes and are a delicious dessert treat you can feel good about eating!
These are the BEST Healthy No-Bake Chocolate Peanut Butter Cookies that you'll ever make and you'll love how easy it is to make this one-bowl recipe that takes about 5 minutes to prepare.
The hardest part is waiting for them to firm up in the freezer then they're ready to enjoy!
No-Bake Chocolate Peanut Butter Cookies
I am so excited to have finally taken the time to re-make these classic Chocolate Peanut Butter Oatmeal No-Bake Christmas cookies that I have enjoyed since I was a child.
My mother has been making these every year for our family Christmas get-together for years and years and of all the desserts there were to choose from, I would always go for these.
And I don't mean just go for one or two. My obsession was so shameful, I had to wait until there was no one in the kitchen to grab 4 or 5 at a time so no one would see me.
Even though I eat clean desserts now, it doesn't mean I'm never tempted by the S.A.D. (Standard American Diet) desserts, especially when you've grown up with them, like this one.
Now I don't have to miss out on one of my favorite childhood desserts anymore, and neither do you!
Are these No-Bake Chocolate Peanut Butter Oat Cookies Healthy?
In my opinion, yes!
Most of the people making and sharing this recipe on Pinterest and their websites were probably not even born when the original version of this recipe started circulating well over 30+ years ago.
It's popping up everywhere now because it's a "trending recipe" on Pinterest in 2018 + 2019… and they have no clue about how unhealthy the original recipe was.
They're just re-circulating the cleaned-up version.
My cleaned-up recipe from 2015 is much healthier than the traditional S.A.D. (Standard American Diet) version.
Here's the ingredient list from my mother, which she had on a handwritten postcard many, many, many years ago (like way over 30+!) from a neighbor. I just love the cute title she gave the recipe lol!:
S.A.D. (Standard American Diet) "Real Good Chocolate Cookies (For a Busy Day)" aka Chocolate Peanut Butter Oatmeal No-Bake Cookies
Ingredients: 2 cups white sugar, 1 stick margarine, ¼ teaspoon salt, 1 teaspoon vanilla, ½ cup milk, ¼ cup powdered cocoa, ½ cup peanut butter, 3 cups oats
Indeed, they were "real good", that's no lie. But they were made with 2 cups of refined white sugar (2 cups!), an entire stick of margarine?! and milk.
Here's what I did to clean up this recipe to make it with clean, real food ingredients:
Instead of margarine –> organic coconut oil
Instead of cocoa –> organic raw cacao powder
Instead of refined white sugar –> organic maple syrup
Instead of vanilla extract –> organic vanilla bean powder
That's it!
I also omitted the milk and salt because I didn't feel like it needed it, and if I would have used those ingredients, I would have used homemade almond milk instead of regular dairy and Himalayan pink salt instead of refined white table salt.
This healthier plant-based version is vegan, gluten-free, dairy-free, no-cook, no-bake, egg-free, contains no refined sugar, is Medical Medium compliant (with substitutions) and…tastes just as good!
Why You'll Love My Healthy No-Bake Chocolate Peanut Butter Cookies:
they're fudgy + chewy
they're filling + satisfying
they're perfectly sweet
they're rich + "buttery"
they're chocolately
they're nutritious
they're a source of protein + fiber
they're easy to make
they're refined sugar-free
they're made in one bowl
they take just 5 minutes to prepare
they're made with just 6 clean ingredients
there's no cooking required

What Ingredients Do I Need To Make Gluten-Free Vegan No-Bake Chocolate Peanut Butter Oat Cookies?
This recipe is made with only 6 clean, real food ingredients that are nutrient-dense.
Try to buy organic ingredients whenever possible.
Quick Rolled Oats
Peanut Butter
Maple Syrup
Coconut Oil
Cacao Powder
Vanilla Bean Powder
Make sure you visit my "5 Fast Facts of Nutrient-Dense Foods" to see the nutritional benefits of the ingredients I used in this recipe!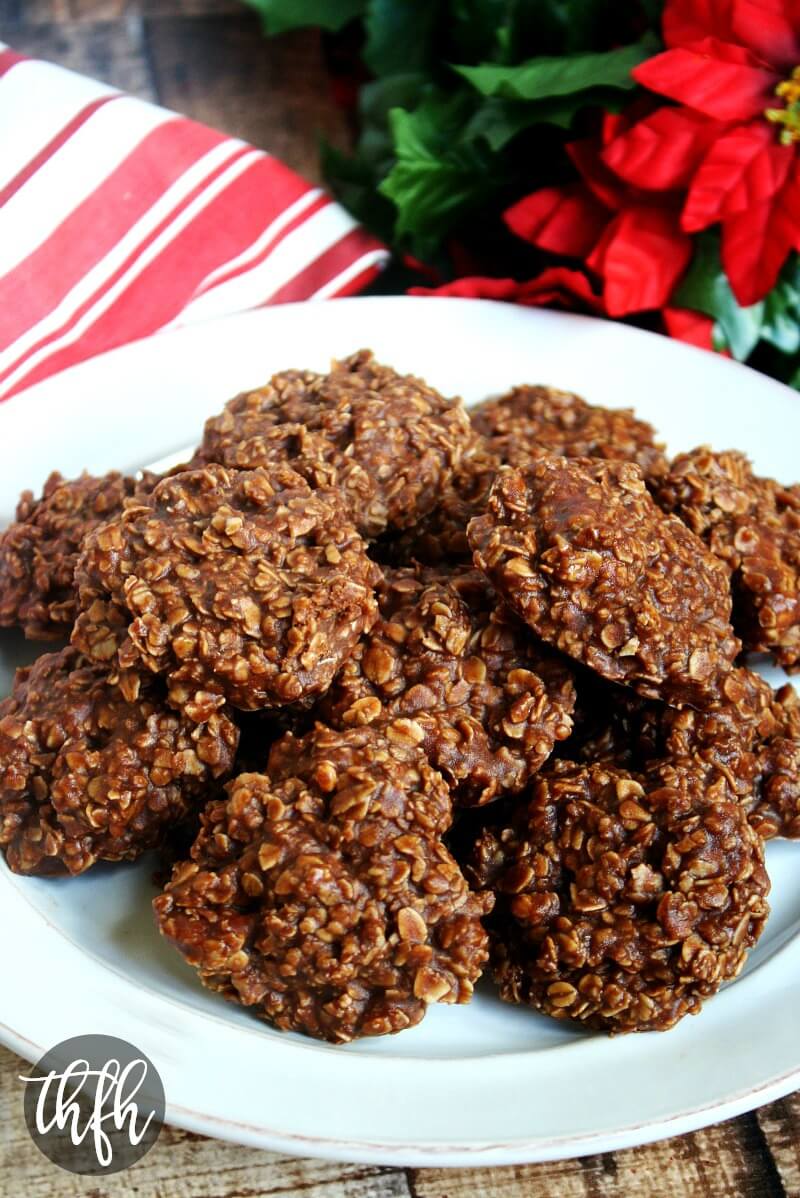 How To Make The ORIGINAL Healthy No-Bake Chocolate Peanut Butter Oat Cookies Recipe:
This just might be the easiest healthy no-bake recipe you'll ever make…seriously!
And I'll show you how to make it with step-by-step instructions below.
Step 1: Gather the Ingredients:
Gather and measure all the ingredients for the recipe, then add them to a medium-sized bowl.
If you need ingredient substitutions, just check the "Ingredient Substitution" section below.
Step 2: Mix all the Ingredients and Transfer to a Cookie Sheet:
This is basically the main part of the recipe and should take no more than 5 minutes to mix everything together.
Mix the ingredients: You'll add all the ingredients to a medium-sized bowl and stir everything together until it's well combined….it takes less than 5 minutes. That's it!
Prepare your cookie sheet: You'll want to make sure you line your cookie sheet with parchment paper because it will make the cookies so much easier to remove once they've hardened in the freezer. And, it makes clean up easier too!
Transfer the cookies to your cookie sheet: This part is super easy because these are basically "drop cookies". You don't have to use cookie cutters, cookie scoops, roll the mixture out, etc. All you do is take a spoonful of the cookie mixture and drop it onto the prepared cookie sheet.
Firm in the freezer: This is the hardest part – waiting for the cookies to firm in the freezer before enjoying them! I've been known to sneak out one (or maybe 2 or 3) from the freezer before they were ready because I just couldn't wait!
Step 3: How To Store Your No-Bake Cookies:
Because of the clean ingredients used in this healthier recipe, it's important to know how to properly store them.
The only difference between these and the original version is these will not keep their shape at room temperature like the traditional version.
They will need to be kept in the refrigerator or freezer in an air-tight BPA-free container until ready to serve or they will get soft and lose their shape if left out at room temperature.
Keep this in mind if traveling with them or serving them at a party or get together.
Storage suggestions:
Watch How To Make Gluten-Free Vegan Chocolate Peanut Butter Oatmeal No-Bake Cookies Video:
Ingredient Substitutions for Healthy No-Bake Chocolate Peanut Butter Cookies:
Peanut Butter. Substitute with your favorite nut butter like almond butter or cashew butter.
Cacao Powder. Substitute with regular cocoa powder.
Maple Syrup. -Substitute with another thick liquid sweetener like organic date nectar, organic coconut nectar or organic brown rice syrup.
Vanilla Bean Powder. Substitute with organic vanilla extract, in the same amount.
Want More Healthy No-Bake Gluten-Free Vegan Desserts?
or my CLEAN DESSERTS Cookbook with 72 Plant-Based No-Bake Vegan + Gluten-Free dessert recipes made with clean, real food ingredients just like this one that you will love!
Did You Make This Recipe?
I'd love to hear about it! Please give it a rating and leave a comment below…it would make my day! 🙂