Ever wonder "Is Chocolate a Medical Medium Compliant Food"? Find out if this ingredient is approved and get a resource for chocolate-free desserts recipes that are 100% Medical Medium compliant!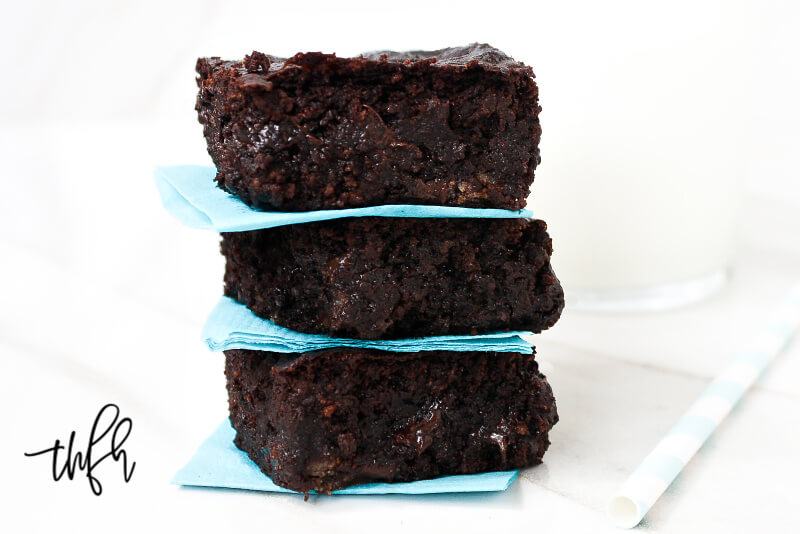 Before I begin discussing whether "chocolate" is a Medical Medium compliant food, I want to give you a little background about my website and recipes.
The Healthy Family and Home Website
I have been sharing clean eating vegan + gluten-free recipes here on my website for almost 8 years now.
In fact, I have over 500 recipes on my website, another 140+ in my CLEAN EATING Cookbook, 72 in my CLEAN DESSERTS Cookbook and have authored 100+ recipes in a published health-related cookbook.
That's a total of almost 800 recipes!
My recipes have always been focused on using clean, real food ingredients.
When I discovered Medical Medium back in October 2018, I was ecstatic to find that 95% of the existing recipes on my website were already 100% Medical Medium compliant.
The ones that weren't?
They were recipes that contain the following non-compliant ingredients:
apple cider vinegar
nutritional yeast
balsamic vinegar
corn
chocolate
peanut butter
So I began a new mission - especially since I began following the Medical Medium protocol - which was to revise and edit my non-compliant recipes to be 100% Medical Medium compliant.
This is a project that I am still working on, so if you see a recipe that I haven't updated that contains one of the non-compliant Medical Medium ingredients listed above, try omitting it or substituting it with something else.
And, since I have had so many people email me or message me on Instagram telling me they didn't know chocolate was not Medical Medium approved or asking if it is, I thought I'd share what I've found out so far.
Is "Chocolate" a Medical Medium Compliant Food?
So the big question is....
"Is Chocolate a Medical Medium Compliant Food"?
Unfortunately, there is not much direct guidance from Anthony William on the topic, meaning a definitive "yes" or "no".
When I started revising and editing my recipes to be Medical Medium compliant, I looked and looked to find an answer and there really isn't one.
It's not on his official list of "Foods To Avoid To Heal Chronic Illness" which makes it a little confusing.
Firstly, there is one single recipe on his website which contains chocolate, Pomegranate Bark, which contains "10 ounces bittersweet chocolate chips (at least 60 percent cacao)".
If chocolate was really that bad and a definite "no" food, why would it be included in a recipe on his website?
Secondly, he also includes a couple of articles that caution the use of chocolate in certain health situations, which is even more confusing.
If you type "chocolate" into the search bar of his website, these are the only articles that come up referring to "chocolate":
In those articles, he indicates that chocolate is a "neurotoxin" and "it's best to avoid chocolate for the time being if you struggle with nervous system issues or neurological problems, including confusion, brain fog, neurological shakes and tremors, neurological aches and pains, tingles, numbness, migraine, neuropathy, fibromyalgia, dizziness, vertigo, ringing in the ears or any other symptom described in the article, Healing Your Neurological System".
He also gives more detailed information about neurological symptoms and causes which you can read about in his book, Thyroid Healing.
Can I Eat Chocolate If I Don't Have Neurological Symptoms?
I feel like this is a decision that only you can make depending on your current health situation.
Some things to consider:
Is eating (1) serving of a dessert with clean chocolate on a special occasion going to be detrimental to your health? Is eating one plant-based cookie with 4-5 clean chocolate chips in it at a social or holiday gathering going to negatively affect you? Will one square of a dessert bar with a thin layer of chocolate topping once a year for your birthday going to take you down? For some people, the answer will be yes and for some people, the answer will be no.
Do the documented health benefits of eating chocolate outweigh the negative effects if you suffer from neurological symptoms? This really depends on how chocolate affects you individually, as we all have different issues we are dealing with.
Does eating chocolate affect you like other trigger foods? If it does, you should seriously consider omitting it from your diet, even on special occasions. Some trigger foods that significantly affect me are citric acid, MSG, corn, etc. and I have to actively avoid them to feel my best.
What "type" of chocolate would you be consuming? There are different kinds of chocolate and some are better than others. Here are some examples: milk chocolate, semi-sweet chocolate, bittersweet chocolate, dark chocolate, and raw cacao. The higher the percentage of cacao, the healthier it is for you because it will contain less sugar. Another thing to consider is the quality of the chocolate - what kind of sugar is it sweetened with? Does it contain soy-lecithin? Does it contain dairy?
How often would you be consuming chocolate? Enjoying a cookie or piece of chocolate on a special occasion is not the same as eating chocolate 3 times a day every day.
What "type" of chocolate dessert would you be consuming? Eating an occasional dessert with chocolate as a "supplementary" ingredient like No-Bake Crispy Pumpkin Spice Bars, Chocolate Chip Oatmeal Cookies or Chocolate Covered Strawberry Truffles is not the same as eating a 100% chocolate dessert like a Flourless Chocolate Zucchini Brownies, Triple Chocolate Cheesecake or Chocolate Pudding.
Once you become more intentional in the types of foods you eat, specifically the Medical Medium healing foods, you'll learn to take cues as to what foods make you feel good, and which ones don't.
As a word of encouragement, I used to LOVE and literally crave chocolate - as you can see from the number of chocolate recipes on my website!
But since I started eating more fruit I don't crave chocolate at all like I used to so don't worry if you think you'll never be able to give up chocolate.
Chocolate-Free Medical Medium Compliant Desserts
So if you've decided that chocolate is a "NO' food for you during your healing journey, does this mean you need to give up desserts to follow the Medical Medium healing protocol?
I'm happy to tell you the answer is NO!
To help you enjoy an occasional dessert, I'm going to share some of my best chocolate-free Medical Medium compliant desserts from my website to help you "feel good about what you eat"!
I've compiled a round-up of over 50+ plant-based vegan + gluten-free dessert recipes that are 100% Medical Medium compliant and 100% chocolate-free.
You can find the round-up by clicking here.
I hope if you've been looking for chocolate-free desserts while following the Medical Medium protocol that my recipe round-up will help in your healing journey.
If any further information comes up regarding chocolate + Medical Medium protocol, I'll make sure to update my page.
Please feel free to ask any questions as I am more than happy to help!
Want More Healthy Plant-Based Dessert Recipes?
If you've decided your body can handle an occasional plant-based dessert with clean chocolate, then feel free to browse through my entire 200+ desserts recipe collection or a few website favorites: