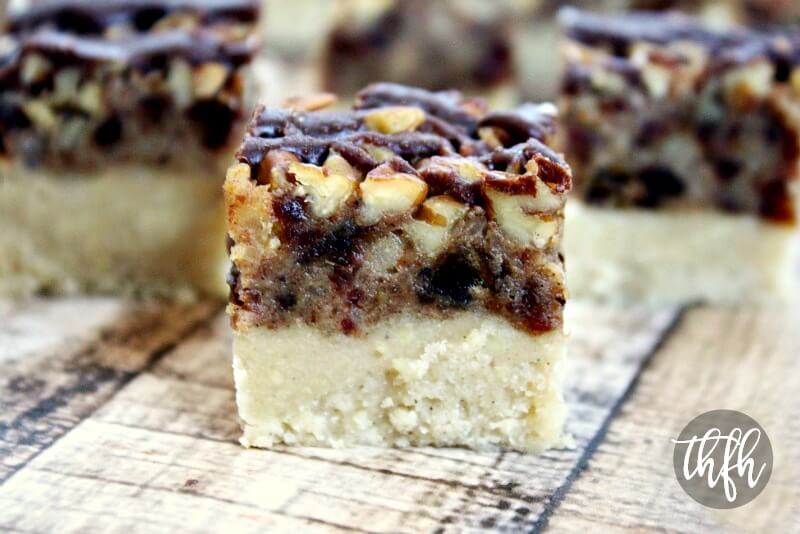 These flourless, grain-free Clean Eating Gluten-Free Vegan Pecan Bars are cleaned up from the traditional version and are so very good!
Why?  They have 4 layers of delicious goodness!
The first is a thick layer of a shortbread-type bottom, the second is an even thicker layer of gooey pecan pie inspired filling, the third is a layer of chopped pecans and the finishing layer is homemade cacao drizzle.
If you've even had a traditional version of these bars, you know the ingredients are not good.
Here's a list of some standard ingredients found in a homemade recipe:
S.A.D. (Standard American Diet) Pecan Pie Bars Ingredients:
Ingredients:  2 cups all-purpose white flour, 3/4 cup butter, 1/3 cup white sugar, 2 cups pecans, 1 1/2 cups dark corn syrup, 2/3 cup brown sugar, 4 eggs, etc.
Just like with a homemade pecan pie recipe…white flour, white sugar, GMO corn syrup, butter and eggs.
And here's a similar store-bought version that is even worse:
S.A.D. (Standard American Diet) Russell Stover Pecan Delights Bar Ingredients:
Ingredients:  Milk Chocolate, Sugar, Milk Whole, Cocoa Butter, Chocolate, Soy Lecithin, An Emulsifier, Emulsifiers, Vanillin, An Artificial Flavor), Pecans, Corn Syrup, Cream Dairy, Milk Concentrated, Sugar Invert, Sugar, Palm Kernel Oil Partially Hydrogenated, Sugar Brown, Salt, Flavors Natural & Artificial, Soy Lecithin, An Emulsifier
Again, it has even more GMO ingredients (soy lecithin, corn syrup), white sugar, milk and artificial flavors.
This healthier version is made with clean, real food ingredients and it's raw, vegan, gluten-free, dairy-free, no-bake, paleo-friendly and contains no refined sugar.
Want more healthy dessert recipes?  Check out Clean Eating Chocolate Chip and Sweet Potato Bars, Clean Eating Chocolate Crunch Bars, Peanut Butter and Chocolate Chip Oat Bars or my Clean Eating Cookbook with an entire chapter of 20 healthy, clean eating recipes just like this one that you will love!

5 Fast Facts About Pecans:*
contains naturally occurring anti-oxidants
helps to lower cholesterol
high quality source of protein
contains more 19 vitamins and minerals
excellent source of vitamin E
5 Fast Facts About Medjool Dates:*
natural energy booster
high in iron content
rich in potassium
good source of dietary fiber
excellent source of vegan protein
5 Fast Facts About Almonds (Almond Flour):*
helps to regulate cholesterol and blood pressure
energy booster
loaded with calcium and fiber
1/4 cup contains 8 grams of vegan protein
high in anti-oxidants
5 Fast Facts About Maple Syrup:*
contains manganese and zinc
super high in anti-oxidants
helps with inflammation
1/4 cup contains more calcium than the same amount of milk
1/4 cup contains more potassium than a banana
5 Fast Facts About Coconut Oil:*
super high in lauric acid
rich in antioxidants
contains natural microbial and anti-bacterial agents
helps to improve metabolism
improves cholesterol levels
5 Fast Facts About Coconut Flour:*
highest dietary fiber found in any flour at 58% RDA
14% coconut oil
19% vegan protein
gluten-free
helps to promote blood sugar health
5 Fast Facts About Raw Cacao Powder:*
super high in anti-oxidants
promotes cardiovascular health
contains essential fats
can help to decrease blood pressure
contains over 300 compounds including protein, calcium, copper, zinc and iron
5 Fast Facts About Vanilla Bean Powder:*
anti-microbial
high in anti-oxidants
can help reduce inflammation
contains small traces of minerals
1 tablespoon contains 2 g of fiber
*These statements have not been evaluated by the Food and Drug Administration.  This information is not intended to diagnose, treat, cure or prevent any disease.
Tip #1:  I like mine straight out the freezer, without letting them slightly thaw.  You can leave them out for about 5 minutes or so to thaw a little but the longer you leave them out, the softer they will get.
Tip #2:  I know the recipe looks complicated and has a lot of ingredients, but it really isn't.  Some of the ingredients are repeated and there's only three main steps to making it.  Don't be intimidated by how long it is…try it and you won't regret it! 🙂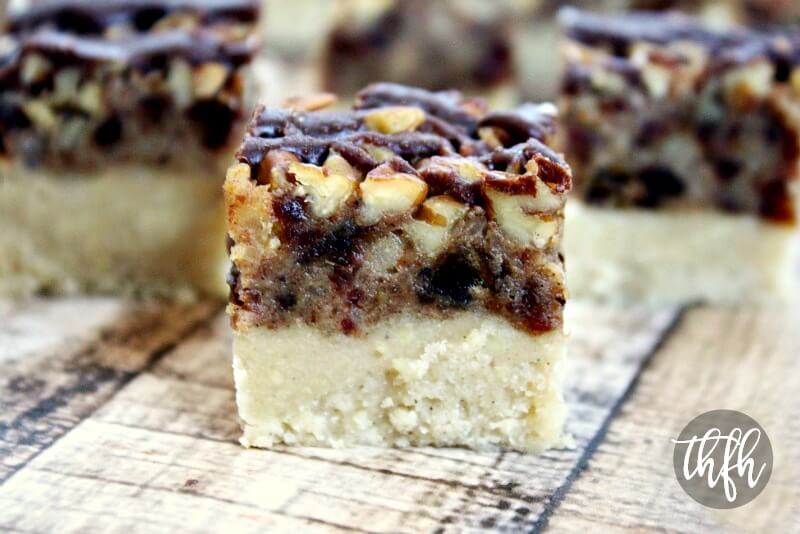 Print
Gluten-Free Vegan Pecan Pie Bars
Yield 12 small squares
Raw / Vegan / Gluten-Free / Dairy-Free / Egg-Free / Flourless / No-Bake / Paleo-Friendly / No Refined Sugar
Ingredients
For the crust:
For the pecan layer:
For pecan layer:
For the cacao drizzle:
Instructions
Prepare the crust:
Add all ingredients for the crust to medium sized bowl and stir together until well combined.  The mixture will be very moist, but will firm up in the freezer.
Transfer the mixture to a 9 x 5 bread pan lined with parchment paper, spread it evenly and press it down firmly.
Put the pan in the freezer while you prepare the pecan pie layer.
Prepare the pecan pie layer:
Add all the ingredients for the pecan pie layer to a food processor and process until it is well combined.  The mixture will have a sticky texture.
Remove the pan from the freezer and transfer the pecan mixture into the pan, on top of the crust.
Spread it evenly and press it down firmly.
Add the pecan layer:
Sprinkle the chopped pecans over the top of the mixture and press them down into the mixture so they are slightly embedded into the pecan pie layer and so they don't fall off.
Prepare the cacao drizzle:
Add all the ingredients for the cacao drizzle to a small bowl and stir until it's well combined and smooth.
Using a spoon, drizzle the mixture over the top of the pecans.
Return the pan to the freezer for approximately 60 minutes, or until it becomes firm and hardens.
Remove the parchment paper from the pan to cut them into bars or squares.
Store them in the freezer or refrigerator until ready to serve because they will get soft and lose their shape if left out at room temperature.
Enjoy!
Notes
Get all your organic ingredients delivered straight to your door at up to 25 - 50% off retail by cutting out the middleman and retail markups with a Thrive Market Membership and save 15% off on your first order.
  The recipe and photographs for "Gluten-Free Vegan Pecan Pie Bars" by Karielyn Tillman of The Healthy Family and Home website are licensed under a Creative Commons Attribution Non-Commercial No Derivatives 4.0 International License and cannot be used without my written permission.

Affiliate Disclosure: This post contains affiliate links. This means that if you were to make a purchase through one of these links, "The Healthy Family and Home" website would receive a small commission at no additional cost to you.
Thank you for your support of this website!