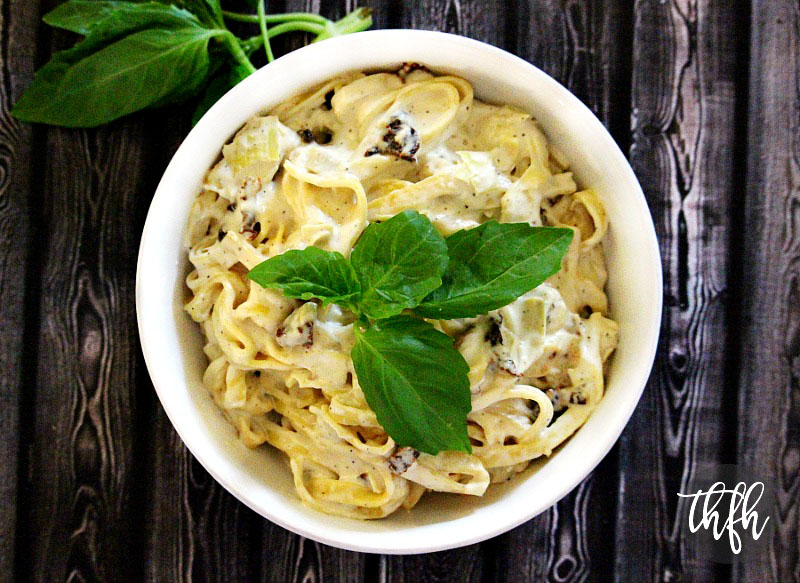 My Gluten-Free Vegan Artichoke and Sun-Dried Tomato Fettuccine recipe is my January submission for The Recipe Redux.
The theme this month is:
"Budget-Friendly Eats – How low can you go? Can you make a meal for less than $3 per serving? Whatever your budget, show us your healthy entree recipe to help keep food spending in check in 2017."
My recipe is made with ingredients you probably already have at home, with maybe the exception of the sun-dried tomatoes (that was the only ingredient I didn't have on hand).
It's a quick and easy meal that's ready in less than 15 minutes and is perfect with a side salad.
The breakdown of ingredients and costs are: gluten-free fettuccine ($3.49), raw cashews ($2.75), non-dairy milk ($), nutritional yeast ($), avocado oil ($), lemon juice ($), garlic cloves ($), Himalayan pink salt ($), ground pepper ($), artichokes ($2.99), sun-dried tomatoes ($2.49).
Before I add up the total cost of the ingredients, I want to go through them. I'm assuming that you already have non-dairy milk, avocado oil (or olive oil), lemon juice, garlic, salt and pepper.
I put a price next to the ones that you possibly wouldn't have at home on hand: gluten-free fettuccine, raw cashews, artichokes and sun-dried tomatoes. All these add up to: $11.72.
I didn't include nutritional yeast in either category because it was too complicated (for me!) to figure out the true cost of 2 tablespoons worth. The last time I bought some, it was enough to fill up a quart-size mason jar and it only cost me $3.80 and it usually lasts me about 6 months. If you do have some, it goes into the "already on-hand" category and if you don't have any, the cost for this recipe is so minimal I'm not including it in the cost calculations.
So, you can make a vegan, gluten-free, dairy-free, soy-free meal for 4 that's perfect for Meatless Monday and is ready in less than 15 minutes for…..about $2.93 a serving!
Want more healthy meal and entre' recipes? Check out Pasta with Asparagus and Creamy Mushroom Sauce, Spicy Roasted Butternut Squash Pasta, Zucchini Pasta with Vegan Basil Pesto or my Clean Eating Cookbook with an entire chapter of 20 healthy, clean eating recipes just like this one that you will love!
5 Fast Facts About Cashews:*
packed with dietary fiber
rich in "heart friendly" mono-saturated fatty acids
rich source of minerals
high in magnesium and copper
excellent source of antioxidants
5 Fast Facts About Tomatoes:*
contains lycopenes which are cancer fighting agents
high in beta-carotene
excellent anti-oxidant
high in vitamin A and K
high in chromium which helps control blood sugar levels
5 Fast Facts About Artichokes:*
lowers blood cholesterol levels
rich in anti-oxidants
improves bone mineralization and calcification
excellent protection from heart attack and stroke
contains anti-inflammatory benefits
5 Fast Facts About Nutritional Yeast:*
vegan source of vitamin B12
contains 18 amino acids and is a complete protein
boosts immune system
excellent anti-oxidant
contains 15 minerals
5 Fast Facts About Garlic:*
regulates blood sugar levels
lowers high blood pressure
contains anti-bacterial and analgesic properties
anti-viral
helps to lower cholesterol levels
5 Fast Facts About Lemons:*
extremely alkaline to the body
blood purifier
excellent for detoxification
balances blood sugar levels
contains powerful anti-bacterial properties
5 Fast Facts About Avocado Oil:*
healthier cooking with smoke point of 500 degrees
may help reduce the risk of metabolic syndrome
helps maintain healthy blood sugar levels
provides protection from cardiovascular disease
good source of vitamin E
5 Fast Facts About Himalayan Pink Salt:*
contains 84 minerals
unrefined, unprocessed, raw
promotes stable pH balance in cells
controls water levels in the body
aids digestion and facilitates better nutrient absorption
*These statements have not been evaluated by the Food and Drug Administration. This information is not intended to diagnose, treat, cure or prevent any disease.
Gluten-Free Vegan Artichoke and Sun-Dried Tomato Fettuccine (Vegan, Gluten-Free, Dairy-Free, Soy-Free)
Print recipe
Ingredients
1 bag gluten-free fettuccine pasta (9 - 12 ounce bag)
For the sauce
1 1/4 cup organic raw cashews
3/4 cups homemade almond milk
2 tablespoons organic lemon juice
2 tablespoons nutritional yeast
2 cloves organic garlic
1 tablespoon 100% pure avocado oil
1/2 teaspoon Himalayan pink salt
1/4 teaspoon organic ground black pepper
For the add-in
1 can organic artichoke hearts (14 ounce can, drained and diced)
1/2 cup sun-dried tomatoes (diced)
Directions
Step 1
Prepare the pasta according to your package directions.

Prepare the add-ins: Drain the artichoke hearts, then dice into small pieces; dice the sun-dried tomatoes into small pieces. Set aside.

Prepare the sauce: Add all ingredients for the sauce to a Vitamix, or high speed blender, and blend until creamy and smooth. Adjust seasonings to your preference.

Drain the pasta and transfer it to a large mixing bowl. Add the sauce and gently toss it until the sauce is evenly distributed. Add in the artichokes and sun-dried tomatoes and gently toss again until they are all evenly distributed.

Optional: garnish with chopped fresh basil leaves.

Enjoy!
Note
This recipe will make approximately (4) small servings.

The recipe and photographs for "Gluten-Free Vegan Artichoke and Sun-Dried Tomato Fettuccine" by Karielyn Tillman of The Healthy Family and Home website are licensed under a Creative Commons Attribution Non-Commercial-NoDerivatives 4.0 International License and cannot be used without my written permission.