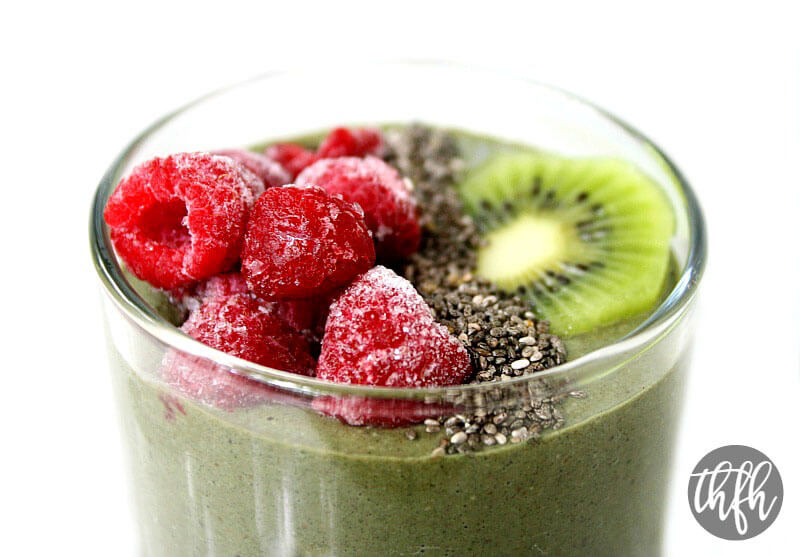 Since the month of April is "Maximum Vibrance" month at Vibrant Health, the smoothie I made for my Superfood Smoothie Series this week included "Maximum Vibrance".
I didn't get really crazy with the superfoods on this one and kept it simple just in case you haven't given Maximum Vibrance a try yet.
All I added was some organic fruit, a healthy fat (coconut oil), a natural sweeter (medjool dates) and a few common superfoods like maca powder, lucuma powder and chia seeds.
As I've mentioned in my other Superfood Smoothie Series posts, I am a long-time fan of Vibrant Health products.
I have been a loyal "Green Vibrance" user for several years but was just recently introduced to "Maximum Vibrance" and it has quickly become my favorite.
While I rotate their products around in my daily smoothies, "Maximum Vibrance" has risen to the top for reasons listed in it's name – MAXIMUM, meaning…it just can't get any better than this.
Here's some of the benefits:
25 billion probiotics
contains 23 g vegan protein (46% DV)
26 antioxidants
contains 6 g of fiber(24% DV)
It's an all in one multi-supplement Advanced Daily Futurefood.
It also contains over 120 ingredients which include protein components, concentrated plant nutrition, vitamin & mineral concentrates, sea vegetable complex (including iodine + trace minerals), cell membrane and nerve support, high fiber foods + prebiotics, antioxidant powerplants for healthy circulation, vision, skin, joints, liver function and more, adaptogens, immune suport, probiotic blend (dairy-free), enzyme complex, skeletal support and tonics.  Here's a product flyer with more detailed information and ingredient breakdown.
I use "Maximum Vibrance" on days when I know I need a little something extra, days when I do a liquid only fast or when I know I won't be able to eat everything I should in a day.
Want more healthy smoothie recipes?  Check out Chocolate Peanut Butter Protein Smoothie, Banana Mango Superfood Smoothie, Kale and Banana Green Smoothie, or my Clean Eating Cookbook with an entire chapter of healthy, clean eating smoothies just like this one that you will love!
5 Fast Facts About "Maximum Vibrance":*
25 billion probiotics
contains 23 g vegan protein (46% DV)
26 antioxidants
contains 6 g of fiber(24% DV)
contains all known nutrients
5 Fast Facts About Raspberries:*
high in antioxidants
anti-cancer benefits
good source of dietary fiber
high ORAC (oxygen radical absorbance capacity) value of 4,900 per 100 g
excellent source of vitamin C at 47% RDA
5 Fast Facts About Kiwis:*
contains more potassium than a banana
contains more vitamin C than an orange 240% dv
good source of fiber at 16% dv in 2 kiwi
good source of iron at 4% dv in 2 kiwi
contains 6% dv of calcium in 2 kiwi
5 Fast Facts About Coconut Oil:*
super high in lauric acid
rich in antioxidants
contains natural microbial and anti-bacterial agents
helps to improve metabolism
improves cholesterol levels
5 Fast Facts About Medjool Dates:*
natural energy booster
high in iron content
rich in potassium
good source of dietary fiber
excellent source of vegan protein
*These statements have not been evaluated by the Food and Drug Administration.  This information is not intended to diagnose, treat, cure or prevent any disease.
Tip 1:  You could use fresh or frozen raspberries…I used frozen but if you used fresh, you may want to add a couple of ice cubes.
Tip #2:  The smoothie will have a "green" color to it because the color of the Maximum Vibrance is green due to the healthy green ingredients in it.
Tip 3:  This recipe will make 1 – 2 servings.
Vegan Raspberry Kiwi Protein Smoothie (Vegan, Gluten-Free, Dairy-Free, Soy-Free, No Refined Sugar)
Print recipe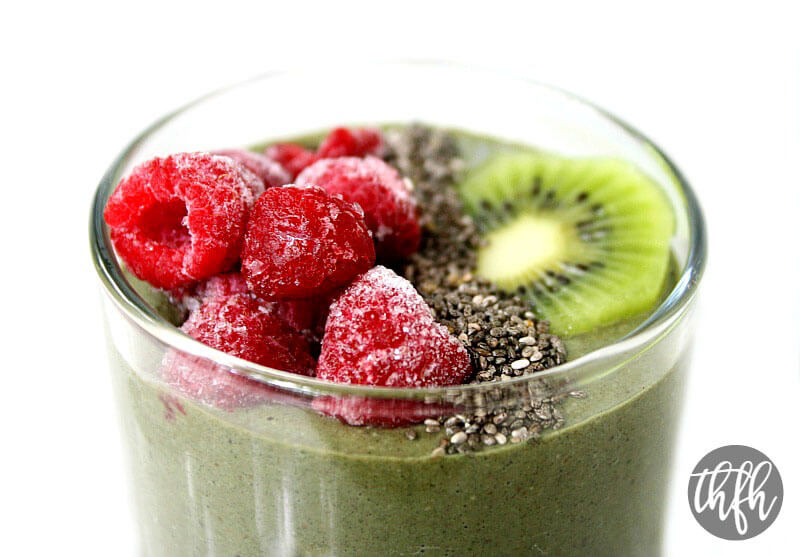 Ingredients
2 cups homemade almond milk
2 scoops Maximum Vibrance
1 cup organic raspberries
1 organic kiwi
2 organic medjool dates (pitted)
1 tablespoon organic coconut oil
Garnish (Optional)
1/2 teaspoon organic chia seeds
Directions
Step 1
Put all ingredients (except the optional chia seeds) into a Vitamix and blend until smooth and creamy.

Optional: garnish with extra raspberries, sliced kiwi and chia seeds.

Enjoy!
Note
This recipe will make approximately (1) large or (2) smaller servings.

The recipe and photographs for "Vegan Raspberry Kiwi Protein Smoothie" by Karielyn Tillman of The Healthy Family and Home are licensed under a Creative Commons Attribution Non-Commercial 4.0 International License and cannot be used without my written permission.
Affiliate Disclosure: This post contains affiliate links. This means that if you were to make a purchase through one of these links, "The Healthy Family and Home" website would receive a small commission.
Miscellaneous Disclaimer:  I was given the "Maximum Vibrance" product from Vibrant Health to review and use in creating a new recipe.   I was under no obligation to give a positive review and was not paid for this review or endorsement.  All thoughts, opinions and comments are my own.