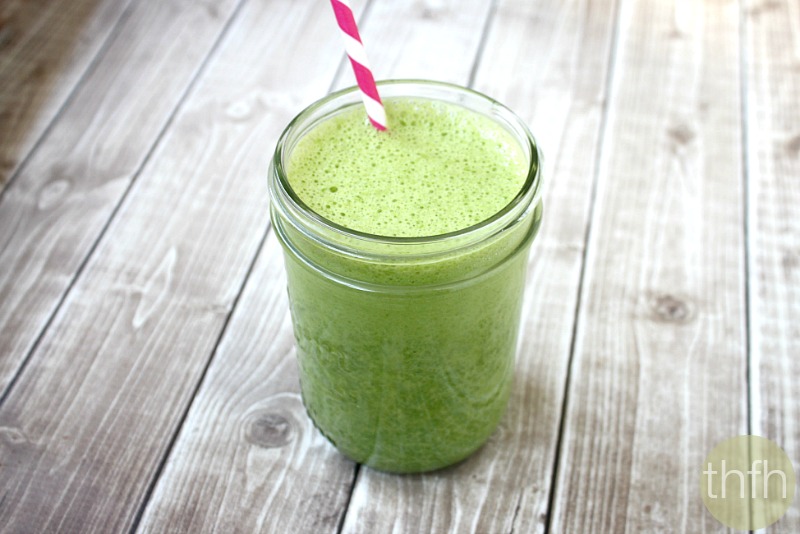 This Kale and Banana Green Smoothie is the very first green smoothie I ever made..and even the first in my Vitamix!
I started making these almost 6 years ago for my first son and even today, he still asks for his "green smoothie".
This smoothie is so simple to make and with only 3 ingredients it just can't get any easier.
I remember when I first started cleaning up my diet and learning about healthy nutrient-dense foods, I couldn't comprehend the thought of putting green lettuce in a smoothie to drink.
I had never even heard of kale!
But believe it or not, when combined with a sweet banana, the banana offsets any detectable taste of kale…you just can't taste it!
And, it's an official "kid-approved" smoothie in my home!
Want more healthy smoothie recipes?  Check out Pumpkin Protein Smoothie, Chocolate Peanut Butter Protein Smoothie, Acai Berry and Banana Immunity Smoothie or my Clean Eating eCookbook with an entire chapter of 20 healthy, clean eating smoothies you will love!

5 Fast Facts About Almonds (Almond Milk):*
helps to regulate cholesterol and blood pressure
energy booster
loaded with calcium and fiber
1/4 cup contains 8 grams of vegan protein
high in anti-oxidants
5 Fast Facts About Kale:*
high in iron
excellent for detoxification
powerful antioxidants
high in calcium
anti-inflammatory benefits
5 Fast Facts About Bananas:*
combats depression
aids in weight loss
strengthens the immune systems
high in fiber
helps to lower blood pressure
*These statements have not been evaluated by Food and Drug Administration.  This information is not intended to diagnose, treat, cure or prevent any disease.
Tip #1:  I use homemade almond milk to make mine, but feel free to use your favorite non-dairy milk.
Tip #2:  If you want to give it an extra nutritional boost, you can add a tablespoon of coconut oil, hemp seeds or your favorite superfood.
Tip #3:  I find it is perfectly sweet with just the banana, but feel free to add extra banana or other sweetener if you prefer.
Tip #4:  Since this recipe doesn't include nuts, it is not necessary to use a Vitamix if you don't have one.  A regular blender or one like this would work just fine.
Kale and Banana Green Smoothie (Raw, Vegan, Gluten-Free, Dairy-Free, Paleo-Friendly, No Refined Sugar)
Print recipe
Ingredients
1 cup homemade almond milk
1 organic banana
2 pieces organic kale leaves (de-stemmed)
Directions
Step 1
Add all ingredients in a Vitamix or blender and blend until well combined.

Optional: add extra 1/2 banana for more sweetness, if desired.

Optional: add 1 tablespoon coconut oil, hemp seeds or your favorite superfood for extra nutrients.

Enjoy!
Note
This recipe will make (1) smoothie.

The recipe and photographs for "Kale and Banana Green Smoothie" by Karielyn Tillman of The Healthy Family and Home are licensed under a Creative Commons Attribution-NonCommercial 4.0 International License and cannot be used without my written permission.
Affiliate Disclosure: This post contains affiliate links. This means that if you were to make a purchase through one of these links, "The Healthy Family and Home" website would receive a small commission.
Amazon Disclosure: "The Healthy Family and Home" website is a participant in the Amazon Services, LLC Associates Program, an affiliate advertising program designed to provide a means for sites to earn advertising fees by advertising and linking to Amazon.com.