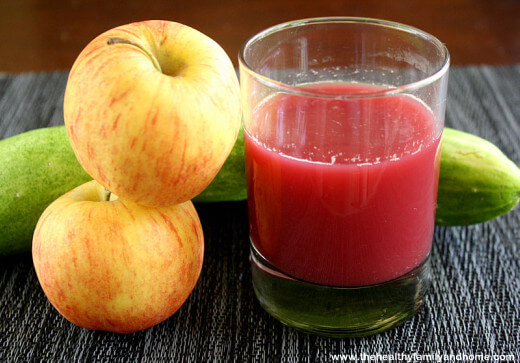 This Cucumber Apple and Beet Juice is a simple but healthy juice to make.
Besides its beautiful color, it has numerous benefits.
The recipe comes from The Big Book of Juices and Smoothies book by Natalie Savona.
One of the main reasons I really love this book is because it uses a 5-star rating system for each recipe, rating the following from 1 – 5 stars:  Energy, Detox, Immunity, Digestion and Skin.
Here are the ratings for this juice recipe:
Energy ***
Detox *****
Immunity ***
Digestion ****
Skin ****
Another reason this is one of my favorite books is that there are multiple ways to find the ideal recipe based on different indexes in the back of the book:
Ailment – look up a juice recipe by your ailment (ex. anemia, chronic fatigue, cough, common cold & flu, fever, heartburn, motion sickness, stress, water retention, etc)
Ingredient – look up a recipe by the ingredient (ex. apples, celery, spinach, carrots, beets, etc)
Nutrient – look up a recipe by the nutrient (ex. vitamin A, chromium, magnesium, selenium, zinc, etc)
For example…if you look up by ingredient, this is how many juice recipes are listed for ingredients in this recipe:
Apples – 115 recipes you can use with apples
Cucumber – 23 recipes you can use with cucumbers
Beets – 17 recipes you can use with beets (beetroot)
This is very helpful if you are looking a what's in your refrigerator and thinking "what can I make with…..".  Just look up a recipe by ingredient for some good ideas.
The average ingredient list for each recipe is 3 – 4 ingredients so it's ideal for beginners and the book has lots of color photos to enjoy.
I just love this book!
5 Fast Facts About Cucumbers:*
helps the body to eliminate toxins
promotes joint health
aids in weight loss
high source of vitamin B
skins have 10% RDA of vitamin C
5 Fast Facts About Apples:*
rich in anti-oxidants
good source of B complex vitamins
helps to reduce cholesterol
1 apple contains 17.4% RDA of fiber
helps to regulate blood sugar
5 Fast Facts About Beets:*
super high in anti-oxidants
can help lower blood pressure
can help decrease cardiovascular risk
contains 37% DV of folate and 22.5% DV manganese in 1 cup
supports detoxification
*These statements have not been evaluated by Food and Drug Administration.  This information is not intended to diagnose, treat, cure or prevent any disease.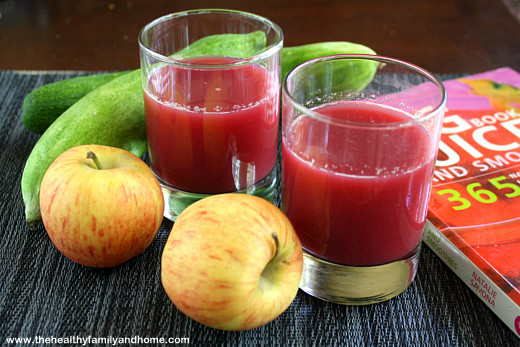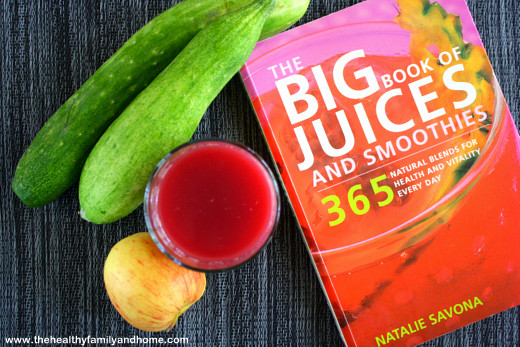 While I was writing this post, I thought how I'd love to giveaway a copy so someone else could enjoy the book as much as I have.
So I created a Rafflecopter entry form with up to 4 chances to enter and a random winner will be picked for this awesome 192 page paperback book!
Cucumber Apple and Beet Juice (Raw, Vegan, Gluten-Free, Dairy-Free, Paleo-Friendly, No Refined Sugar)
Print recipe
Ingredients
1 organic cucumber
2 organic apples
1 organic beet
Directions
Step 1
Prepare veggies/fruit and juice according to product directions of your juicer.

Enjoy!
Note
This recipe will make approximately (1) serving.
Recipe source:  "The Big Book of Juices and Smoothies - 365 Natural Blends for Health and Vitality Every Day" by Natalie Savona

The photographs for "Cucumber Apple and Beet Juice" by Karielyn Tillman of The Healthy Family and Home are licensed under a Creative Commons Attribution-NonCommercial 4.0 International License and cannot be used without my written permission.

Affiliate Disclosure: This post contains affiliate links. This means that if you were to make a purchase through one of these links, "The Healthy Family and Home" website would receive a small commission.
Amazon Disclosure: "The Healthy Family and Home" website is a participant in the Amazon Services, LLC Associates Program, an affiliate advertising program designed to provide a means for sites to earn advertising fees by advertising and linking to Amazon.com.