This Clean Eating Carrot Apple and Celery Juice is a favorite in my home, especially with my boys.
There are good things and bad things that can happen if you let your children help make the daily juice.
The good…all I have to do is cut and prep the veggies and then move on to another task – my boys actually "make" the juice.
The bad…they argue over who gets to operate the juicer – every time.
Tears and pouting ensue.
After about 10 minutes of negotiating among themselves, they eventually work it out and we all enjoy a fresh glass of juice.
And amazingly, they instantly become best friends again.
This is one of my more "kid-friendly" juices because it doesn't really have the greens and other detoxifying things I usually add to mine like cilantro, dandelion leaves, kale stems, asparagus, etc.
I use an Omega Juicer and have had it for about 10 years now and it's held up great.  And the best part is that it's so easy to use, my boys can use it easily and safely.
You can enjoy this healthy recipe because it's organic, raw, vegan, gluten-free, dairy-free, lectin-free, nut-free, paleo-friendly and contains no refined or added sugar.
Want more healthy juice and smoothie recipes?  Check out Beet and Celery Juice, Cucumber Apple and Beet Juice, Pomegranate and Maca Protein Smoothie or my Clean Eating Cookbook with an entire chapter of 20 healthy, clean eating smoothie recipes that you will love!
5 Fast Facts About Carrots:*
improves eyesight

helps prevent heart disease
rich in anti-oxidants
helps flush toxins from the body
1 cup contains 407.6% dv of vitamin A
5 Fast Facts About Apples:*
rich in anti-oxidants

good source of B-complex vitamins
helps to reduce cholesterol
1 apple contains 17.4% RDA of fiber
helps to regulate blood pressure
5 Fast Facts About Celery:*
 helps to improve immune system
reduces blood pressure
alkalizing food
anti-inflammatory
helps to lower cholesterol
5 Fast Facts About Lemons:*
extremely alkaline

blood purifier
excellent for detoxification
balances blood sugar levels
contains powerful anti-bacterial properties
*These statements have not been evaluated by the Food and Drug Administration.  This information is not intended to diagnose, treat, cure or prevent any disease.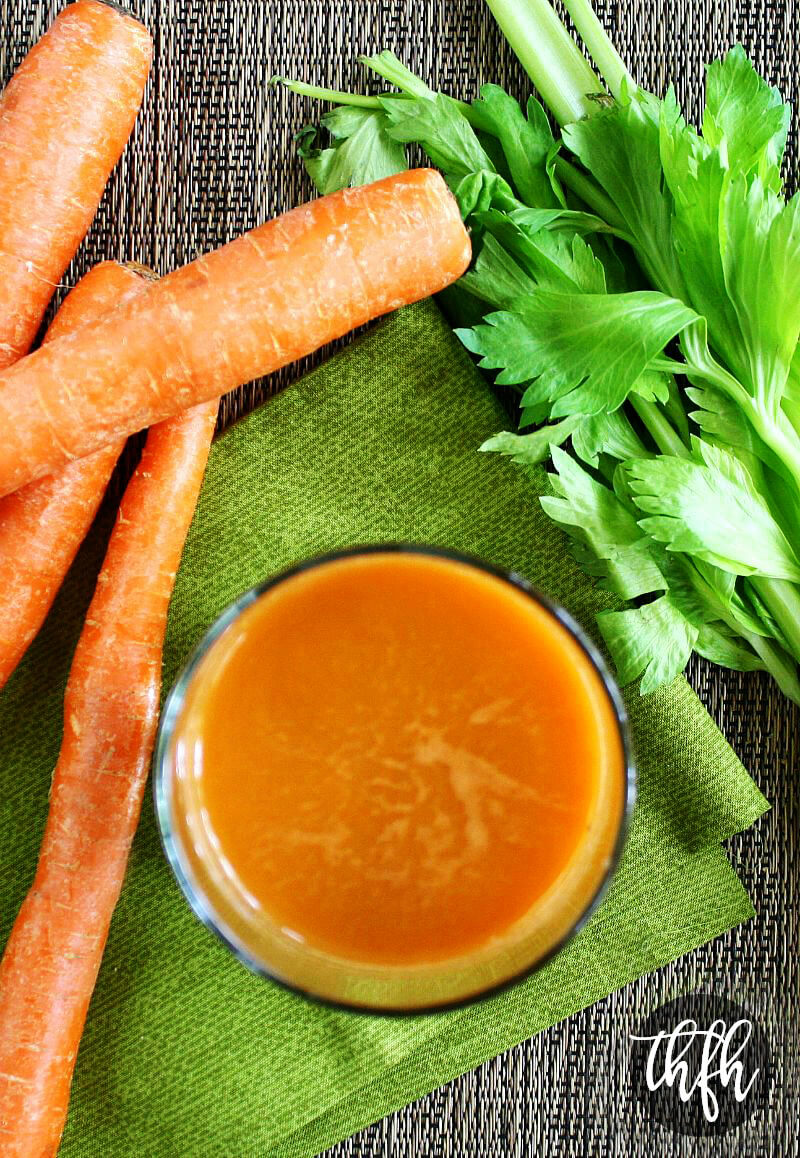 Tip #1:  If you are new to juicing or want to save money juicing, you can get the big bags of organic juicing carrots from Whole Foods.  They come in 5 pound bags ($4.89) and 15 pound bags ($16.99).  Depending on how much and how frequent you will use them, you may do better price-wise getting a couple of the 5 pound bags.
Tip #2:  We recently upgraded our juicer and the one we are currently using in our home is an Omega Juicer (masticating juicer) and we've been very pleased with it.
Tip #3:  This recipe is for 1 serving.  Just adjust the quantities for the number of servings you need.
Print
Carrot Apple and Celery Juice
Yield 1 serving
Raw / Vegan / Gluten-Free / Dairy-Free / Lectin-Free / Nut-Free / Paleo-Friendly
Ingredients
4 organic carrots
1 organic apple
2 stalks organic celery
1/2 organic lemon
Instructions
Wash and cut your veggies/fruit to be prepared to use in your juicer.
Juice the carrots, apple and celery according to your juicers instructions.
Hand-squeeze the lemon into the juice after all the other veggies/fruit have been juiced and stir in.
Enjoy!
Notes
Get all your organic ingredients delivered straight to your door at up to 25 - 50% off retail by cutting out the middleman and retail markups with a Thrive Market Membership and save 15% off on your first order.
  The recipe and photographs for "Carrot Apple and Celery Juice" by Karielyn Tillman of The Healthy Family and Home website are licensed under a Creative Commons Attribution Non-Commercial No Derivatives 4.0 International License and cannot be used without my written permission.
Recipe Roundups: Food Bloggers are always welcome to use a photo and a link back to my original post to share on recipe roundups without requesting permission.
Affiliate Disclosure: This post contains affiliate links. This means that if you were to make a purchase through one of these links, "The Healthy Family and Home" website would receive a small commission at no additional cost to you.
Amazon Disclosure: "The Healthy Family and Home" website is a participant in the Amazon Services, LLC Associates Program, an affiliate advertising program designed to provide a means for sites to earn advertising fees by advertising and linking to Amazon.com.
Thank you for your support of this website!