Gluten-Free Vegan Walnut and Oat Brownies…a clean eating recipe made with clean, real food ingredients and it's vegan, gluten-free, dairy-free, egg-free, grain-free and contains no refined sugar.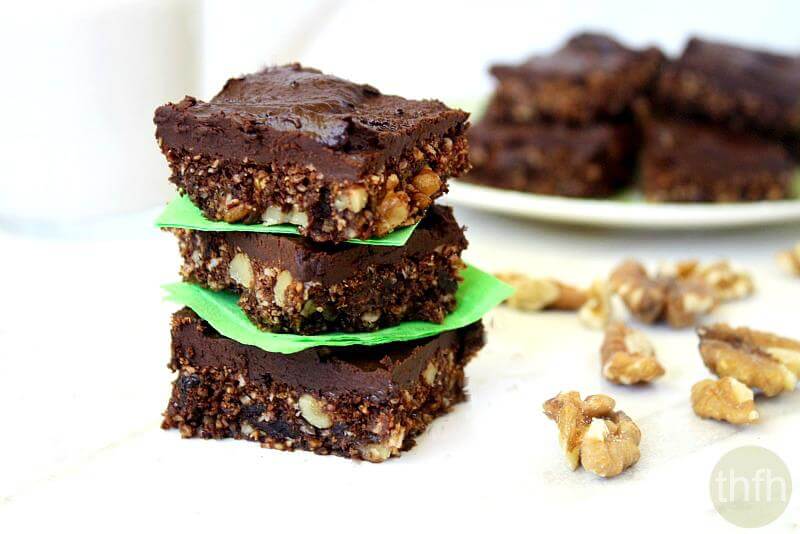 Today I have for you another clean, healthy brownie recipe to add to your arsenal – Gluten-Free Vegan Walnut and Oat Brownies!
Although I thought I'd never stray from my Flourless Zucchini Brownies that I make very frequently, these Gluten-Free Vegan Walnut and Oat Brownies I came up with are pretty hard to pass up.
It's another chocolate, gluten-free and vegan treat I can enjoy without any guilt and will easily satisfy a brownie craving…especially when they are covered with the thick raw cacao topping.
Even though the rest of my family doesn't necessarily need to eat gluten-free, I don't like making desserts for them using white flour, even though when I do, I buy organic, unbleached white flour.
I like that I can make them brownies that are healthy and that doesn't use any flour at all.
Here are the typical ingredients found in a traditional homemade Walnut Brownie recipe (the boxed versions are even worse):
S.A.D. Standard American Diet Walnut Brownie Ingredients:
Walnut Brownie Ingredients:  1/2 CUP BUTTER, 1 CUP GRANULATED SUGAR, 1 TSP VANILLA EXTRACT, 2 EGGS, 1/2 CUP ALL-PURPOSE (WHITE) FLOUR, 1/3 CUP UNSWEETENED COCOA, 1/4 TSP BAKING POWDER, 1/4 TSP SALT, 1/2 CUP CHOPPED WALNUTS.
Chocolate Frosting Ingredients:   1 1/3 CUP CONFECTIONER'S SUGAR, 3 TBS MARGARINE, 2 TBS COCOA, 2 TBS MILK, 1/4 TSP VANILLA, 1/4 CUP CHOPPED WALNUTS
In summary, that's 2 1/3 cups of refined sugar, 1/2 cup of butter and it contains white flour, milk and eggs.
This healthier version is flourless, vegan, gluten-free, dairy-free, egg-free and contain no refined sugar.
Want more healthy dessert recipes?  Check out Matcha Green Tea Chocolate Chip Brownies, Raw Cinnamon Brownies, Peanut Butter and Chocolate Chip Oat Bars or my Clean Eating eCookbook with an entire chapter of 20 healthy bars and squares recipes just like this one that you will love!
5 Fast Facts About Oats:*
provides significant fiber
helps control blood sugar levels
can reduce hypertension and high blood pressure
increases appetite control hormones
lowers bad cholesterol
5 Fast Facts About Walnuts:*
high quality vegan protein
high in anti-oxidants
rich in omega-3 fatty acids
high in vitamin C
improves blood lipids and other cardiovascular risk factors
5 Fast Facts About Raw Cacao Powder:*
contains over 300 compounds including protein, calcium, copper, zinc and iron
super high in anti-oxidants
promotes cardiovascular health
contains essential fats
can help to decrease blood pressure
5 Fast Facts About Coconut Oil:*
super high in lauric acid
rich in antioxidants
contains natural microbial and anti-bacterial agents
helps to improve metabolism
improves cholesterol levels
5 Fast Facts About Himalayan Pink Salt:*
contains 84 minerals
unrefined, unprocessed, raw
promotes stable pH balance in cells
controls water levels in the body
aids digestion and facilitates better nutrient absorption
5 Fast Facts About Raw Coconut Crystals:*
low glycemic (GI of 35)
raw, vegan and gluten-free
unrefined and unbleached
contains 17 amino acids
is an abundant source of minerals and broad spectrum B vitamins
5 Fast Facts About Maple Syrup:*
contains manganese and zinc
super high in anti-oxidants
helps with inflammation
1/4 cup contains more calcium than the same amount of milk
1/4 cup contains more potassium than a banana
*These statements have not been evaluated by Food and Drug Administration.  This information is not intended to diagnose, treat, cure or prevent any disease.

Where to Buy:  If you have trouble finding any of the ingredients to make this recipe, you can order online from Amazon and have them delivered straight to your door:
Tip #1:  The second step in the recipe isn't necessary, but one that I prefer.  Instead of using the large, whole pieces of oats (which makes the brownies extra crunchy, almost like having coconut flakes in them), I put them in my Vitamix and lightly pulse them to break them down into smaller pieces (approximately 20 – 25 long pulses).  I also add the dates (pitted) when I do this because it helps break them into smaller pieces too, as opposed to dicing them by hand.
You have to be careful though, to not over process the oats because they will turn into oat flour.  So in trying to prevent this from happening, the dates may not get processed into tiny enough pieces.  Just take them out and cut the larger pieces of dates into smaller pieces.  It also helps to process them with the oats because they get a little powdering coating on them (from the oats) and they aren't as sticky to handle when trying to cut them.
Tip #2:  When making the chocolate frosting, you need to find a medium with the coconut oil.   You don't want it to be completely liquid/melted (it will be too thin and not like a frosting) and you don't want it to be completely solid (it will be too thick and not spread) but somewhere in the middle, like soft and semi-melted.  You will know when it's right because it will either be too thick or too thin otherwise.  But it should have a similar consistency of traditional frosting and spread easily on the brownies with a knife.
Tip #3:  Try to keep an eye on them in the oven.  If you want them to be more of a chewy texture, don't leave them in as long.  If you want more of a harder, crunchy, cookie-like texture leave them in a little longer, just taking care they don't burn.
Tip #4:  Make sure the brownies have cooled ~completely~ before adding the icing.  The heat from the brownies will melt the coconut oil in the frosting and it will become runny.  And keep them in the refrigerator too or the same thing will happen if they are left out at room temperature and the icing gets too warm.
Gluten-Free Vegan Walnut and Oat Brownies (Vegan, Gluten-Free, Grain-Free, Flourless, Dairy-Free, No Refined Sugar)
Print recipe
Ingredients
For the brownies
1/2 cup organic raw cacao powder
4 tablespoons organic coconut oil (melted/liquid)
3/4 cups organic quick rolled oats (gluten-free, if needed)
4 Large organic medjool dates (diced)
1/4 cup organic raw coconut crystals (or granular sweetener of your choice)
3 tablespoons organic ground flax seeds
1/4 cup organic unpasteurized almond flour
1/2 teaspoon baking powder (aluminum-free)
1/2 teaspoon Himalayan pink salt
1/2 teaspoon organic vanilla bean powder
2 flax eggs (2 tablespoons ground flax seeds + 4 tablespoons water)
1/3 cup organic walnuts (chopped)
For the frosting
1/2 cup organic raw cacao powder
4 tablespoons organic coconut oil (soft/semi-melted)
2 tablespoons organic maple syrup (or raw honey, coconut nectar, etc)
Directions
Prepare the flax eggs
Step 1
Prepare the flax eggs by mixing 2 tablespoons ground flax seeds + 4 tablespoons purified water and whisk until well combined.

Let the mixture thicken while you prepare the rest of the ingredients.
OPTIONAL STEP: Process the oatmeal and dates
Step 2
Put the dates (pits removed) and oatmeal in a food processor and process with 20 - 25 long pulses just enough to dice up the dates and break the oats into smaller pieces.

Don't over process because the oats will turn into oat flour.

If the dates are not in small enough pieces, remove them from the food processor and dice them into smaller pieces.
Prepare the cacao mixture
Step 3
Add the cacao powder, melted coconut oil and vanilla extract in a small bowl and stir until well combined. Set aside.
Prepare the dry mixture
Step 4
Add the diced dates, oats, coconut crystals (or other granulated sweetener), 3 tbs ground flax seeds, almond flour, baking powder, pink himalayan salt, walnuts into a medium size bowl and stir together.


Combine all ingredients
Step 5
Mix the dry mixture, the cacao mixture and the flax eggs together and stir until well combined.

Put the mixture into an 8 x 8 glass baking dish and use your hands to pat it down flat because the mixture will be thick.

Bake at 350 degrees for approximately 20 - 25 minutes, or until cooked completely.

Prepare the chocolate frosting
Step 6
Add all the ingredients for the frosting in a small bowl and stir until well combined.

Let the brownie cool completely before adding the frosting.

Keep the brownies in the refrigerator until ready to serve.

Enjoy!
Note
This recipe will make approximately 16 brownies.

The recipe and photographs for "Gluten-Free Vegan Walnut and Oat Brownies" by Karielyn Tillman of The Healthy Family and Home are licensed under a Creative Commons Attribution-NonCommercial 4.0 International License and cannot be used without my written permission.

More healthy, clean eating recipes from
The Healthy Family and Home:
Gluten-Free Vegan Pecan Pie Bars
Peanut Butter and Chocolate Chip Oat Bars
Vegan Flourless Zucchini Brownies