This post has been updated October 1, 2016 as part of the "5 Affordable Weeknight Dinners from Whole Foods Market" campaign highlighting high-quality ingredients from my recent Whole Foods Market shopping trip.
---
This light and healthy Vegan Blueberry Mango Salad with Tahini Ginger Dressing is part of the "5 Affordable Weeknight Dinners from Whole Foods Market" theme highlighting recipes made with organic, high-quality groceries using Whole Foods Market 365 Everyday Value brand ingredients and Whole Foods Market fresh, responsibly grown, local and Whole Trade produce.  Check out all the details of my shopping trip here.
If you've never shopped at Whole Foods Market before, or purchased their 365 Everyday Value brand, I think you will be pleasantly surprised at the quality and value.  You can be assured when you buy 365 Everyday Value brand foods they will not contain high-fructose corn syrup, no hydrogenated fats and no artificial colors, flavors, preservatives or sweeteners.

Make sure you check out the other 4 dinner recipes you can make using high-quality ingredients at great prices from Whole Foods Market:
Whole Foods Market has thousands of items on sale every day!  Don't forget to download the Whole Foods Market app  and subscribe to the Whole Foods Market newsletter for sales and digital coupons.
This recipe, Blueberry Mango Salad with Tahini Ginger Dressing, which is part of the "5 Affordable Weeknight Dinners from Whole Foods Market theme, is the perfect blend of flavors.
I usually don't add fruit to my salads, but I happened to have extra fruit the day I made this and it all just came together so beautifully.
Even the colors are vibrant!
I matched it up with my Tahini Ginger Dressing which is a slightly sweet dressing that was perfect with the fruit.
Homemade salad dressings are so much better, have just a few ingredients and are super easy to make.
Here's an ingredient list for a similar store-bought dressing:
S.A.D. (Standard American Diet) Sesame Ginger Dressing:
Ingredients:  Soybeans Oil, Water, Corn Syrup High Fructose, Soy Sauce (Water, Wheat, Soybeans, Salt), Vinegar White Wine, Rice Wine Vinegar, Sesame Seeds Oil, Pineapple Juice Concentrate, Ginger, Salt, Flavors Natural, Xanthan Gum, Potassium Sorbate and Sodium Benzoate, added as preservative, Calcium Disodium EDTA, added to Protect Flavor
As with most store-bought dressings, this S.A.D. (Standard American Diet) dressing contains GMO's (soybeans oil, vinegar, soybeans), high fructose corn syrup and several preservatives.
My healthier version with only 3 clean ingredients is not only delicious, but is vegan, gluten-free, dairy-free, lectin-free (with substitutions), paleo-friendly and contains no refined sugars.
Want more healthy salad recipes?  Check out Cherry Tomatoes with Spinach Pesto, Watermelon Salad with Clean Eating Watermelon Vinaigrette, Vegan Chickpea Apple Pecan Salad or my Clean Eating Cookbook with an entire chapter of 20 healthy, clean eating meal and entrée recipes you will love!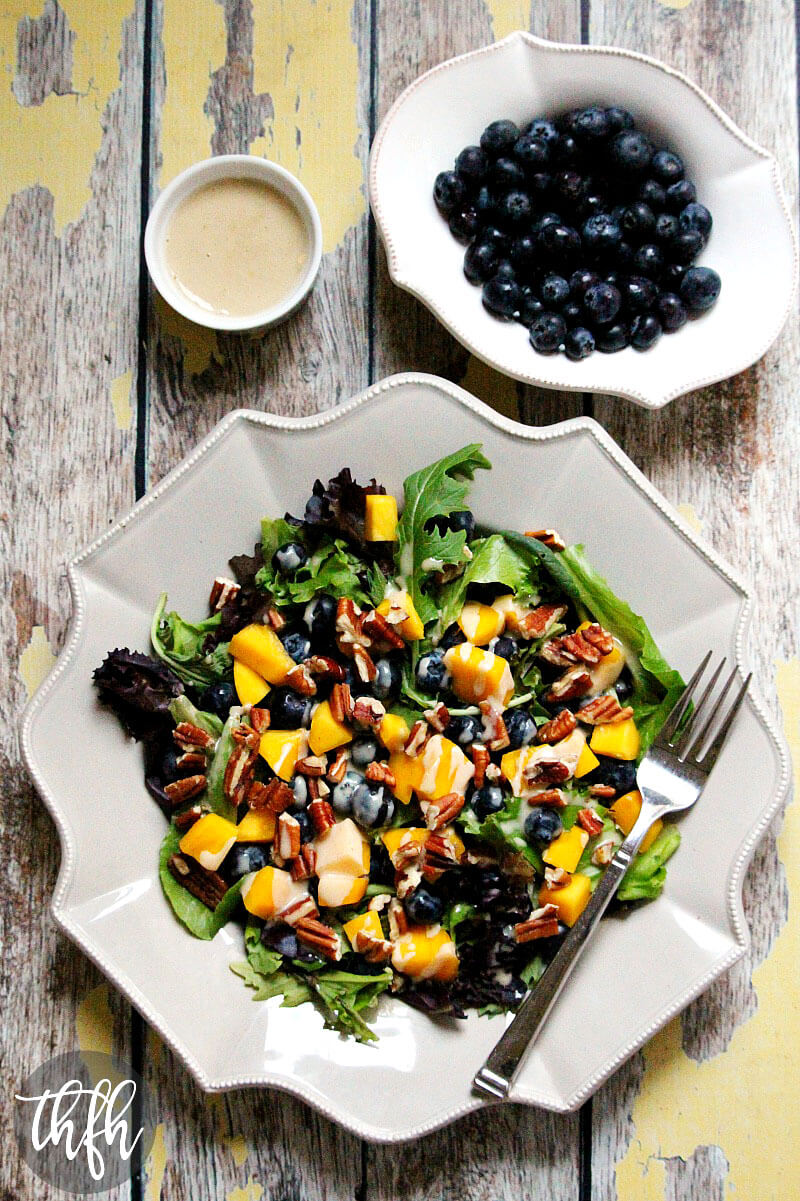 Print
Vegan Blueberry Mango Salad with Tahini Ginger Dressing
Yield 4 servings
Raw / Vegan / Gluten-Free / Dairy-Free / Lectin-Free / Paleo-Friendly / No Refined Sugar
Ingredients
For the dressing:
1/2 cup "365 Everyday Value" organic tahini
1/2 cup organic brown rice syrup*
1/2 teaspoon "365 Everyday Value" organic ground ginger
8-10 tablespoons filtered/purified water
For the salad:
8 handfuls "Whole Foods Market" organic spring salad mix
2 cups organic blueberries
2 cups organic mango (peeled, cubed)*
1 cup organic pecans
*Lectin-Free:  substitute organic date nectar for organic brown rice syrup and organic peaches for organic mango
Instructions
Prepare the dressing:
Add all the ingredients for the dressing to a small bowl and whisk until everything is well combined.  Adjust sweetener to your preference and adjust the water to get the consistency you prefer.
Assemble:
Add 2 handfuls of spring salad mix to each plate and sprinkle on top: 1/4 of the blueberries, 1/4 of the diced mango and 1/4 of the pecans.
Drizzle the Tahini Ginger Dressing over the top, dividing it evenly between the 4 salads.
Enjoy!
Notes
  The recipe and photographs for "Blueberry Mango Salad with Tahini Ginger Dressing" by Karielyn Tillman of The Healthy Family and Home website are licensed under a Creative Commons Attribution Non-Commercial No Derivatives 4.0 International License and cannot be used without my written permission.
Recipe Roundups: Food Bloggers are always welcome to use a photo and a link back to my original post to share on recipe roundups without requesting permission.
Disclosure:  This is a sponsored post by Whole Foods Market.  I was provided ingredients to make the recipes in this post and was compensated for my time.  Thank you for supporting the brands and companies that make this website possible!
Affiliate Disclosure: This post contains affiliate links. This means that if you were to make a purchase through one of these links, "The Healthy Family and Home" website would receive a small commission at no additional cost to you.
Amazon Disclosure: "The Healthy Family and Home" website is a participant in the Amazon Services, LLC Associates Program, an affiliate advertising program designed to provide a means for sites to earn advertising fees by advertising and linking to Amazon.com.
Thank you for your support of this website!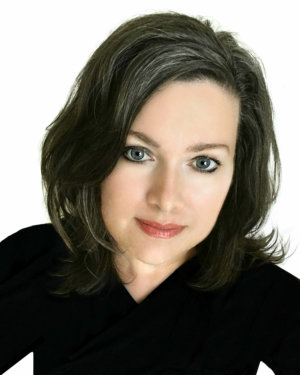 Hi, I'm Karielyn! I'm the published cookbook author of CLEAN DESSERTS and content creator of The Healthy Family and Home website since 2012. I specialize in creating easy, healthy plant-based recipes that are gluten-free + vegan and made with clean, real food ingredients that you can feel good about eating.