This plant-based Clean Eating Vegan Strawberry Mousse is a healthy and easy recipe made with only 3 clean, real food ingredients and is ready to enjoy in less than 10 minutes!

My super easy Clean Eating Strawberry Mousse recipe is based it off my Vegan Lemon Mousse recipe which simply replaces the lemon with strawberry.
It's super easy to make and the only preparation you need is to make sure you have a can of full-fat organic coconut milk that has been refrigerated at least overnight.
This is the very reason I ~always~ keep a can in the back of my refrigerator so I'm ready to go at a moment's notice!
Is This Clean Eating Vegan Strawberry Mousse Recipe Healthy?
In my opinion, yes!
Traditional strawberry mousse recipes can contain dairy and refined sugar and even some vegan ones contain soy (tofu).
Let's look at a store-bought ingredient list for strawberry mousse:
S.A.D. (Standard American Diet) Dr. Oetker Strawberry Mousse Supreme Mix Ingredients:
Ingredients: Dextrose, Fructose, Partially Hydrogenated Vegetable Oil (Contains one or more of the following: Coconut Oil, Palm Kernel Oil, Palm Oil, Soybean Oil), Sugar, Corn Syrup Solids, Modified Corn Starch, Sodium Packinate (Milk), Propylene Glycol Monostearate, Guar Gum, Carrageenan, Adipic Acid, Artificial Flavor, Salt, Tetrasodium Pyrophosphate, Disodium Phosphate, Acetylated Monoglycerides, Mono and Diglycerides, Red 40, Yellow 6, Blue 1
I don't know who "Dr. Oetker" is, but shame on him for misleading people to think this product is safe or healthy just because it has the name "Dr." on the label. No "Dr." in his right mind who truly has his client/customers best interest at heart would ever endorse a product with this ingredient list.
And guess what?
There aren't even any strawberries in the ingredients!
The above product has only 2 "Weight Watchers" points. This is a perfect example of why counting calories don't always work. While this may be a good choice under the Weight Watchers program because of the low points, many people may choose to eat this product. But look at the ingredient list...it contains GMO's (soybean oil, corn syrup solids, modified corn starch), refined sugar, partially hydrogenated oils, carrageenan, artificial flavors, preservatives, and three food colorings.
But...it's only 2 Weight Watchers points!
None of the ingredients in this package will nourish the body or give it what it needs to thrive, but just the opposite.
When you eat real food with real ingredients that are nutrient-dense, you won't need to eat as much to stay satisfied and won't have to count calories and be inclined to eat foods like this just because they have "low points".
Please know that I am not talking negative about the Weight Watchers program, but more about the food industry in general.
They are creating fake foods and trying to make people think they are good for them. It makes me mad.
Anyway, my healthier version is plant-based, vegan, gluten-free, dairy-free, soy-free, nut-free, no-cook, paleo-friendly, contains no refined sugar, Lectin-Free (with approved sweetener) and Medical Medium compliant.

5 Fast Facts About Coconut:*
2 tablespoons contain 4.6 g RDA of dietary fiber
healthy source of medium-chain fatty acids
can help to decrease cholesterol
high in lauric acid
excellent source of manganese at 60% RDA and iron at 11% RDA
5 Fast Facts About Strawberries:*
loaded with anti-oxidants
contains anti-inflammatory benefits
contains 21% RDA of manganese
helps fight cancer
excellent source of vitamin C
*These statements have not been evaluated by the Food and Drug Administration. This information is not intended to diagnose, treat, cure or prevent any disease.
How To Make Clean Eating Vegan Strawberry Mousse:
Although this is a super easy recipe that can be made in about 5 minutes, there is one step you need to do in advance - which is chill the coconut milk.
Prepare the coconut milk - In this recipe, you will need to have a 13.5 ounce can of full-fat coconut milk chilled for at least 24 hours, or overnight before making this recipe. It's a good idea to always keep at least 1-2 cans in the back of your refrigerator at all times so you can make a recipe like this at a moment's notice.
Separating the coconut milk - After the coconut milk has chilled, you will need to open the can to separate it. The way I check it to make sure it's chilled enough is to shake the can. You shouldn't hear any of the liquid moving inside of the can. If you do, you need to put it back in the refrigerator a little longer. Once the can is opened, it should be separated into two layers. The first layer will be solid and this is the "coconut fat". The second layer is liquid and this is the "coconut water". To make this recipe, you will need to remove the solid coconut fat only from the can. You can save the coconut water to use in a smoothie so it doesn't go to waste.
Preparing the mousse - Add the solid coconut fat to a mixer (I use a stand mixer) and using the "whip" attachment, whip it at high speed until it turns into a thick mousse and "peaks". Gradually add the granular sweetener of your preference and the freeze-dried strawberries to your mixing bowl and mix in on a slow speed. You may want to adjust the sweetener if you prefer.
That's it!
Dietary Substitutions For Clean Eating Vegan Strawberry Mousse:
Medical Medium: If you are following the Medical Medium healing protocol of reducing fat in your diet, even healthy fats like in coconut milk, you may want to pass on this recipe or make it as a special occasion treat. If you are in maintenance mode of the Medical Medium healing protocol and would like to enjoy an occasional healthy treat, the ingredients in this recipe are Medical Medium compliant.
Lectin-Free: Use a Lectin-Free approved sweetener, like a monk fruit/erythritol blend or non-GMO xylitol that's corn-free.
Vegan + Gluten-Free: This recipe is 100% Vegan + Gluten-Free
Want More Healthy Vegan and Gluten-Free No-Bake Dessert Recipes?
Check out these:
Print
Clean Eating Vegan Strawberry Mousse
Yield 1 - 2 servings
"Almost Raw" / Vegan / Gluten-Free / Dairy-Free / Lectin-Free / Soy-Free / No-Cook / Nut-Free / Paleo-Friendly / No Refined Sugar
Instructions
Advanced Preparation:  Add a can of organic full-fat coconut milk to the back of your refrigerator at least 12-24 hours before making this recipe.
Once the coconut milk has been refrigerated at least 12-24 hours, remove the can from the refrigerator.  Open the can and scoop out the hardened "fat" part of the coconut milk from the top half of the can.  The bottom half will be liquid (save this coconut water to add to a smoothie!).
Add the hardened coconut fat, granular sweetener or xylitol, and freeze-dried strawberries to a mixer and mix on high speed until it turns into a fluffy mousse and thick enough to "peak".  Adjust the sweetener to your preference.
Serve immediately or store in the refrigerator in an air-tight BPA-free container because it will get soft if left out at room temperature.
Optional:  Top with organic shredded coconut flakes.
Enjoy!
Notes
Get all your organic ingredients delivered straight to your door at up to 25 - 50% off retail by cutting out the middleman and retail markups with a Thrive Market Membership and save 15% off on your first order.
  The recipe and photographs for "Clean Eating Vegan Strawberry Mousse" by Karielyn Tillman of The Healthy Family and Home website are licensed under a Creative Commons Attribution Non-Commercial No Derivatives 4.0 International License and cannot be used without my written permission.
Recipe Roundups: Food Bloggers are always welcome to use a photo and a link back to my original post to share on recipe roundups without requesting permission.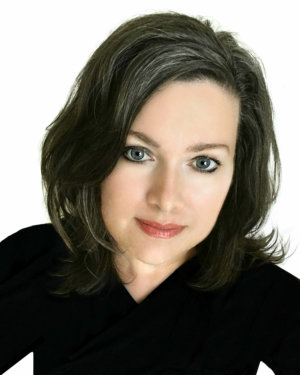 Hi, I'm Karielyn! I'm the published cookbook author of CLEAN DESSERTS and content creator of The Healthy Family and Home™ website since 2012. I specialize in creating easy, healthy plant-based and Medical Medium® compliant recipes that are gluten-free + vegan and made with clean, real food ingredients that you can feel good about eating.