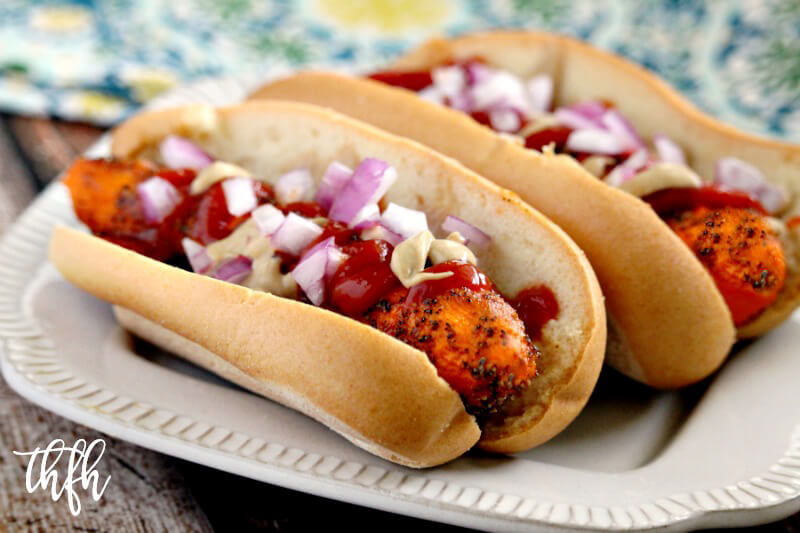 Ok, I know these Gluten-Free Vegan Carrot "Hot Dogs" sound (and may look) sketchy, but you have to give them a try – at least once!
They are super easy to make and need only 5 ingredients and, of course, the topping options are endless like my Clean Eating Vegan Chimichurri Sauce, Lectin-Free Vegan Lemon Dill Avocado Dressing or Creamy Vegan Cilantro and Lime Tahini Dressing.
Every time I make them, I play around with the boil / broil times and the best combination I've come up with (for my preferences) is to boil the carrots for 20 minutes, season them, then broil for about 10 minutes. You may want to go between 10-20 minutes on the broil time, but they are soft enough for me at 10 minutes.
I used to buy the Field Roast Vegan Hot Dogs and they were very good for a vegan hot dog replacement, but they contain wheat gluten and are not gluten-free.
Hopefully everyone already knows what's in traditional hot dogs and if you don't, it's not good:
S.A.D. (Standard American Diet) Kroger Hot Dog Ingredients:
Ingredients: Mechanically Separated Chicken, Pork, Water, Corn Syrup, Modified Food Starch, Contains 2% or Less of Salt, Flavoring, Potassium Lactate, Sodium Lactate, Sodium Phosphates, Dextrose, Sodium Diacetate, Beef, Hydrolyzed Soy Protein, Sodium Erythorbate, Sugar, Sodium Nitrate, Sorbitol, Extract of Paprika
Vegan aside, you lost me at "mechanically separated chicken". The rest of the ingredients are meat from 3 different animals (chicken, pork and beef), GMO's (corn syrup, soy protein) and several different preservatives.
If you're vegan and gluten-free, you're pretty much out of luck in the hot dog department.
So the problem of a gluten-free vegan "hot dog" is now solved by using seasoned carrots, but what about the buns? I haven't attempted yet to make my Homemade Vegan "Hamburger" Buns gluten-free yet, so the only other alternative I could find were these gluten-free hot dog buns.
I have to be honest though, they are not the best buns in the world. They are not soft and fluffy and the first time I opened the pack of 4, I only used 2 of the buns and stored the remaining 2 in an air-tight container. A few days later, they were molded…really bad. So if you use these, they may taste better and soften a little if they are warmed up and I would use all 4 of them at one time so they don't go bad, because they aren't exactly cheap either.
And I know this is a sad situation, but I've even used these gluten-free vegan wraps in lieu of a hot dog bun and I was happy just the same. This is a good option if you need to keep these lectin-free and don't mind not having a traditional "bun" to go with your "hot dog".
This healthy recipe is vegan, gluten-free, dairy-free, lectin-free (without a bun), soy-free, nut-free and paleo-friendly.
Want more healthy meal and entree recipes? Check out Vegan Roasted Artichoke Salad with Sesame Seed Vinaigrette, Lectin-Free Vegan Basil and Artichoke Shirataki Fettuccine Pasta, Clean Eating Vegan Greek Salad or my Clean Eating Cookbook with an entire chapter of 20 healthy, clean eating meal and entree recipes just like this one that you will love!
5 Fast Facts About Carrots:*
improves eyesight
helps to prevent heart disease
rich in antioxidants
helps flush toxins from the body
1 cup contains 407.6% RDA of vitamin A
5 Fast Facts About Paprika:*
anti-inflammatory
boosts blood circulation
one teaspoon contains 20% DV of vitamin A
anti-bacterial
aids digestion
5 Fast Facts About Himalayan Pink Salt:*
contains 84 minerals
unrefined, unprocessed, raw
promotes stable pH balance in cells
controls water levels in the body
aids digestion and facilitates better nutrient absorption
*These statements have not been evaluated by the Food and Drug Administration. This information is not intended to diagnose, treat, cure or prevent any disease.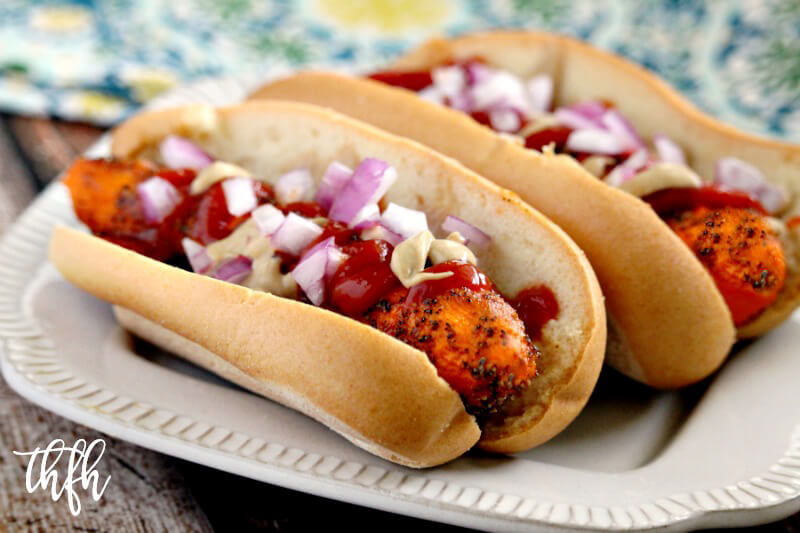 Print
Gluten-Free Vegan Carrot "Hot Dog"
Yield 4 servings
Vegan / Gluten-Free / Dairy-Free / Nut-Free / Soy-Free / Paleo-Friendly
Ingredients
4 organic carrots (large and thick)
For the seasoning:
*See seasoning notes in instructions
Instructions
Preheat oven to 425 degrees.
Prepare the carrots:
Cut the ends off the carrots and cut them down to fit the size of your hot dog buns. Grate the outside skin off the carrots so they are smooth.
Fill a cooking pot with filtered/purified water and bring to a boil.
Place the carrots in the cooking pot and boil for 20 minutes.
Drain and immediately add the seasonings in the next step.
Prepare the seasoning:
You'll want to add the seasoning immediately after removing the carrots from the boiling water, so they are still wet and the seasonings will stick to the carrots.
Option 1: If your seasoning containers have the top that you can sprinkle out the seasonings, it's best to sprinkle each seasoning over the carrots in the amount to your preference.  Just hold the carrot and rotate it around as you sprinkle making sure it's covered all the way around.
Option 2: If your seasoning containers do not have the top that you can sprinkle out the seasonings, add all the seasonings into a bowl large enough to fit the carrots, then gently toss each carrot in the seasonings until it's covered all the way around.
Finish cooking the carrots:
Place the seasoned carrots on a baking pan lined with parchment paper and bake at 425 minutes for 10-20 minutes, or until they are soft enough to your preference.
Remove the carrots from the oven and serve with gluten-free hot dog buns with your favorite toppings like organic ketchup, organic mustard, red onions, etc.
Enjoy!
Notes
Get all your organic ingredients delivered straight to your door at up to 25 - 50% off retail by cutting out the middleman and retail markups with a Thrive Market Membership and save 15% off on your first order.
  The recipe and photographs for "Gluten-Free Vegan Carrot "Hot Dogs"" by Karielyn Tillman of The Healthy Family and Home website are licensed under a Creative Commons Attribution Non-Commercial No Derivatives 4.0 International License and cannot be used without my written permission.
Recipe Roundups: Food Bloggers are always welcome to use a photo and a link back to my original post to share on recipe roundups without requesting permission.
Affiliate Disclosure: This post contains affiliate links. This means that if you were to make a purchase through one of these links, "The Healthy Family and Home" website would receive a small commission at no additional cost to you.
Amazon Disclosure: "The Healthy Family and Home" website is a participant in the Amazon Services, LLC Associates Program, an affiliate advertising program designed to provide a means for sites to earn advertising fees by advertising and linking to Amazon.com.
Thank you for your support of this website!