I have only one person to blame for these Chocolate Dipped Cherries and that's my blog friend Tabatha over at Kitchen to Nirvana.
I love her blog because she has awesome vegan and gluten-free recipes and her photos are to die for.  Check her out…you won't be disappointed!
She just did a post on her website for Chocolate Covered Nuts & Coconut Bits and I have had chocolate on my brain ever since.
Last weekend when I was at Whole Foods, I spotted cherries in the produce section and I immediately thought about Tabatha's recipe.
So I bought the cherries and made these easy chocolate dipped cherries using her recipe as inspiration.
I made a little change by using 100% organic Fine Italian Dark Chocolate with Probiotics and Omega-3's from Beyond Organic that had probiotics and 1,000 mg of omega-3's so I "melted" it in the dehydrator at 110 degrees so I wouldn't harm the probiotics.
The omega's in the chocolate come from toasted flaxseeds and they give it a nice little crunch.
This is a great little snack to make in a matter of minutes when you want something sweet, chocolate and healthy.
high in anti-oxidants

contains anti-cancer agents
provides anti-inflammatory benefits
contains beneficial phytonutrients
contains 19 x more beta carotene than strawberries
5 Fast Facts About Beyond Organic Chocolate:
contains probiotics

contains 4 g fiber
contains 1,000 mg of omega-3's
organic, non-GMO, vegan
gluten-free
This is the first organic chocolate I've come across that has probiotics and extra omega-3's.
Here is the ingredient list for the chocolate I used:  Organic Bittersweet Chocolate (Organic Chocolate Liquor, Organic Cane Sugar, Organic Cocoa Butter, Soy Lecithin (emulsifier), Organic Vanilla Extract, Organic Flaxseeds, Probiotic Bacillus Coagulans GCI-30 6086.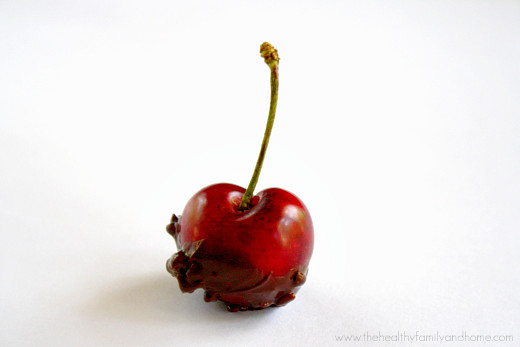 Tip #1:  Remember to use caution if you serve these to younger children because they do have big seeds in the middle.
Tip #2:  I didn't add the coconut sugar to my chocolate mixture because the cherries already have some sweetness to them, but add enough to your taste if you'd like your chocolate dip a little sweeter.
Tip #3:  I used the Beyond Organic chocolate bar, but you can use any type of dark chocolate.
Tip #4:  The amount I made was using a 1 ounce bar of chocolate which was enough for about 10 cherries, but if you need more chocolate dip, just follow the ingredient amounts from Tabatha's recipe.
Vegan Chocolate Dipped Cherries
Print recipe
Ingredients
10 cherries
1oz organic dark chocolate (melted)
1/2 teaspoon organic coconut oil (melted/liquid)
Optional
Directions
Step 1
Slowly and gently melt chocolate at lowest heat.

Add coconut oil (melted/liquid) and sugar, if desired and stir until well combined.

Dip the bottom half of the cherries into the chocolate and place on a piece of wax paper.

Leave them in the refrigerator just long enough for the chocolate/coconut oil to harden.

Store in the refrigerator until ready to eat because the chocolate will get soft if left out at room temperature.

Enjoy!
Note
Recipe source:  http://kitchentonirvana.com/2013/05/21/chocolate-covered-nuts-coconut-bits/