These Gluten-Free Vegan Chocolate Covered Strawberry Truffles are an easy and healthy recipe made with only 4 clean, real food ingredients. They're the perfect no-bake plant-based holiday-themed dessert that can be prepared in under 10 minutes!

Gluten-Free Vegan Chocolate Covered Strawberry Truffles
These addictively delicious strawberry truffles are made with only 4 simple ingredients and are super easy to make.
I like to try to give you a new St. Valentine's Day recipe each year and this one is a slight variation of some other truffle recipes I've made over the past 6 years.
It's very similar to my other Strawberry Fudge Truffles recipe where I used fresh and freeze-dried strawberries, my Raspberry Truffles recipe where I also used freeze-dried raspberries and this Raw Strawberry Creme Chocolate Truffles recipe using just fresh strawberries.
But this one is even easier.
These are made with just 4 ingredients that you probably already have on hand and one of my favorite flavor combinations: chocolate + strawberries.
They have a sweet, chewy, strawberry center and are covered with melted chocolate.
If you need them to be lectin-free, just use 69% cacao dark chocolate morsels instead of semi-sweet chocolate chips.
Basically all you do is add a bag of freeze-dried strawberries + Medjool dates to your food processor and process, roll them into a ball shape then dip them into melted chocolate.
That's it!
I like using freeze-dried fruit because you can just take a bag out the pantry whenever you need it and I've used it in these recipes: Dried Blueberry Protein Energy Balls, Coconut and Mango Chocolate Cups, Raw Apricot and Date Protein Truffles, No-Bake Cacao and Raspberry Mousse Cakes and Chocolate Raspberry Crispy Treat Squares.
If you need some other St. Valentine's Day recipe ideas, make sure you check out my St. Valentine's Day Dessert Roundup with over 30+ delicious dessert recipes!
This really easy truffle recipe is made with clean ingredients and is vegan, gluten-free, dairy-free, lectin-free, soy-free, nut-free, no-cook, paleo-friendly and has no refined sugar.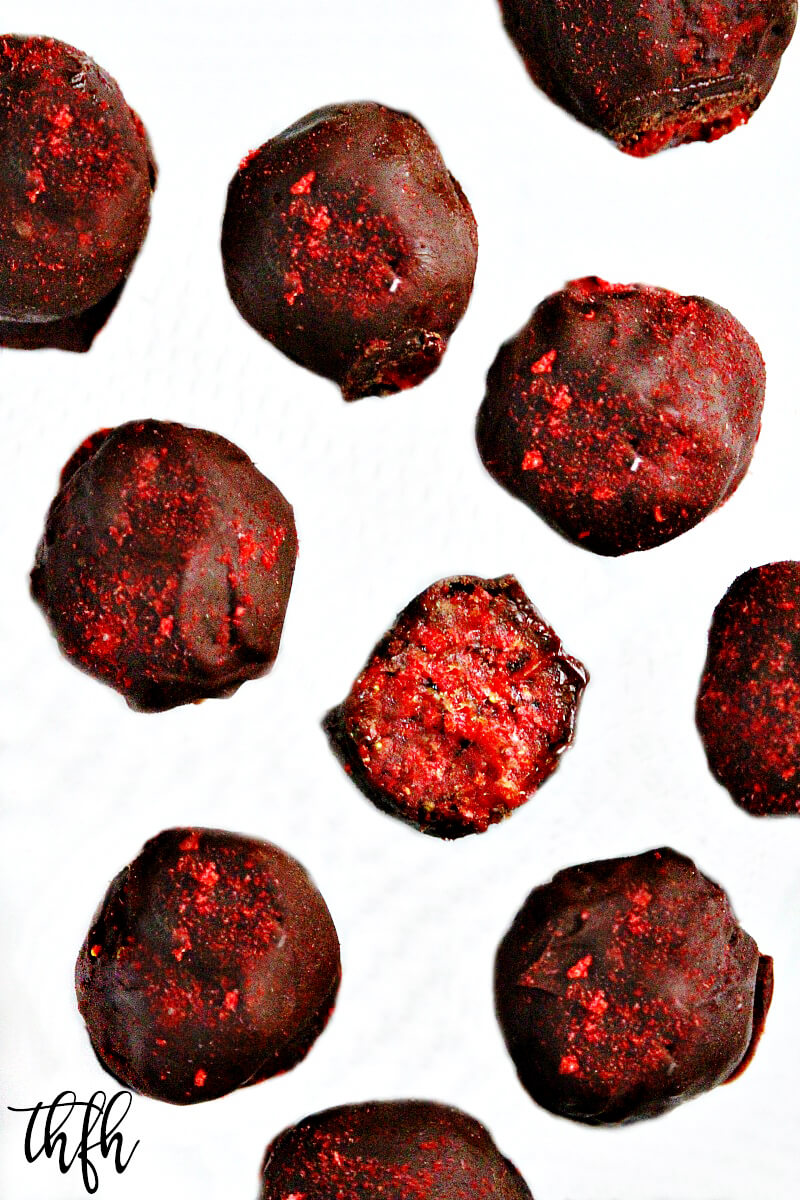 Want More Healthy Plant-Based No-Bake Dessert Recipes?
Check out these:
Print
Chocolate Covered Strawberry Truffles
Yield 10 -12 small truffles
Vegan / Gluten-Free / Dairy-Free / Lectin-Free / Soy-Free / Nut-Free / No-Cook / Paleo-Friendly / No Refined Sugar
Ingredients
For the truffles:
2 cups organic freeze-dried strawberries
8 large organic medjool dates (pitted)
For the chocolate coating:
1/2 cup Enjoy Life mini-chocolate chips*
1 teaspoon organic coconut oil
*Lectin-Free: use 1/2 cup Enjoy Life 69% Cacao Dark Chocolate Morsels
Instructions
Prepare the truffles:
Add all ingredients for the truffles to a food processor and process until it becomes a sticky, crumbly texture.
Take out a small spoonful at a time and roll them into a ball shape. Set aside.
Prepare the chocolate coating: 
Add all the ingredients for the chocolate coating to a small sauce pan and melt on lowest heat, stirring the entire time until it becomes smooth.
Assembly:
Add each ball into the saucepan with the melted chocolate and gently toss around until they are completely covered.
Remove them from the saucepan and place them on a plate or baking pan lined with parchment paper.
Put them in the freezer for approximately 15-30 minutes, or until the chocolate hardens.
Store in an air-tight BPA-free container in the freezer or refrigerator until ready to serve because they will get soft if left out at room temperature.
Enjoy!
Courses Desserts
Cuisine American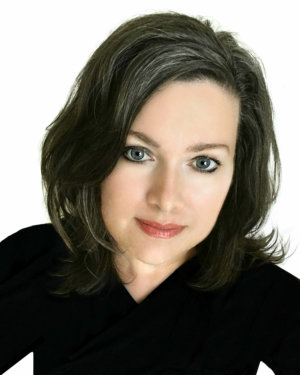 Hi, I'm Karielyn! I'm the published cookbook author of CLEAN DESSERTS and content creator of The Healthy Family and Home website since 2012. I specialize in creating easy, healthy plant-based recipes that are gluten-free + vegan and made with clean, real food ingredients that you can feel good about eating.