These Gluten-Free Vegan Chocolate Covered Strawberry Truffles are made with only 4 simple ingredients and are super easy to make.
I like to try to give you a new St. Valentine's Day recipe each year and this one is a slight variation of some other truffle recipes I've made over the past 6 years.
It's very similar to my other Clean Eating Strawberry Fudge Truffles recipe where I used fresh and freeze-dried strawberries, my Clean Eating Vegan Raspberry Truffles recipe where I also used freeze-dried raspberries and this Raw Vegan Strawberry Creme Chocolate Truffles recipe using just fresh strawberries.
But this one is even easier.
These are made with just 4 ingredients that you probably already have on hand and one of my favorite flavor combinations: chocolate + strawberries. They have a sweet, chewy, strawberry center and are covered with melted chocolate. If you need them to be lectin-free, just use 69% cacao dark chocolate morsels instead of semi-sweet chocolate chips.
Basically all you do is add a bag of freeze-dried strawberries + medjool dates to your food processor and process, roll them into a ball shape then dip them into melted chocolate. That's it!
I like using freeze-dried fruit because you can just take a bag out the pantry whenever you need it and I've used it in these recipes: Gluten-Free Vegan Dried Blueberry Protein Energy Balls, Vegan Coconut and Mango Chocolate Cups, Raw Vegan Apricot and Date Protein Truffles, Raw Vegan No-Bake Cacao and Raspberry Mousse Cakes and Gluten-Free Vegan Chocolate Raspberry Crispy Treat Squares.
If you need some other St. Valentine's Day recipe ideas, check out these:
This really easy truffle recipe is made with clean ingredients and is vegan, gluten-free, dairy-free, lectin-free, soy-free, nut-free, no-cook, paleo-friendly and has no refined sugar.
Want more healthy dessert recipes? Check out Healthy Peanut Butter Cups, Raw Vegan Lemon Meltaway Balls, Pecan Pie Truffles or my Clean Eating Cookbook with 3 entire chapters of healthy, clean eating recipes just like this one that you will love!

5 Fast Facts About Strawberries:*
loaded with anti-oxidants
contains anti-inflammatory benefits
contains 21% RDA of manganese
helps fight cancer
excellent source of vitamin C
5 Fast Facts About Medjool Dates:*
natural energy booster
high in iron content
rich in potassium
good source of dietary fiber
excellent source of vegan protein
*These statements have not been evaluated by the Food and Drug Administration. This information is not intended to diagnose, treat, cure or prevent any disease.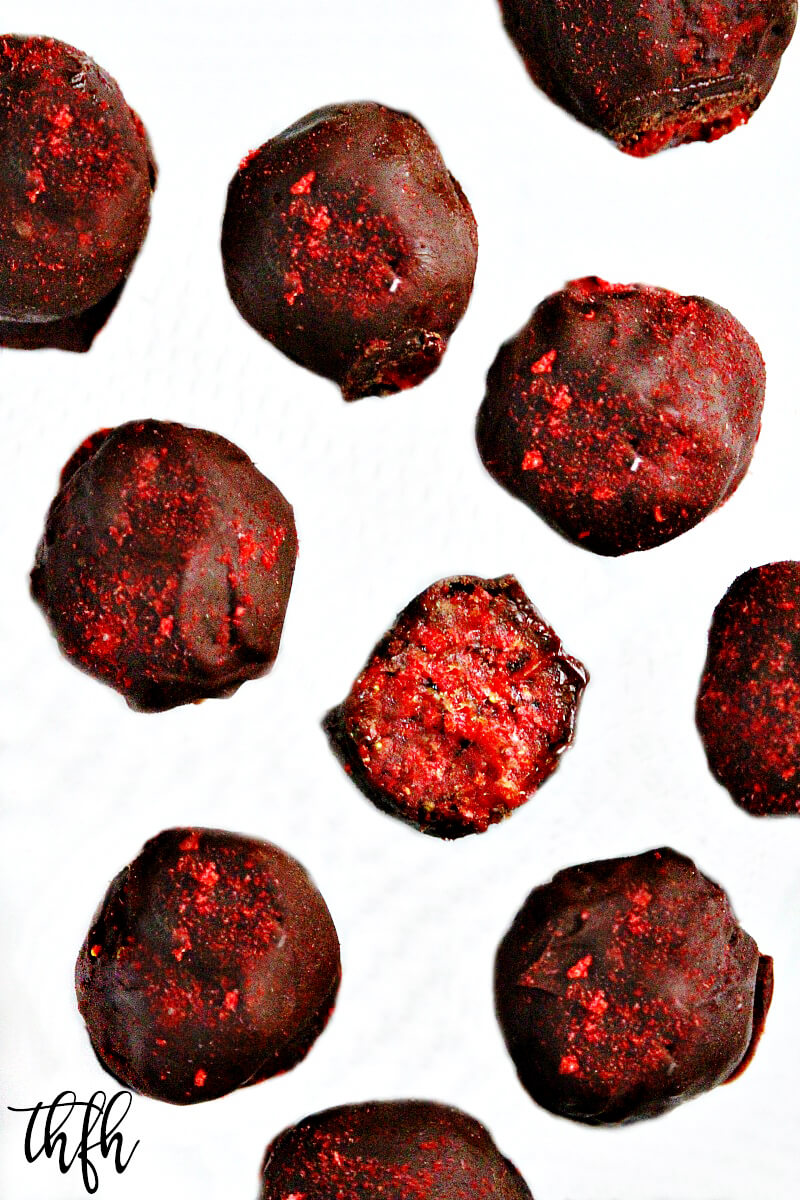 Print
Gluten-Free Vegan Chocolate Covered Strawberry Truffles
Yield 10 -12 small truffles
Vegan / Gluten-Free / Dairy-Free / Lectin-Free / Soy-Free / Nut-Free / No-Cook / Paleo-Friendly / No Refined Sugar
Instructions
Prepare the truffles:
Add all ingredients for the truffles to a food processor and process until it becomes a sticky, crumbly texture.
Take out a small spoonful at a time and roll them into a ball shape. Set aside.
Prepare the chocolate coating: 
Add all the ingredients for the chocolate coating to a small sauce pan and melt on lowest heat, stirring the entire time until it becomes smooth.
Assembly:
Add each ball into the saucepan with the melted chocolate and gently toss around until they are completely covered.
Remove them from the saucepan and place them on a plate or baking pan lined with parchment paper.
Put them in the freezer for approximately 15-30 minutes, or until the chocolate hardens.
Store in an air-tight BPA-free container in the freezer or refrigerator until ready to serve because they will get soft if left out at room temperature.
Enjoy!
Notes
Get all your organic ingredients delivered straight to your door at up to 25 - 50% off retail by cutting out the middleman and retail markups with a Thrive Market Membership and save 20% off on your first 3 orders!
  The recipe and photographs for "Gluten-Free Vegan Chocolate Covered Strawberry Truffles" by Karielyn Tillman of The Healthy Family and Home website are licensed under a Creative Commons Attribution Non-Commercial No Derivatives 4.0 International License and cannot be used without my written permission.
Recipe Roundups: Food Bloggers are always welcome to use a photo and a link back to my original post to share on recipe roundups without requesting permission.
Affiliate Disclosure: This post contains affiliate links. This means that if you were to make a purchase through one of these links, "The Healthy Family and Home" website would receive a small commission at no additional cost to you.
Amazon Disclosure: "The Healthy Family and Home" website is a participant in the Amazon Services, LLC Associates Program, an affiliate advertising program designed to provide a means for sites to earn advertising fees by advertising and linking to Amazon.com.
Thank you for your support of this website!