Buying fudgesicle molds has been on my "to buy" list for a while and I knew these classic Chocolate Fudgesicles would be the first thing I would make with them.
With two young boys, I don't know why it took me so long to get some, but I'm glad I did!
I used an adapted ice cream version from my Cacao Nib and Mint Chocolate Ice Cream recipe for this basic chocolate ice cream treat.
I remember eating fudgesicles back in the day.
Anytime I had a choice of an "ice cream on a stick" treat, I always opted for the fudgesicles.
Although those days are long gone, fudgesicles are still just as bad now, if not worse.
Here's the 17 ingredient list of traditional store-bought fudgesicles:
S.A.D. (Standard American Diet) Fudgesicle Chocolate Fudge Ice Cream Bars
Ingredients: MILK NON FAT, SUGAR, CORN SYRUP, CORN SYRUP HIGH FRUCTOSE, WHEY, COCONUT OIL, MONO AND DIGLYCERIDES, CELLULOSE GUM, GUAR GUM, POLYSORBATE 65, AND POLYSORBATE 80, CARRAGEENAN, MALT POWDER, SALT, ARTIFICIAL FLAVORS
While it doesn't have a really long ingredient list, pretty much everything in it is junk…GMO dairy, highly refined sugar, refined salt and lots of preservatives.
And, I don't even see any type of chocolate in the ingredient list?
This is a much healthier version that you can enjoy guilt-free and it's "almost raw" (coconut milk), vegan, gluten-free, dairy-free, paleo-friendly and has no refined sugar.
Want more healthy desserts recipes? Check out Vegan No-Bake Peanut Butter Cheesecake, Pomegranate and Dried Blueberry Chocolate Bark, Clean Eating Chocolate Crunch Bars or my Clean Eating Cookbook with an entire chapter of 20 healthy, clean eating recipes you will love
5 Fast Facts About Cashews:*
packed with dietary fiber
rich in "heart friendly" mono-saturated fatty acids
rich source of minerals
high in magnesium and copper
excellent source of antioxidants
5 Fast Facts About Coconut:*
2 tablespoons contain 4.6 g RDA of dietary fiber
healthy source of medium-chain fatty acids
can help to decrease cholesterol
high in lauric acid
excellent source of manganese at 60% RDA and iron at 11% RDA
5 Fast Facts About Raw Cacao Powder:*
contains over 300 compounds including protein, calcium, copper, zinc, and iron
super high in anti-oxidants
promotes cardiovascular health
contains essential fats
can help to decrease blood pressure
5 Fast Facts About Raw Coconut Crystals:*
low glycemic (GI of 35)
raw, vegan and gluten-free
unrefined and unbleached
contains 17 amino acids
is an abundant source of minerals and broad-spectrum B vitamins
5 Fast Facts About Vanilla Bean Powder:*
anti-microbial
high in anti-oxidants
can help reduce inflammation
contains small traces of minerals
1 teaspoon contains 3 g of protein and 3 g of fiber
*These statements have not been evaluated by the Food and Drug Administration. This information is not intended to diagnose, treat, cure or prevent any disease.
Tip #1: This recipe will make approximately 5 fudgesicles using these molds. As many times as I've made these, I can't seem to get the ingredients to come out to exactly 6 of these molds. It usually makes right at 5 1/2 molds so I usually just eat the extra 1/2. If you use different molds, you may get more or less. I really like these Tovolo molds because they are BPA-free, are a good size and are easy to remove. And, they look like real fudgesicles!
Tip #2: I used raw coconut crystals in this recipe because they are low-glycemic, but feel free to use your favorite granular sweetener, and add even more if you prefer.
Chocolate Fudgesicles ("Almost" Raw, Vegan, Gluten-Free, Dairy-Free, Paleo-Friendly)
Print recipe
Ingredients
1 cup organic cashews
1 can organic coconut milk (full fat, 13.5 ounce, BPA-free can)
1/4 cup organic raw cacao powder
1/4 cup organic raw coconut crystals (or other granular sweetener)
1/2 teaspoon organic vanilla bean powder
Directions
Step 1
Add all ingredients to a Vitamix and blend until creamy and smooth.

Pour the mixture into your ice cream molds and put them in the freezer according to your molds directions (usually 1 - 2 hours) until they are hardened.

Remove and disassemble according to your molds directions (usually run the fudgesicle under warm water for a few minutes to loosen it up and remove it from the mold).

Enjoy!
Note
This recipe will make approximately (5) fudgesicles.

The recipe and photographs for "Clean Eating Chocolate Fudgesicles" by Karielyn Tillman of The Healthy Family and Home are licensed under a Creative Commons Attribution-NonCommercial 4.0 International License and cannot be used without my written permission.

Affiliate Disclosure:
This post contains affiliate links. This means that if you were to make a purchase through one of these links, "The Healthy Family and Home" website would receive a small commission.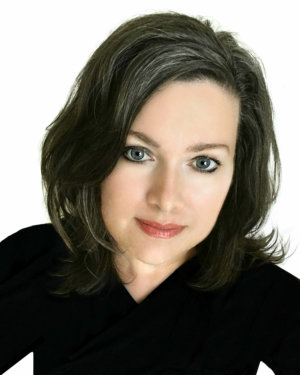 Hi, I'm Karielyn! I'm a cookbook author and creator of The Healthy Family and Home website. I specialize in creating easy, healthy plant-based recipes that are gluten-free + vegan and made with clean, real food ingredients that you can feel good about eating.