Today, I present to you my favorite homemade version of Clean Eating Classic Guacamole.
There are so many different variations of guacamole out there and everyone has their favorite…I know I do!
This is an easy and basic guacamole recipe, but you never know, someone might need to know how to make it!
Guacamole is so versatile!
It is a perfect match with my Raw Corn Chips, especially if you are looking for a healthy 100% raw snack.
You can dip vegetables in it or even dehydrated crackers, add it to a salad or put some on a vegan sandwich or wrap.
However you make it, just make sure you make it with fresh, real ingredients.
Take a look at the 22 ingredients in one of these store bought "guacamole" seasoning packets:
McCormick Guacamole Seasoning Mix

Ingredients:   MALTODEXTRIN, SALT, ONIONS, MILK NON FAT DRY, TAPIOCA STARCH MODIFIED, PEPPERS BELL RED, SOUR CREAM SOLIDS (CREAM, MILK NON FAT DRY, AND CULTURES) GARLIC, CORN SYRUP SOLIDS, MILK NON FAT DRY CULTURED, LEMONS JUICE SOLIDS, PARSLEY, LACTIC ACID, CITRIC ACID, PEPPERS RED EXTRACTIVES AND FLAVORS NATURAL (source)

FoodFacts.com rating:  "C -" 
That's a lot of dairy ingredients, GMO's, processed salt and preservatives.
It's a whole lot easier, and healthier, to just season it with a few simple and fresh ingredient like cilantro, garlic, and onions.
Want more healthy dip and dressing recipes?  Check out Pineapple Guacamole, Cilantro and Lime Salsa, Spicy Balsamic Vinegar Salsa or my Clean Eating eCookbook with an entire chapter of 20 healthy, clean eating dip and dressing recipes just like this one that you will love!

5 Fast Facts About Avocados:*
once of the best sources of vitamin E
contains 25 essential nutrients
contains 2 – 3 times the potassium as 1 banana
has anti-inflammatory properties
can help lower cholesterol levels
5 Fast Facts About Tomatoes:*
contains lycopenes – cancer fighting agents
high in beta-carotene
anti-oxidant
high in vitamin K and vitamin A
high in chromium
5 Fast Facts About Onions:*
rich source of healthy sulfur compounds
excellent for cardiovascular health
inhibits bone loss in women
reduces blood pressure
lowers blood cholesterol levels
5 Fast Facts About Garlic:*
regulates blood sugar levels
lowers high blood pressure
antibacterial and analgesic properties
anti-viral
lowers cholesterol levels
5 Fast Facts About Cilantro:*
powerful antioxidant
anti-inflammatory
helps to remove toxins and heavy metals
helps control blood sugar
promotes healthy liver function
5 Fast Facts About Limes:*
aids in digestion
fat-burner
contains more vitamin C than a lemon
antioxidant and antibiotic effects
extremely alkalinizing to the body
5 Fast Facts About Jalapenos:*
excellent antioxidant
thermogenic food
anti-inflammatory agent
high in vitamins A & C and bioflavinoids
contains antibacterial properties
5 Fast Facts About Himalayan Pink Salt:*
contains 84 minerals
unrefined, unprocessed, raw
promotes stable pH balance in cells
controls water levels in the body
aids digestion and facilitates better nutrient absorption
*These statements have not been evaluated by Food and Drug Administration.  This information is not intended to diagnose, treat, cure or prevent any disease.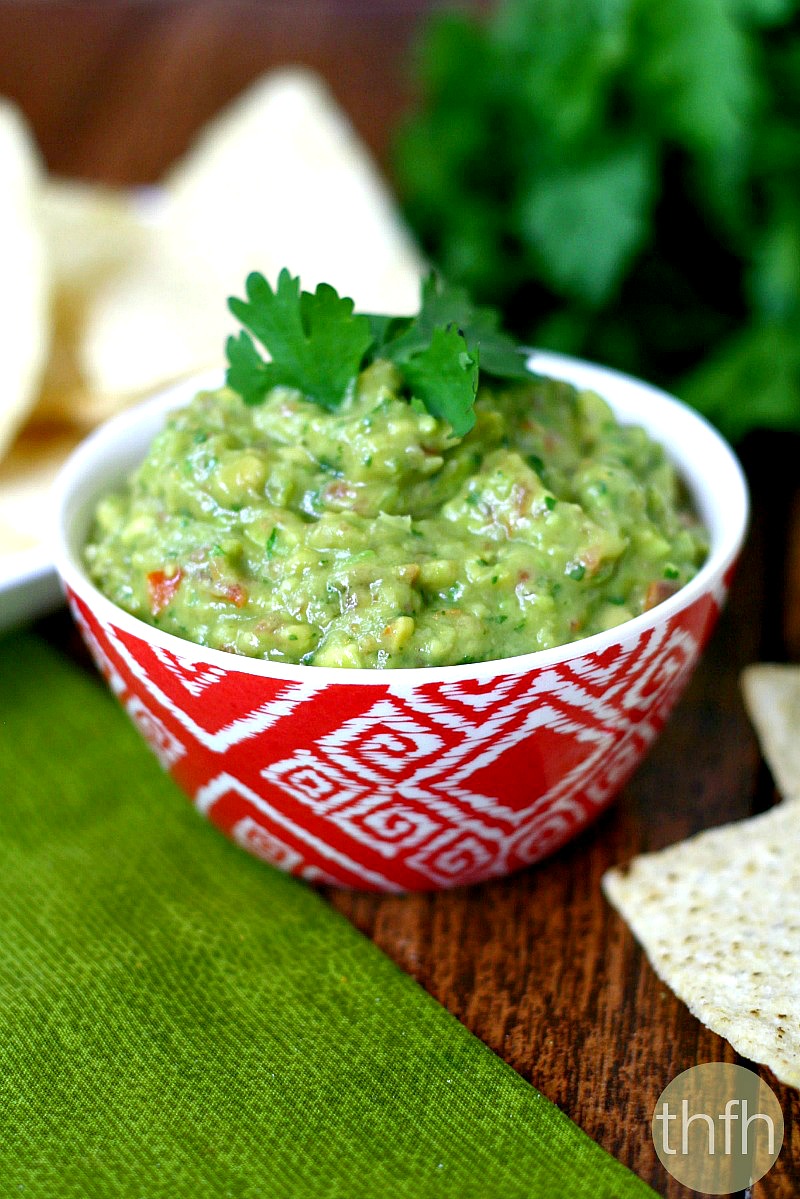 Tip#1:  This recipe will make approximately 1 -2 servings.
Tip #2:  Feel free to adjust the seasonings to your preference.
Classic Guacamole (Raw, Vegan, Gluten-Free, Dairy-Free, Paleo-Friendly)
Print recipe
Ingredients
2 organic avocado
1 organic tomato
1 clove organic garlic
1 handful organic cilantro
1/4 organic onion
1/2 - 1 organic jalapeno
1 organic lime juice (fresh squeezed)
1/4 teaspoon Himalayan pink salt
Directions
Step 1
Put all ingredients in a food processor and process until well blended.

Enjoy!
Note
This recipe will make 1 - 2 servings.

The recipe and photographs for "Classic Guacamole" by Karielyn Tillman of The Healthy Family and Home are licensed under a Creative Commons Attribution-NonCommercial 4.0 International License and cannot be used without my written permission.
Affiliate Disclosure: This post contains affiliate links. This means that if you were to make a purchase through one of these links, "The Healthy Family and Home" website would receive a small commission.
Amazon Disclosure: "The Healthy Family and Home" website is a participant in the Amazon Services, LLC Associates Program, an affiliate advertising program designed to provide a means for sites to earn advertising fees by advertising and linking to Amazon.com.