Today I have for you a basic vegan, Raw Corn Chip recipe, but just think of all the ways you could jazz these up!
I'm thinking lime and cilantro chips, jalapeno chips, chili chips, onion chips, garlic chips, cheezy chips.
These are so very easy to make with a Vitamix and dehydrator – the hardest part was waiting for them to get crispy.
I've made these with both fresh, organic corn and organic frozen corn and both worked fine.
The main thing is that you use organic, non-GMO corn to make these, since corn is one of the top 3 GMO crops and corn grain can contain up to 15 different pesticides.
Store-bought corn chips, in general, do not have a long list of evil ingredients, but unless you buy an organic brand, you are eating a bag full of GMO's.
S.A.D. (Standard American Diet) Dorito's Toasted Corn Tortilla Chips Ingredients:
Ingredients:  Corn, Vegetable Oils (Corn Oil, Canola Oil, Sunflower Oil), Salt (source)
Again, you are getting GMO corn, GMO oils and refined salt.
When you make your own homemade chips, you can use organic ingredients and keep them raw by using a dehydrator.
Here are some healthy, clean eating, raw or vegan dip recipes to enjoy with your raw corn chips:
Or, you can check out my Clean Eating Cookbook with an entire chapter of 20 healthy, clean eating dip and dressing recipes just like this one that you will love!
5 Fast Facts About Flax Seeds:*
high in omega-3 essential fatty acids
contains soluble and insoluble fiber
super high in lignans
provides anti-oxidant and anti-inflammatory benefits
provides cardiovascular benefits
5 Fast Facts About Himalayan Pink Salt:*
contains 84 minerals
unrefined, unprocessed, raw
promotes stable pH balance in cells
controls water levels in the body
aids digestion and facilitates better nutrient absorption
*These statements have not been evaluated by the Food and Drug Administration.  This information is not intended to diagnose, treat, cure or prevent any disease.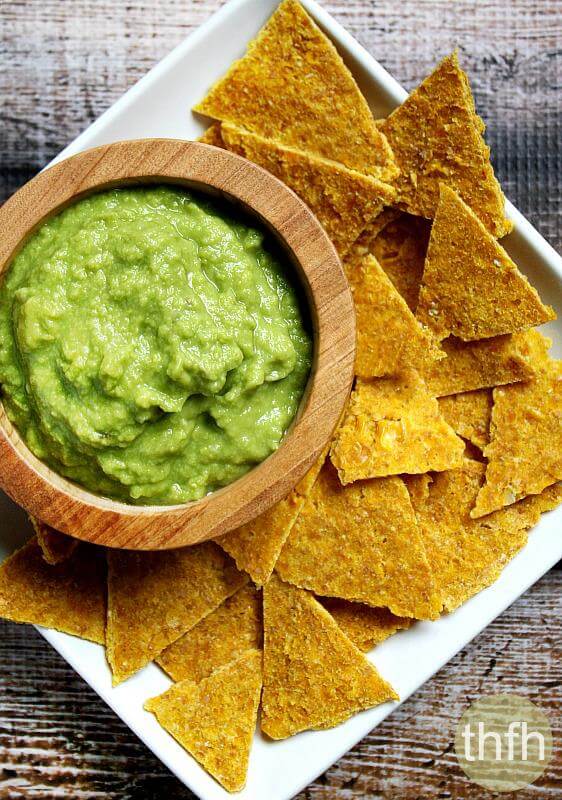 ---
Good News…This is a THFH Vitamix Recipe!
You can make this healthy, clean eating recipe using a Vitamix high-speed blender!
Use my Vitamix promotional code 06-007276 to get FREE STANDARD SHIPPING
and you can purchase a new or refurbished Vitamix with an easy, interest-free 5 payment plan.
Click here or the ad below to start shopping!
---
Tip #1:  One special tip to share is when you spread the mixture on the dehydrator tray, make sure it is not as thick as you would spread it for a cracker and not too thin (paper thin) – try to get something in between.  If it's too thick, it will take too long and will be like a cracker.  If it's too thin, they won't be thick and sturdy enough to scoop up your favorite dip or salsa.
Tip #2:  I like to use fresh ground flax seeds by grinding them myself when I'm ready to use them, so they are as fresh as possible.  I use an inexpensive coffee grinder to grind mine.
Raw Corn Chips (Raw, Vegan, Gluten-Free, Dairy-Free, Egg-Free)
Print recipe
Ingredients
2 1/2 cups organic, non-GMO corn
1/4 cup organic ground flax seeds
1/4 cup purified/filtered water
1/2 - 1 teaspoon Himalayan pink salt
Directions
Step 1
Add all ingredients to a Vitamix and blend until well combined and it becomes a pasty-type texture (use a Tamper, if needed).

Note: I used a Professional Series 750 model, starting at lowest setting and gradually moving up to the highest setting.

Spread the mixture evenly on Paraflexx drying sheet, not too thick or too thin.

Dehydrate at 105 degrees for 18 - 24 hours or until crispy (flip over midway through).

Cut into triangle shapes and serve.

Enjoy!
Note
This recipe will make approximately 1 - 2 servings.

The recipe and photographs for "Raw Corn Chips by Karielyn Tillman of The Healthy Family and Home are licensed under a Creative Commons Attribution-NonCommercial 4.0 International License and cannot be used without my written permission.

Affiliate Disclosure: This post contains affiliate links. This means that if you were to make a purchase through one of these links, "The Healthy Family and Home" website would receive a small commission.