These Gluten-Free Vegan Flourless Pumpkin Spice Crackers with Sea Salt take less than 15 mintues to make and will disappear faster than it takes to make them!
Well, I decided to give you a break from the sweet pumpkin dessert recipes I've been sharing and give you a savory snack instead.
These super easy crackers have the flavor of pumpkin spice, but also just the right touch of salty flavor from the French Grey Sea Salt I used.  I love it because it's thick and more of a flaky-type salt and it's so flavorful.  I don't use it in everyday cooking but only as a topping, like in this Chocolate Covered Watermelon Slices with Sea Salt recipe, so a jar will last a long time.
You may want to check out some of my other healthy cracker recipes like Gluten-Free Vegan Thyme and Garlic Crackers, Raw Vegan Habanero Pepper Crackers or my Raw Vegan Carrot and Flax Crackers.
Made with just a handful of ingredients you probably already have on hand, these healthy crackers are vegan, gluten-free, dairy-free, egg-free, flourless, grain-free, lectin-free, alkaline and paleo-friendly.
Want more healthy snack recipes?  Check out Raw Vegan Cinnamon Sugar Pear Chips, Vegan Cheesy Baked Kale Chips, Lemon Dill Kale Chips or my Clean Eating Cookbook with an entire chapter of 20 healthy, clean eating snack recipes just like this one that you will love!

5 Fast Facts About Almonds (Almond Flour):
helps to regulate cholesterol and blood pressure
energy booster
loaded with calcium and fiber
1/4 cup contains 8 grams of vegan protein
high in anti-oxidants
5 Fast Facts About Avocado Oil:*
excellent source of vitamin E
contains 25 essential nutrients
contains 2 – 3 times the potassium as one banana
has anti-inflammatory properties
can help lower cholesterol levels
5 Fast Facts About Flax Seeds:*
high in omega-3 essential fatty acids
contains soluble and insoluble fiber
super high in lignans
provides anti-oxidant and anti-inflammatory benefits
provides cardiovascular benefits
*These statements have not been evaluated by the Food and Drug Administration. This information is not intended to diagnose, treat, cure or prevent any disease.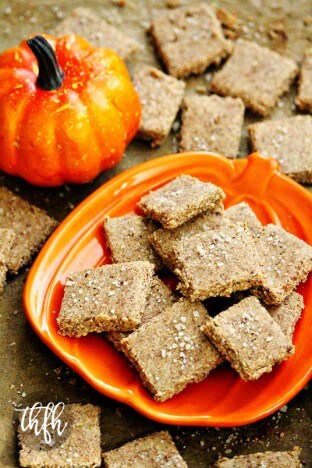 Print
Gluten-Free Vegan Flourless Pumpkin Spice Crackers with Sea Salt
Yield 30 - 35 small crackers
Vegan / Gluten-Free / Dairy-Free / Egg-Free / Flourless / Grain-Free / Lectin-Free / Alkaline / Paleo-Friendly
Ingredients
For the crackers:
For the topping:
Instructions
Preheat oven to 350 degrees.
Prepare the flax egg:
Add the ingredients for the flax egg (purified/filtered water + ground flax) to a small bowl and whisk until it is well combined.  Set aside.
Prepare the crackers:
Add all ingredients for the crackers to a medium sized bowl and stir together until it is mixed together well.
Re-whisk the flax egg then add it to the bowl with the cracker ingredients and stir until everything is well combined.  Use a fork to mash the flax egg and avocado oil into the almond flour to make sure the almond flour is moist.  The mixture should be crumbly but moist.
Transfer the mixture to a baking pan lined with parchment paper.
Using your hands, form the mixture into a compact ball shape, squeezing it together tightly until it holds together well.
Once you have a ball shape, place a second piece of parchment paper on top of the dough ball and roll it out flat with a rolling pin into a 1/4 inch thickness.
Use a pizza cutter or knife to cut the dough into small 1 1/2 x 1 1/2 inch squares.  Don't cut them any bigger because they will not hold together well.  Remove the scraps and any crumbs from the bottom piece of the parchment paper before baking.
Sprinkle sea salt over the top of the crackers and gently tap the salt into the dough so it doesn't fall off when you flip them over later.
Bake at 350 degrees for approximately 12-14 minutes, or until the edges and tops are slightly golden.  Flip the crackers over and bake for an additional 1-2 minutes, taking care not to burn them.
Store in an air-tight container.
Enjoy!
Notes
Get all your organic ingredients delivered straight to your door at up to 25 - 50% off retail by cutting out the middleman and retail markups with a Thrive Market Membership and save 15% off on your first order.
  The recipe and photographs for "Gluten-Free Vegan Flourless Pumpkin Spice Crackers with Sea Salt" by Karielyn Tillman of The Healthy Family and Home website are licensed under a Creative Commons Attribution Non-Commercial No Derivatives 4.0 International License and cannot be used without my written permission.
Affiliate Disclosure: This post contains affiliate links. This means that if you were to make a purchase through one of these links, "The Healthy Family and Home" website would receive a small commission at no additional cost to you.
Amazon Disclosure: "The Healthy Family and Home" website is a participant in the Amazon Services, LLC Associates Program, an affiliate advertising program designed to provide a means for sites to earn advertising fees by advertising and linking to Amazon.com.
Thank you for your support of this website!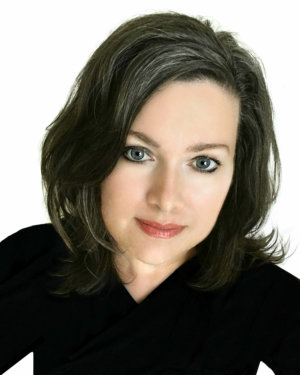 Hi, I'm Karielyn! I'm the published cookbook author of CLEAN DESSERTS and content creator of The Healthy Family and Home™ website since 2012. I specialize in creating easy, healthy plant-based and Medical Medium® compliant recipes that are gluten-free + vegan and made with clean, real food ingredients that you can feel good about eating.