These Goji Berry and Hazelnut Cacao Truffles are a spin off from the Cacao and Walnut Holiday Truffle recipe I shared a couple of months ago.
That recipe was originally inspired by the Raw Chocolate Tart recipe from the lovely Tabatha at Kitchen To Nirvana.
While the holiday truffle recipe was rolled in crushed goji berries, raw cane sugar and crushed pistachios for the colors of the season, these are just rolled in crushed goji berries which makes them perfect for a St. Valentine's Day treat.
And since I had some crushed hazelnuts left over from my Hazelnut Caramel Clusters recipe, I used them instead of walnuts and added a few other changes like goji berries, maca powder and a little bit of coconut oil.
So here you have a quick and easy, raw, vegan, gluten-free, dairy-free, paleo-friendly, no bake and no refined sugar treat to enjoy!
Want more healthy truffle and ball recipes?  Check out Cacao Nib Superfood Truffles, Vanilla Bean Peanut Butter Protein Balls, Pistachio and Matcha Truffles or my Clean Eating eCookbook with an entire chapter of 20 healthy, clean eating truffle and ball recipes just like this one that you will love!
5 Fast Facts About Hazelnuts:*
one cup contains 86% RDA of vitamin E
rich in heart healthy unsaturated fats
super high in B-vitamins: B1, B3, B5, B6 and B9
one ounce has 2.7 g of dietary fiber
one serving contains 90% RDA of manganese and 65% RDA of copper
5 Fast Facts About Medjool Dates:*
natural energy booster
high in iron content
rich in potassium
good source of dietary fiber
excellent source of vegan protein
5 Fast Facts About Coconut Oil:*
super high in lauric acid
rich in antioxidants
contains natural microbial and anti-bacterial agents
helps to improve metabolism
improves cholesterol levels
5 Fast Facts About Raw Cacao Powder:*
contains over 300 compounds including protein, calcium, copper, zinc and iron
super high in anti-oxidants
promotes cardiovascular health
contains essential fats
can help to decrease blood pressure
5 Fast Facts About Goji Berries:*
high concentration of anti-oxidants
contains 21 trace minerals
contains 18 amino acids
high in essential fatty acids
contains 13% more protein than whole wheat
5 Fast Facts About Maca Powder:*
increases stamina
beneficial to the circulatory system
can regulate hormonal imbalances
acts as an anti-carcinogen and anti-oxidant
enhances memory, learning and mental ability
*These statements have not been evaluated by Food and Drug Administration.  This information is not intended to diagnose, treat, cure or prevent any disease.
Where to Buy:  If you have trouble finding any of the ingredients to make this recipe, you can order online from Amazon and have them delivered straight to your door!
Tip #1:  The first time I used crushed goji berries I made them in the food processor and they really didn't come out uniformly crushed.  This time, I used my coffee grinder that I used to ground flax seeds and it made more of a powdery consistency and made it easier to roll and stick to the truffles.
Goji Berry and Hazelnut Cacao Truffles (Raw, Vegan, Gluten-Free, Dairy-Free, Paleo-Friendly, No Bake and No Refined Sugar)
Print recipe
Ingredients
For the truffles
1 cup organic raw hazelnuts
8 Large organic medjool dates (pitted)
4 tablespoons organic raw cacao powder
4 tablespoons organic goji berries
2 tablespoons organic coconut oil
1/2 tablespoon organic maca powder
For the coating
2 tablespoons organic goji berries (crushed into powder)
Directions
Prepare the crushed goji berries
Step 1
Put the 2 tablespoons of goji berries into a coffee grinder (or food processor) and grind until they become a powdery consistency.

Transfer to a small bowl and set aside.
Prepare the truffles
Step 2
Add all the ingredients for the truffles into a food processor and process until they are well combined and have a sticky texture.

Take out about a tablespoon at a time and roll into a ball shape in the palm of your hand.

Assembly
Step 3
Take each truffle and roll into the crushed goji berry powder making sure they are completely covered.

Put them in the refrigerator for approximately 30 minutes, or until they are a little firmer.

Keep in the refrigerator until you are ready to serve them because they will become soft and lose their shape if left out at room temperature.

Enjoy!
Note
This recipe will make approximately 12 - 14 truffles.

The recipe and photographs for "Goji Berry and Hazelnut Cacao Truffles" by Karielyn Tillman of The Healthy Family and Home are licensed under a Creative Commons Attribution-NonCommercial 4.0 International License and cannot be used without my written permission.
Affiliate Disclosure: This post contains affiliate links. This means that if you were to make a purchase through one of these links, "The Healthy Family and Home" website would receive a small commission.
Amazon Disclosure: "The Healthy Family and Home" website is a participant in the Amazon Services, LLC Associates Program, an affiliate advertising program designed to provide a means for sites to earn advertising fees by advertising and linking to Amazon.com.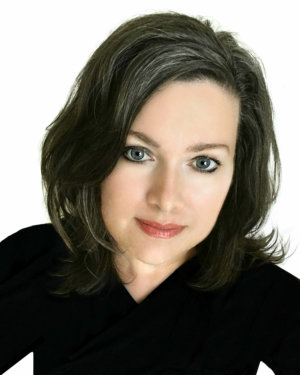 Hi, I'm Karielyn! I'm the published cookbook author of CLEAN DESSERTS and content creator of The Healthy Family and Home website since 2012. I specialize in creating easy, healthy plant-based recipes that are gluten-free + vegan and made with clean, real food ingredients that you can feel good about eating.