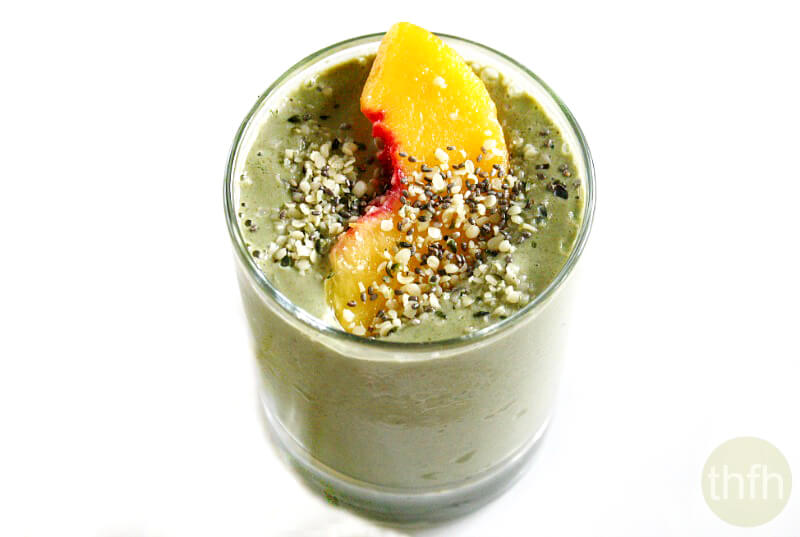 This Peachy Green Smoothie is loaded everything you need to keep you satisfied all morning long.
When I make my smoothies, my main purpose is to get as much nutrition in them as possible…superfoods, healthy fats, protein and probiotics.
I don't like mine too sweet and I don't like to add a lot of fruit so I usually only add just one fruit as the sweetener.
You don't have to add all the ingredients in this recipe, just use the ones you have or like and leave out the ones you don't have on hand or don't like.
The main thing is…if this is your breakfast meal, add the healthiest ingredients you can and make it count!
It's super easy to make with a Vitamix and is breakfast is ready in a matter of minutes.
Want more healthy smoothie recipes?  Check out Chocolate Peanut Butter Protein Smoothie, Banana Mango Superfood Smoothie, Pumpkin Protein Smoothie or my Clean Eating Cookbook with an entire chapter of 20 healthy, clean eating smoothie recipes just like this one that you will love!

5 Fast Facts About Almonds (Almond Milk):*
helps to regulate cholesterol and blood pressure
energy booster
loaded with calcium and fiber
1/4 cup contains 8 grams of vegan protein
high in anti-oxidants
5 Fast Facts About Peaches:*
rich in potassium and iron
high amounts of potassium at 333 mg
excellent anti-oxidant
1 peach contains 3 g of fiber
contains 10 different vitamins including 11.6 mg of vitamin C
5 Fast Facts About Maca Powder:*
ncreases stamina
beneficial to the circulatory system
can regulate hormonal imbalances
acts as an anti-carcinogen and anti-oxidant
enhances memory , learning and mental ability
5 Fast Facts About Goji Berries (Goji Powder):*
high concentration of anti-oxidants
contains 21 trace minerals
contains 18 amino acids
high in essential fatty acids
contains 13% more protein than whole wheat
5 Fast Facts About Hemp Seeds:*
healthy inflammatory 3:1 ratio of omega-6 to omega-3 fats
contains 10 essential amino acids
contains 11 g of raw vegan protein
helps to reduce blood cholesterol
natural appetite suppressant
5 Fast Facts About Chia Seeds:*
excellent source of healthy omega fatty acids
contains 700% more calcium than salmon
contains more anti-oxidants than flaxseeds or blueberries
contains 500% more calcium than milk
contains 20% easily digestible vegan protein
5 Fast Facts About "Raw Meal" (Garden of Life):*
contains 34 g of raw vegan protein
contains 13 raw organic sprouts
contains 4 organic cereal grass juices
contains 5 raw organic fruits
contains spirulina and chlorella
*These statements have not been evaluated by the Food and Drug Administration.  This information is not intended to diagnose, treat, cure or prevent any disease.
Peachy Green Smoothie (Raw, Vegan, Gluten-Free, Dairy-Free, Paleo-Friendly, No Refined Sugar)
Print recipe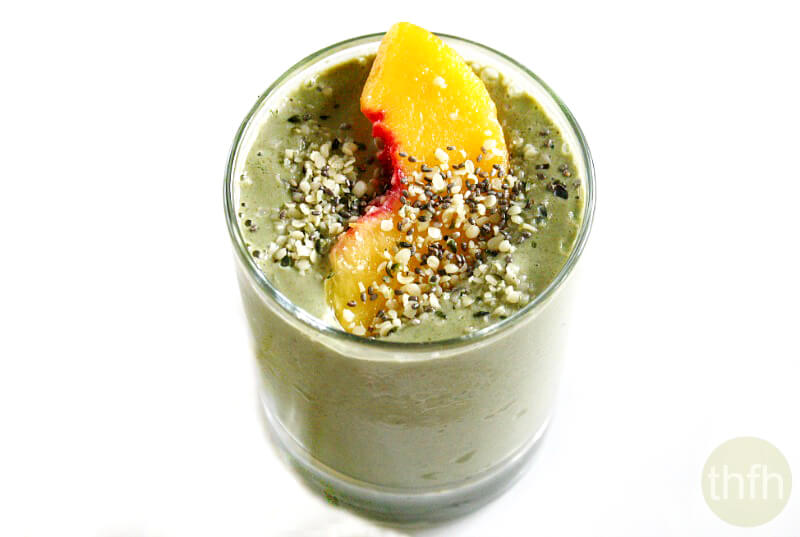 Ingredients
1 cup homemade almond milk
1 organic peach (pitted, peeled, cubed)
1 scoop Raw Meal (from Garden of Life)
1 scoop Green Vibrance (from Vibrant Health)
2 organic medjool dates (pitted)
1 tablespoon organic hemp seeds
1 teaspoon organic maca powder
1 teaspoon organic goji berry powder
1 teaspoon organic chia seeds
7 ice cubes
Directions
Step 1
Put all ingredients into a Vitamix or other blender and blend until smooth and creamy.

Optional: garnish with hemp seeds and/or peach slices.

Enjoy!
Note
This recipe will make approximately (1) serving.

The recipe and photographs for "Peachy Green Smoothie" by Karielyn Tillman of The Healthy Family and Home are licensed under a Creative Commons Attribution-NonCommercial 4.0 International License and cannot be used without my written permission.
Affiliate Disclosure: This post contains affiliate links. This means that if you were to make a purchase through one of these links, "The Healthy Family and Home" website would receive a small commission at no additional cost to you.
Amazon Disclosure: "The Healthy Family and Home" website is a participant in the Amazon Services, LLC Associates Program, an affiliate advertising program designed to provide a means for sites to earn advertising fees by advertising and linking to Amazon.com.
Thank you for your support of this website!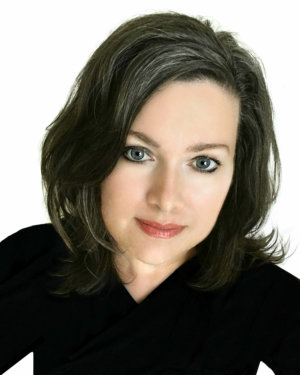 Hi, I'm Karielyn! I'm a cookbook author and creator of The Healthy Family and Home website. I specialize in creating easy, healthy plant-based recipes that are gluten-free + vegan and made with clean, real food ingredients that you can feel good about eating.