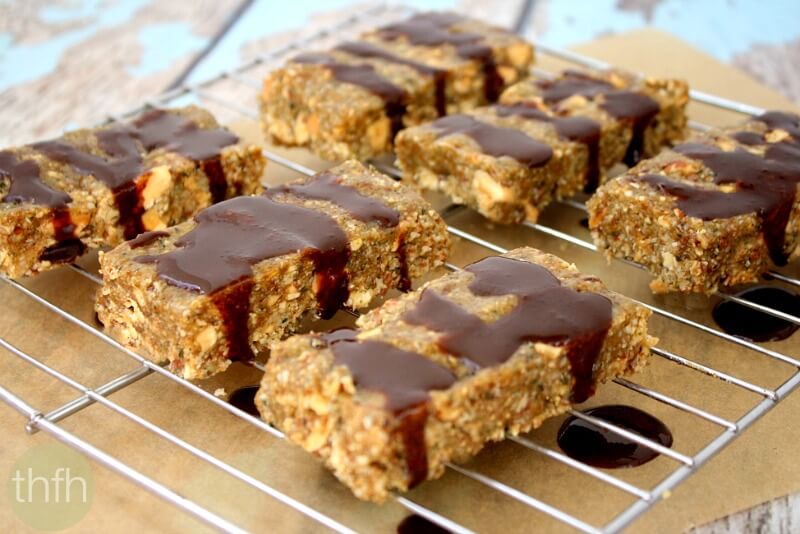 These addictive Raw Hemp Seed Bars with Cacao Drizzle are a wholesome, nutrient-dense snack alternative to traditional granola bars.
One of the great things about hemp seeds is their nutty flavor and combined with the crushed almonds, it's an excellent source of vegan protein.
They are really simple to make in less than 5 minutes and is just a matter of putting everything into a food processor…then trying to be patient while they firm up in the freezer.
Not only can they be made either raw or vegan just by changing the sweetener, but you can also make them with or without the cacao drizzle – which I think makes them a little more special.
I like to eat these for breakfast sometimes as an alternative to a smoothie and they definitely keep me satisfied for a while.
Best of all, my boys ~love~ them so they are officially "kid-approved" in my home and are a nutrient-dense, healthy snack everyone in the family will enjoy!
Want some more healthy, nutrient-dense snack bar ideas?  Check out my Raw Hemp and Chia Seed Bars or my Almond Power Bars recipes.
5 Fast Facts About Hemp Seeds:*
healthy 3:1 ratio of omega-6 to omega-3 fats
contains 10 essential amino acids
11 grams of raw, vegan protein
helps to reduce blood cholesterol
natural appetite suppressant
5 Fast Facts About Almonds:*
regulates cholesterol and blood pressure
energy booster
loaded with protein, calcium and fiber
high in antioxidants
reduces risk or heart disease
5 Fast Facts About Raw Honey:*
anti-bacterial and anti-fungal properties
immune boosting anti-viral properties
super high in B vitamins:  B1, B2, B3, B5 & B6
contains natural antioxidants
promotes restorative sleep
5 Fast Facts About Maple Syrup:*
contains manganese and zinc
contains 54 different antioxidants
helps with inflammation
1/4 cup contains more calcium than the same amount of milk
1/4 cup contains more potassium than a banana
5 Fast Facts About Himalayan Pink Salt:*
contains 84 minerals
unrefined, unprocessed, raw
promotes stable pH balance in cells
controls water levels in the body
aids digestion and facilitates better nutrient absorption
5 Fast Facts About Coconut Oil:*
super high in lauric acid
rich in antioxidants
contains natural microbial and antibacterial agents
improves metabolism and prevents fatigue
improves cholesterol
5 Fast Facts About Raw Cacao Powder:*
contains over 300 compounds including protein, calcium, magnesium, copper, zinc and iron
super high in antioxidants promoting cardiovascular health
contains 4 different neurotransmitters that act as antidepressants
contains essential fats
can help to decrease blood pressure
*These statements have not been evaluated by Food and Drug Administration.  This information is not intended to diagnose, treat, cure or prevent any disease.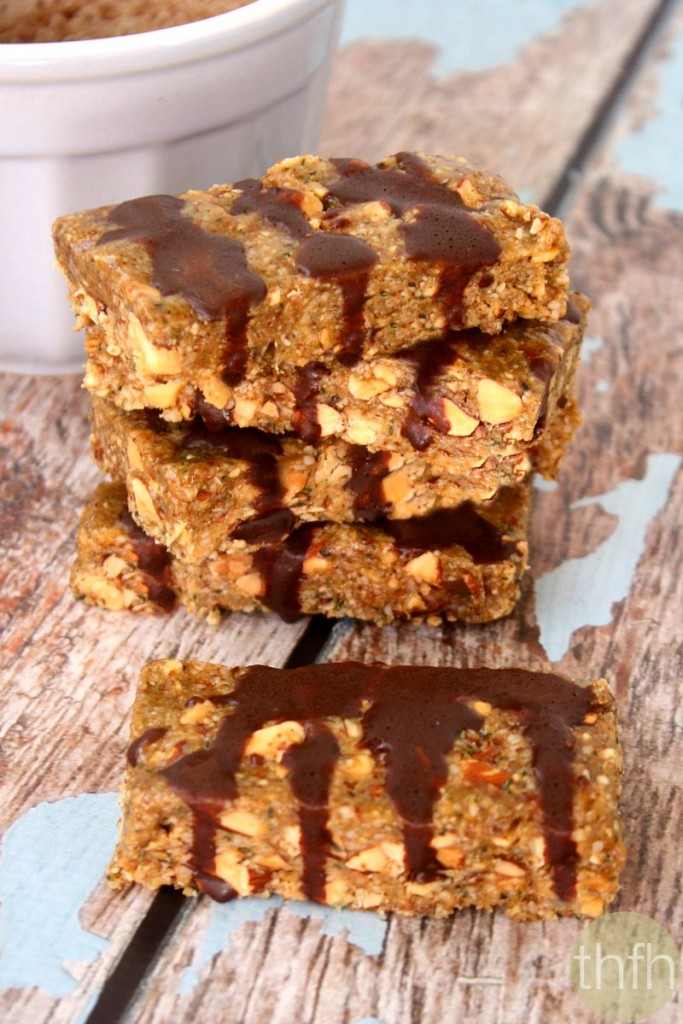 Where to Buy:  If you have trouble finding any of the ingredients to make this recipe, you can order online from Amazon and have them delivered straight to your door!
Tip #1:  I've made these with both homemade peanut butter and homemade almond butter and both were really good.
Tip #2:  I've also made these with both organic raw honey and organic maple syrup and both work fine.
Tip #3:  You can cut these into (8) large bars or (16) smaller squares.
Raw Hemp Seed Bars with Cacao Drizzle (Raw, Vegan, Gluten-Free, Dairy-Free, Paleo-Friendly, No Refined Sugars)
Print recipe
Ingredients
For the bar
2 cups organic almonds
1 1/2 cup organic hemp seeds
1/2 cup organic almond butter
1/2 cup organic raw honey (or maple syrup for vegan)
1/4 teaspoon organic vanilla bean powder
1/4 teaspoon Himalayan pink salt
For the drizzle
2 tablespoons organic coconut oil (melted/liquid)
2 tablespoons organic raw honey (or maple syrup for vegan)
2 tablespoons organic raw cacao powder
Directions
For the bars
Step 1
Put all the ingredients for "the bar" into a food processor and process until well combined and crumbly texture.

Pour mixture into an 8 x 8 glass dish and press down firmly with your hands/fingers.

Put into the freezer for approximately 15 - 30 minutes to harden and firm up.
For the drizzle
Step 2
Combine the ingredients for "the drizzle" in a small mixing bowl and stir until well combined.

Using spoon, take a spoonful at a time and drizzle over the tops of the bars.

Cut into either squares or bars.

They keep their shape best if stored in the refrigerator or freezer.

Enjoy!
Note
This recipe will make approximately (16) small squares or (8) large bars.
Recipe slightly adapted from:  https://rawdawgrory.wordpress.com/2012/02/06/chocolate-drizzled-energy-bars-so-good/
Affiliate Disclosure:  This post contains affiliate links.  This means that if you were to make a purchase through one of these links, "The Healthy Family and Home" website would receive a small commission.
Amazon Disclosure:  "The Healthy Family and Home" website is a participant in the Amazon Services, LLC Associates Program, an affiliate advertising program designed to provide a means for sites to earn advertising fees by advertising and linking to Amazon.com.