This past weekend I got a beautiful bunch of baby carrots in my Farmer's Market box and these Rosemary and Garlic Maple Glazed Carrots is what became of them.
Using only a few simple ingredients that you probably already have on hand, this delicious side dish can be ready in under 10 minutes.
And, these may even help the little ones who don't like veggies enjoy them more…or at least give them a try.
Even though my boys will eat a raw carrot for a snack like an apple or banana, they loved these and even asked for seconds.
These are vegan, gluten-free, dairy-free, paleo-friendly and contain no refined sugar.
Want more healthy side dish recipes?  Check out Roasted Smashed Potatoes with Smoked Paprika Habanero Sauce, Rosemary and Garlic Sweet Potato Medallions, Spicy Lemon Sauteed Broccolini or my Clean Eating Cookbook with an entire chapter of 20 healthy, clean eating side dish recipes just like this one that you will love!
5 Fast Facts About Carrots:*
improves eyesight
helps to prevent heart disease
rich in antioxidants
helps flush toxins from the body
1 cup contains 407.6% RDA of vitamin A
5 Fast Facts About Coconut Oil:*
super high in lauric acid
rich in antioxidants
contains natural microbial and anti-bacterial agents
helps to improve metabolism
improves cholesterol levels
5 Fast Facts About Maple Syrup:*
contains manganese and zinc
super high in anti-oxidants
helps with inflammation
1/4 cup contains more calcium than the same amount of milk
1/4 cup contains more potassium than a banana
5 Fast Facts About Himalayan Pink Salt:*
contains 84 minerals
unrefined, unprocessed, raw
promotes stable pH balance in cells
controls water levels in the body
aids digestion and facilitates better nutrient absorption
*These statements have not been evaluated by the Food and Drug Administration.  This information is not intended to diagnose, treat, cure or prevent any disease.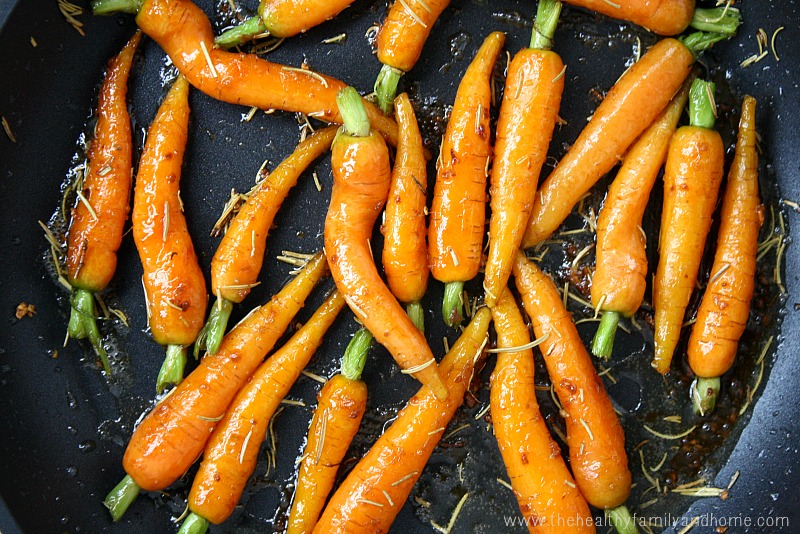 Rosemary and Garlic Maple Glazed Carrots (Vegan, Gluten-Free, Dairy-Free, Paleo-Friendly, No Refined Sugar)
Print recipe
Ingredients
1 bunch small organic carrots (about 20 - 22)
1 tablespoon organic coconut oil
3 cloves organic garlic (freshly crushed)
1/4 teaspoon Himalayan pink salt
1 tablespoon organic maple syrup
1 tablespoon organic dried rosemary
Directions
Step 1
Prepare the carrots: wash, cut off the tops and very bottoms.

Add the coconut oil, crushed garlic and pink himalayan salt to a skillet and saute on high heat for approximately 1 - 2 minutes.

Add the carrots to the skillet and continue to cook on high heat for approximately 2 - 3 minutes or until they are medium soft, tossing the entire time.

Lower temp to medium-high heat and add the maple syrup and rosemary and continue to cook for another 2 - 3 minutes.

Best when served warm.

Enjoy!
Note
This recipe will make approximately 2 servings.

The recipe and photographs for "Rosemary and Garlic Maple Glazed Carrots" by Karielyn Tillman of The Healthy Family and Home are licensed under a Creative Commons Attribution-NonCommercial 4.0 International License and cannot be used without my written permission.

Affiliate Disclosure: This post contains affiliate links. This means that if you were to make a purchase through one of these links, "The Healthy Family and Home" website would receive a small commission.