This Spaghetti Squash with Basil and Creamy Cauliflower Alfredo Sauce recipe is a winner for two reasons, both of which you will love!
Not only is this meal gluten-free by using healthy spaghetti squash in place of traditional pasta, but it also replaces traditional alfredo sauce with a smooth, creamy and flavorful alfredo-style sauce made with cauliflower.
Making clean sauces like this Creamy Cauliflower Alfredo Sauce is so easy using a Vitamix…it's ready in just minutes using healthy and nutrient-dense ingredients.
Here's what the ingredient list looks like for a popular store-bought brand of alfredo sauce:
S.A.D. (Standard American Diet) Ragu's "Classic Alfredo Sauce Ingredients:
INGREDIENTS: WATER, SOYBEAN OIL, CREAM, PARMESAN CHEESE (PART-SKIM MILK, CHEESE CULTURES, SALT, ENZYMES), MODIFIED CORN STARCH, ENZYME MODIFIED EGG YOLK, WHEY, SALT, ROMANO CHEESE (PASTEURIZED PART-SKIM MILK, CHEESE CULTURES, SALT, ENZYMES), WHEY PROTEIN CONCENTRATE, XANTHAN GUM, AUTOLYZED YEAST EXTRACT, DISODIUM PHOSPHATE, GARLIC POWDER, SPICE, NATURAL FLAVOR.
It's a highly processed "food" that contains GMO ingredients (soybean oil and modified corn starch), GMO dairy (cream, part-skim milk, whey protein concentrate), eggs and unknown "natural" flavors.
This healthier version is made with clean, whole food ingredients and is vegan, gluten-free, dairy-free, soy-free, egg-free and paleo-friendly.
Want more healthy meal and entree recipes? Check out Zucchini Pasta with Vegan Basil Pesto, Lectin-Free Vegan Basil and Artichoke Shirataki Fettucine Pasta, Spicy Roasted Butternut Squash Pasta or my Clean Eating Cookbook with an entire chapter of 20 healthy, clean eating recipes just like this one that you will love!

5 Fast Facts About Spaghetti Squash:
excellent anti-oxidant
contains anti-inflammatory agents
1 cup contains 214.1% DV of vitamin A
1 cup contains 22.9% DV of fiber
1 cup contains 19% DV of magnesium
5 Fast Facts About Cauliflower:
1 cup contains 9.1% DV of potassium
1 cup contains 85.9% of vitamin C
1 cup contains 8.5% DV of fiber
excellent anti-oxidant
contains anti-inflammatory benefits
5 Fast Facts About Almonds (Almond Milk):
helps to regulate cholesterol and blood pressure
energy booster
loaded with calcium and fiber
1/4 cup contains 8 grams of vegan protein
high in anti-oxidants
5 Fast Facts About Red Bell Peppers:
high in anti-oxidants
1 cup contains 195.8% DV of vitamin C
excellent source of carotenoids
contains potential anti-cancer benefits
helps reduce inflammation
5 Fast Facts About Onions:
rich source of sulfur compounds
excellent for cardiovascular health
inhibits bone loss in women
reduced blood pressure
lowers blood cholesterol levels
5 Fast Facts About Mushrooms:
excellent source of potassium
rich source of riboflavin, niacin and selenium
supports a healthy immune system
provides anti-inflammatory benefits
natural source of vitamin D
5 Fast Facts About Basil:
2 teaspoons provide 60% dv of vitamin K
2 teaspoons provide 5.9% dv of calcium
provides anti-inflammatory benefits
good for digestive tract health
anti-oxidant and anti-bacterial
5 Fast Facts About Garlic:
regulates blood sugar levels
lowers high blood pressure
contains anti-bacterial and analgesic properties
anti-viral
helps to lower cholesterol levels
5 Fast Facts About Pink Himalayan Salt:
contains 84 minerals
unrefined, unprocessed, raw
promotes stable pH balance in cells
controls water levels in the body
aids digestion and facilitates better nutrient absorption
5 Fast Facts About Cayenne Pepper:
increases metabolism
improves high blood pressure
has anti-fungal properties
anti-inflammatory
circulatory stimulant which aids in detoxification
5 Fast Facts About Nutritional Yeast:
vegan source of vitamin B12
contains 18 amino acids and is a complete protein
boosts immune system
excellent anti-oxidant
contains 15 minerals
*These statements have not been evaluated by the Food and Drug Administration. This information is not intended to diagnose, treat, cure or prevent any disease.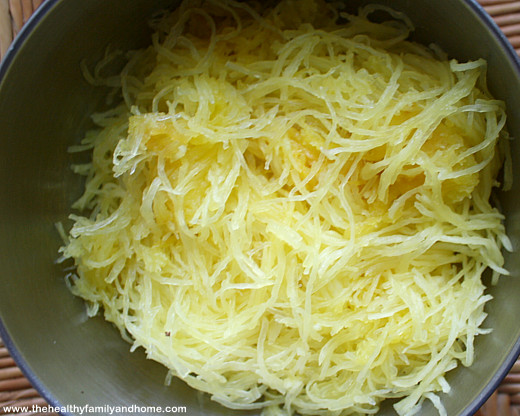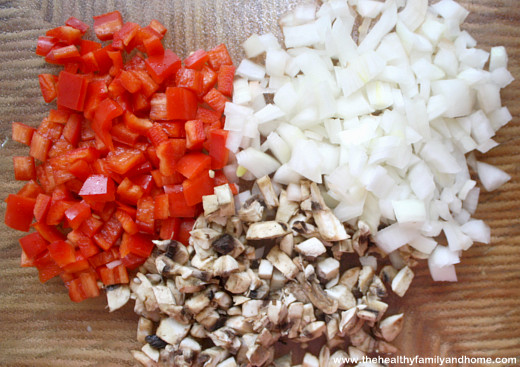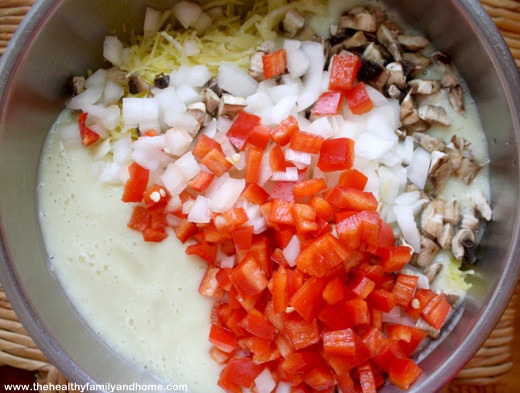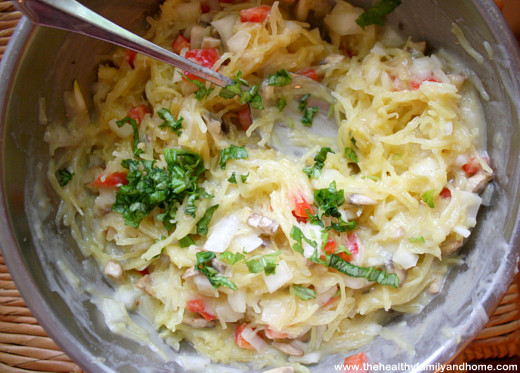 Tip #1:  The first time I made this, I didn't saute the veggies first and just mixed them in with the spaghetti squash and cauliflower sauce.  It was still good, but it is much, much better with the original recipe instructions of sauteing them first.  I showed those directions in the recipe.
Tip #2:  You can also use regular pasta (or your favorite gluten-free) pasta with this recipe.  I've made it for my family with regular pasta and they loved it!
Tip #3:  The garlic…if you don't like a strong garlic flavor, just start with 1 clove, taste and see how you like it and then add one at a time until you get it to your preference.  I find that with fewer garlic cloves, it doesn't really have much of a flavor, but too many can make it really strong.  So just add them individually to get the flavor just right.
Tip #4:  I like a little extra cayenne pepper in mine, but start with just a little and add more as you'd like.
Spaghetti Squash with Basil and Creamy Cauliflower Afredo Sauce (Vegan, GF, Dairy-Free)
Print recipe
Ingredients
1 Large organic red bell pepper (diced)
1 cup organic mushrooms (diced)
1 Small organic onion (diced)
1/4 cup organic fresh basil (diced)
1 - 2 tablespoon organic coconut oil
For the spaghetti squash
1 spaghetti squash
1 - 2 teaspoon organic extra virgin olive oil
For the sauce
1 Large organic cauliflower
2 cups homemade almond milk
5 cloves organic garlic (freshly crushed)
2 tablespoons nutritional yeast
1/4 - 1/2 pink himalayan salt (or to taste)
1 pinch organic cayenne pepper (or to taste)
Directions
Prepare the spaghetti squash pasta
Step 1
Prepare spaghetti squash by cutting the spaghetti squash in half.

Scrape out all the seeds from the inside.

Rub olive oil on the inside of the spaghetti squash.

Bake face down at 350 degrees for approximately 45 - 50 minutes.

Use a fork to scrape the inside of the squash out to use as "pasta".
Prepare the sauce
Step 2
Cut the cauliflower into florets and boil in a large pot for about 15 minutes or until tender, and then strain.

Put the cauliflower, milk, nutritional yeast, pink himalayan salt, cayenne pepper and garlic in a Vitamix and blend until smooth and creamy.


Prepare vegetables and assemble
Step 3
Dice the red bell peppers, onions and mushrooms.

In a saucepan, saute the red bell peppers, onions and mushrooms until they are tender.

Combine the sauteed vegetables, spaghetti squash pasta and cauliflower alfredo sauce.

Toss with fresh chopped basil right before serving.

Enjoy!
Note
Recipe inspired by and slightly adapted from:  https://bakerbettie.com/vegan-cauliflower-alfredo/
Affiliate Disclosure: This post contains affiliate links. This means that if you were to make a purchase through one of these links, "The Healthy Family and Home" website would receive a small commission at no additional cost to you.
Amazon Disclosure: "The Healthy Family and Home" website is a participant in the Amazon Services, LLC Associates Program, an affiliate advertising program designed to provide a means for sites to earn advertising fees by advertising and linking to Amazon.com.
Thank you for your support of this website!