These cute little bite-sized mini Strawberry and Raspberry Cheesecake Hearts are so simple to make and a perfect treat for St. Valentine's Day or any other special occasion.
A few quick steps and a Vitamix, a food processor and a cute heart shaped silicone mold and you're ready to go!
I used strawberry in the filling and topped them with raspberries, but you could reverse them if you'd like.
Typical ingredients found in a traditional strawberry cheesecake:
Traditional S.A.D. (Standard American Diet) Strawberry Cheesecake Ingredients:
Ingredients:  Crust: graham crackers, 4 tbs butter, 2 tbs brown sugar.
Topping:  strawberries, 1/4 cup sugar, vanilla, unflavored gelatin.
Cheesecake:  1 pound cream cheese, 1/2 cup confectioner's sugar, vanilla, 1/2 cup heavy cream
That's a lot of processed, refined sugar and dairy.
Skip all the processed, sugary desserts and GMO boxed chocolates and share the real gift of love…a healthy, guilt-free treat!
This healthier version is raw, vegan, gluten-free, dairy-free, egg-free, soy-free, paleo-friendly, no-bake and contains no refined sugars.
Want more healthy vegan cheesecake recipes?  Try my Vegan Peanut Butter Cheesecake, Pumpkin Mini Cheesecakes, Key Lime Mini Cheesecakes or check out my Clean Eating Cookbook with an entire chapter of 20 healthy, clean eating desserts you will love!
5 Fast Facts About Strawberries:*
loaded with anti-oxidants
contains anti-inflammatory benefits
contains 21% RDA of manganese
helps fight cancer
excellent source of vitamin C
5 Fast Facts About Raspberries:*
high in antioxidants
anti-cancer benefits
good source of dietary fiber
high ORAC (oxygen radical absorbance capacity) value of 4,900 per 100 g
excellent source of vitamin C at 47% RDA
5 Fast Facts About Cashews:*
packed with dietary fiber
rich in "heart friendly" mono-saturated fatty acids
rich source of minerals
high in magnesium and copper
excellent source of antioxidants
5 Fast Facts About Coconut Oil:*
super high in lauric acid
rich in antioxidants
contains natural microbial and anti-bacterial agents
helps to improve metabolism
improves cholesterol levels
5 Fast Facts About Pecans:*
contains naturally occurring anti-oxidants
helps to lower cholesterol
high quality source of protein
contains more 19 vitamins and minerals
excellent source of vitamin E
5 Fast Facts About Raw Coconut Nectar:*
organic, raw, vegan, gluten-free
low-glycemic
good source of 17 amino acids
nearly neutral pH
high in B vitamins
*These statements have not been evaluated by the Food and Drug Administration.  This information is not intended to diagnose, treat, cure or prevent any disease.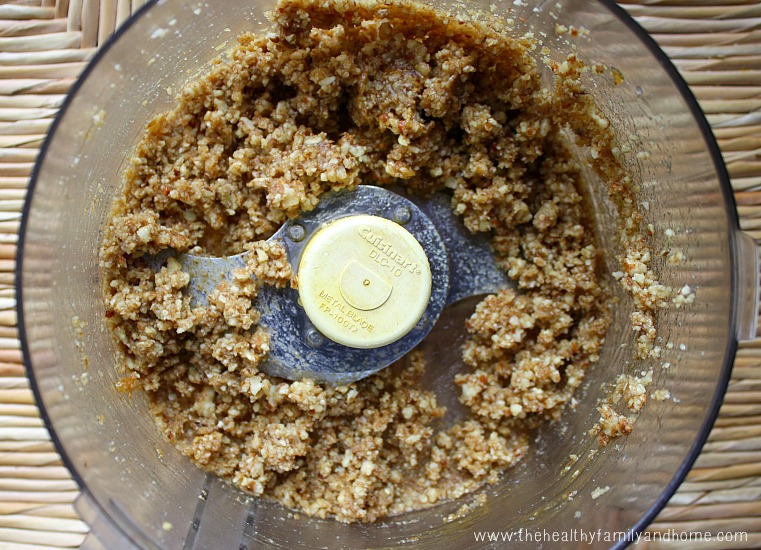 Tip #1:  I used raw coconut nectar to reduce the sugar content, but you can use your favorite liquid sweetener (maple syrup, raw honey, etc).
Tip #2:  I used pecans for the crust, but you can substitute your favorite nut (almonds, macadamia, cashew, etc).
Tip #3:  This recipe will make 16 mini bite-sized cheesecake hearts using a 24-cavity mold.
Strawberry and Raspberry Cheesecake Hearts (Raw, Vegan, Gluten-Free, Dairy-Free, Paleo-Friendly, No Refined Sugar)
Print recipe
Ingredients
For the filling
1/2 cup organic strawberries
1 cup organic raw cashews
2 tablespoons organic coconut oil
1 tablespoon organic coconut nectar (or other liquid sweetener)
1/2 teaspoon organic vanilla extract
1 tablespoon homemade almond milk
For the crust
1 cup organic pecans
1 tablespoon organic coconut oil
1 tablespoon organic coconut nectar
1/2 teaspoon organic vanilla extract
For the garnish
Directions
Prepare the crust
Step 1
Put all ingredients for the crust into a food processor and process until moist and crumbly.

Divide the crust mixture between 16 mini heart molds and press down evenly and firmly.

Put the mold into the freezer for approximately 15 minutes or until the crust hardens.
Prepare the filling
Step 2
Put all ingredients into a Vitamix and blend until well combined and creamy.

Assemble
Step 3
Remove the mold tray from the freezer and divide the filing mixture between the 16 mini heart molds, making sure the top is smooth and even.

Optional: add a single raspberry on top of each heart for garnish.

Return the mold tray back to the freezer for about 30 minutes or until they are hard and firm.

Keep in the freezer until ready to serve because they will get soft and lose their shape if left out at room temperature.

Enjoy!
Note
This recipe will make approximately (16) cheesecake hearts.

The recipe and photographs for "Strawberry and Raspberry Cheesecake Hearts" by Karielyn Tillman of The Healthy Family and Home are licensed under a Creative Commons Attribution-NonCommercial 4.0 International License and cannot be used without my written permission.
Affiliate Disclosure: This post contains affiliate links. This means that if you were to make a purchase through one of these links, "The Healthy Family and Home" website would receive a small commission.