This Raw Vegan Key Lime Cheesecake will blow you away with the many different combinations you can make with it.
Not only is this a much healthier and guilt-free version, but it's raw, vegan, gluten-free, dairy-free, grain-free, paleo-friendly and no-bake!
Easy to make with only a few steps of preparing the crust in a food processor and then preparing the cheesecake filling with a Vitamix with ingredients you probably already have at home.
Here are some typical ingredients in a traditional key lime cheesecake:
S.A.D. (Standard American Diet) Traditional Key Lime Cheesecake Ingredients:
Filling: 3/4 pound cream cheese, 6 large egg yolks, 1/2 can sweetened condensed milk, 1 1/4 cup granulated sugar
Topping: 1 1/2 cups sour cream, 3 tablespoons granulated sugar
Crust: 3/4 cup graham crackers, 4 tablespoons melted butter
It's basically a sugar and dairy nightmare with some lime added in.
Well, I have a clean version for you today with several crust and topping options to choose from that I hope you will enjoy!

How To Make Raw Vegan No-Bake Key Lime Cheesecakes: Step-by-Step Instructions
Here is how to make this recipe and I'll show you with step-by-step instructions below: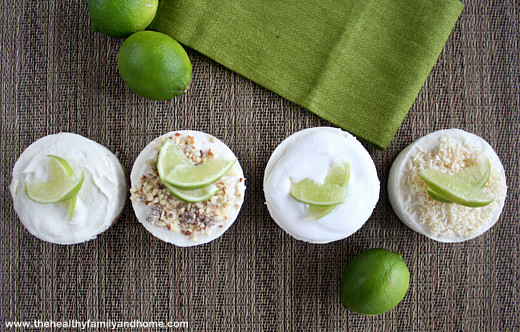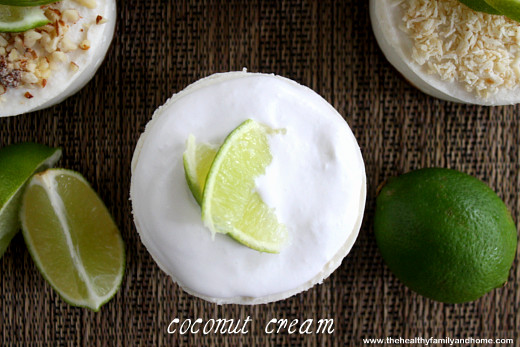 Expert Tips + Ingredient Substitutions To Make Raw Vegan No-Bake Key Lime Cheesecakes
Here are some expert tips to make this recipe perfectly:
Tip #1: IMPORTANT - If you are used to raw/vegan cheesecakes made with cashews ~and~ are not a fan of macadamia nuts, this might not be a good recipe to try because it has a very strong macadamia nut flavor. My raw/vegan cheesecakes usually use cashews which is what I'm used to and the flavor of this one threw me off because I wasn't used to it. It was still very good, but I just want to make sure you know what to expect. You could always try my Raw Vegan Marbled Cheesecake recipe which uses cashews instead and just add the same amount of lime juice.
Tip #2: I made some with regular/plain crust and some with a chocolate crust (which was my favorite!). If you want to try the chocolate crust, just add 2 tablespoons of raw cacao powder to the crust mixture.
Tip #3: You can make this cheesecake plain, or with your favorite toppings. Some I used was shredded coconut, homemade coconut cream, and crushed walnuts.
Tip #4: This recipe made 4 large individual cheesecakes in a Norpro cheesecake pan. If you want to make a traditional round cheesecake, you can also make it in an 8" round springform cheesecake pan, as in the original recipe.
Want More Healthy Plant-Baked Vegan No-Bake Dessert Recipes?
Check out these:
Raw Vegan Key Lime Cheesecake (Raw, Vegan, Gluten-Free, Grain-Free, Dairy-Free, Egg-Free, Paleo-Friendly, No-Bake, No Refined Sugar)
Print recipe
Ingredients
For the crust
1 cup organic raw almonds
4 Large organic medjool dates
2 tablespoons organic coconut oil
1/8 teaspoon organic vanilla extract
1/8 teaspoon Himalayan pink salt
For the filling
1 1/2 cup organic raw macadamia nuts
1/2 cup homemade almond milk
1/2 cup organic lime juice
6 tablespoons organic maple syrup
1 teaspoon organic vanilla extract
6 tablespoons organic coconut oil
Directions
Prepare the crust
Step 1
Put all the crust ingredients into a food processor and process until it's a sticky coarse meal.

Scoop out 1 - 2 tablespoons and put in the bottom of the cheesecake pan and press down firmly.

Set in the freezer to harden while you prepare the filling.
Prepare the filling
Step 2
Put all the filling ingredients into a Vitamix and blend until smooth and creamy.

Remove the cheesecake pan from the freezer and pour the filling on top of the crust.

Return the cheesecake pan back to the freezer for approximately 2 - 3 hours or until hard and firm.
Assembly
Step 3
Remove the cheesecake from the freezer after it's hardened and set at room temperature for 5 - 10 minutes to thaw slightly, but not too long because it will become too soft if left out at room temperature.

Garnish the tops with homemade coconut creme, crushed walnuts, shredded coconut, lemon zest or lime wedges.

Enjoy!
Note
This recipe will make approximately (4) large individual cheesecakes.
Recipe slightly adapted from: https://allisoneats.com/2012/06/25/raw-vegan-key-lime-cheesecake/ (Inactive Link)

The photographs for "Raw Vegan Key Lime Cheesecake" by Karielyn Tillman of The Healthy Family and Home are licensed under a Creative Commons Attribution-NonCommercial 4.0 International License and cannot be used without my written permission.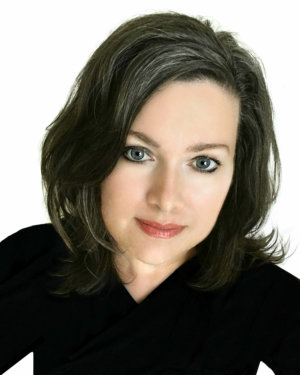 Hi, I'm Karielyn! I'm the published cookbook author of CLEAN DESSERTS and content creator of The Healthy Family and Home website since 2012. I specialize in creating easy, healthy plant-based recipes that are gluten-free + vegan and made with clean, real food ingredients that you can feel good about eating.