This Raw Vegan Key Lime Cheesecake will blow you away with the many different combinations you can make with it.
Not only is this a much healthier and guilt-free version, but it's raw, vegan, gluten-free, dairy-free, grain-free, paleo-friendly and no-bake!
Easy to make with only a few steps of preparing the crust in a food processor and then preparing the cheesecake filling with a Vitamix with ingredients you probably already have at home.
Here are some typical ingredients in a traditional key lime cheesecake:
S.A.D. (Standard American Diet) Traditional Key Lime Cheesecake Ingredients
Filling:  3/4 pound cream cheese, 6 large egg yolks, 1/2 can sweetened condensed milk, 1 1/4 cup granulated sugar
Topping:  1 1/2 cups sour cream, 3 tablespoons granulated sugar
Crust:  3/4 cup graham crackers, 4 tablespoons melted butter
It's basically a sugar and dairy nightmare with some lime added in.
Well, I have a clean version for you today with several crust and topping options to choose from that I hope you will enjoy!
Want more healthy dessert recipes?  Check out Vegan No-Bake Peanut Butter Cheesecake, Vegan Marbled Swirl Cheesecake, Vegan Raspberry Lemon Mini Cheesecakes or my Clean Eating Cookbook with an entire chapter of 20 healthy, clean eating recipes just like this one that you will love!
5 Fast Facts About Macadamia Nuts:*
brain booster
high in fiber
anti-oxidant
high in protein and all essential amino acids
super high in healthy monosaturated fats
5 Fast Facts About Coconut Oil:*
super high in lauric acid
rich in antioxidants
contains natural microbial and anti-bacterial agents
helps to improve metabolism
improves cholesterol levels
5 Fast Facts About Limes:*
aids in digestion
fat burner
contains more vitamin C than a lemon
anti-oxidant and anti-biotic effects
extremely alkalizing to the body
5 Fast Facts About Almonds:*
helps to regulate cholesterol and blood pressure
energy booster
loaded with calcium and fiber
1/4 cup contains 8 grams of vegan protein
high in anti-oxidants
5 Fast Facts About Medjool Dates:*
natural energy booster
high in iron content
rich in potassium
good source of dietary fiber
excellent source of vegan protein
5 Fast Facts About Maple Syrup:* 
contains manganese and zinc
super high in anti-oxidants
helps with inflammation
1/4 cup contains more calcium than the same amount of milk
1/4 cup contains more potassium than a banana
5 Fast Facts About Himalayan Pink Salt:*
contains 84 minerals
unrefined, unprocessed, raw
promotes stable pH balance in cells
controls water levels in the body
aids digestion and facilitates better nutrient absorption
*These statements have not been evaluated by the Food and Drug Administration.  This information is not intended to diagnose, treat, cure or prevent any disease.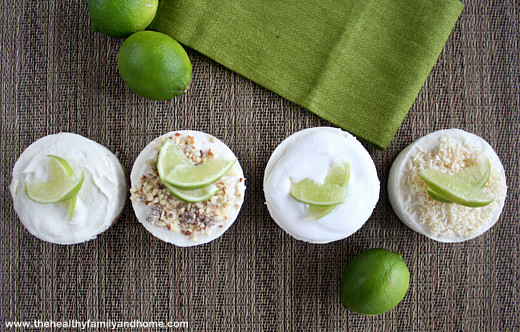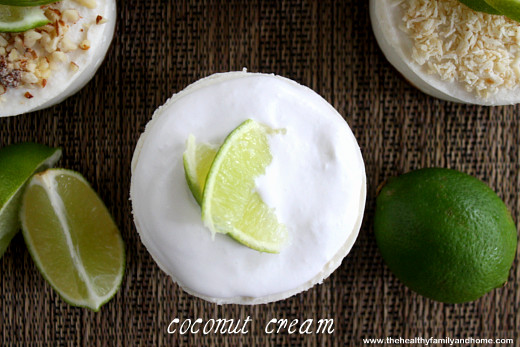 Tip #1:  IMPORTANT – If you are used to raw/vegan cheesecakes made with cashews ~and~ are not a fan of macadamia nuts, this might not be a good recipe to try because it has a very strong macadamia nut flavor.  My raw/vegan cheesecakes usually use cashews which is what I'm used to and the flavor of this one threw me off because I wasn't used to it.  It was still very good, but I just want to make sure you know what to expect.  You could always try my Raw Vegan Marbled Cheesecake recipe which uses cashews instead and just add the same amount of lime juice.
Tip #2:  I made some with regular/plain crust and some with a chocolate crust (which was my favorite!).  If you want to try the chocolate crust, just add 2 tablespoons of raw cacao powder to the crust mixture.
Tip #3:  You can make this cheesecake plain, or with your favorite toppings.  Some I used were shredded coconut, homemade coconut cream (see recipe below) and crushed walnuts.
Tip #4:  This recipe made 4 large individual cheesecakes in a Norpro cheesecake pan.  If you want to make a traditional round cheesecake, you can also make it in an 8″ round spring form cheesecake pan, as in the original recipe.
Raw Vegan Key Lime Cheesecake (Raw, Vegan, Gluten-Free, Grain-Free, Dairy-Free, Egg-Free, Paleo-Friendly, No-Bake, No Refined Sugar)
Print recipe
Ingredients
For the crust
1 cup organic raw almonds
4 Large organic medjool dates
2 tablespoons organic coconut oil
1/8 teaspoon organic vanilla extract
1/8 teaspoon Himalayan pink salt
For the filling
1 1/2 cup organic raw macadamia nuts
1/2 cup homemade almond milk
1/2 cup organic lime juice
6 tablespoons organic maple syrup
1 teaspoon organic vanilla extract
6 tablespoons organic coconut oil
Directions
Prepare the crust
Step 1
Put all the crust ingredients into a food processor and process until it's a sticky coarse meal.

Scoop out 1 - 2 tablespoons and put in the bottom of the cheesecake pan and press down firmly.

Set in the freezer to harden while you prepare the filling.
Prepare the filling
Step 2
Put all the filling ingredients into a Vitamix and blend until smooth and creamy.

Remove the cheesecake pan from the freezer and pour the filling on top of the crust.

Return the cheesecake pan back to the freezer for approximately 2 - 3 hours or until hard and firm.
Assembly
Step 3
Remove the cheesecake from the freezer after it's hardened and set at room temperature for 5 - 10 minutes to thaw slightly, but not too long because it will become too soft if left out at room temperature.

Garnish the tops with homemade coconut creme, crushed walnuts, shredded coconut, lemon zest or lime wedges.

Enjoy!
Note
This recipe will make approximately (4) large individual cheesecakes.
Recipe slightly adapted from:  https://allisoneats.com/2012/06/25/raw-vegan-key-lime-cheesecake/

The photographs for "Raw Vegan Key Lime Cheesecake" by Karielyn Tillman of The Healthy Family and Home are licensed under a Creative Commons Attribution-NonCommercial 4.0 International License and cannot be used without my written permission.
How To Make Whipped Coconut Cream Topping (Vegan, Gluten-Free, Dairy-Free, Paleo-Friendly, No Refined Sugar)
Print recipe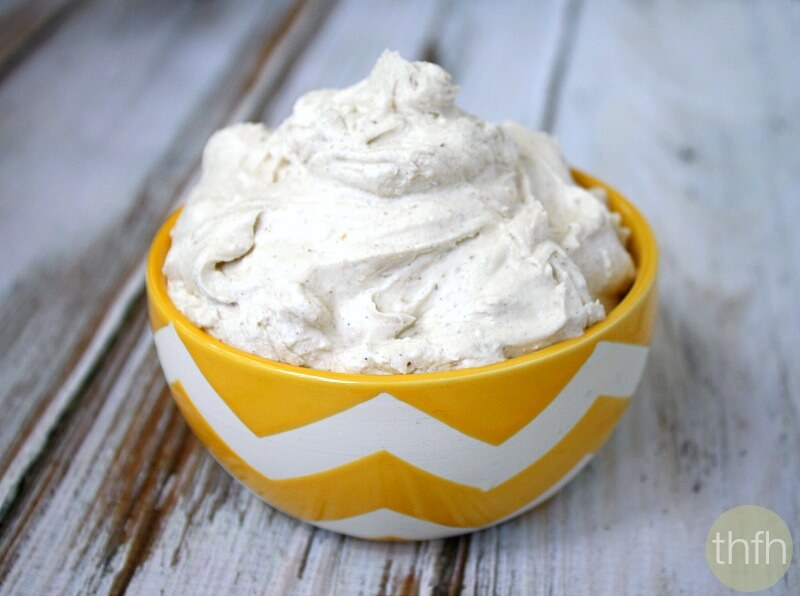 Ingredients
1 can organic full-fat coconut milk (13.5 ounce, unsweetened)
2 - 4 tablespoons organic unrefined granular sweetener
1 teaspoon organic vanilla bean powder (or organic vanilla extract)
Directions
Step 1
Put a can of full-fat coconut milk in the refrigerator overnight.

When you open the can, there will be a layer of thick cream on the top and coconut water on the bottom.

Scoop out the thick cream and put it in an electric mixer bowl (save the coconut water to make a smoothie).

Add the granular sweetener and vanilla of your choice (Note: vanilla bean powder will give it a slightly darker color and/or black specks. If you prefer a pure white color, omit the vanilla bean powder or use vanilla extract).

Mix on high setting with the "whisk" attachment until it becomes thick.

Use as a topping on fruit, granola, pancakes, desserts, parfaits, etc.

Enjoy!
Note

The recipe and photographs for "How To Make Whipped Coconut Cream Topping" by Karielyn Tillman of The Healthy Family and Home are licensed under a Creative Commons Attribution-NonCommercial 4.0 International License and cannot be used without my written permission.
Affiliate Disclosure: This post contains affiliate links. This means that if you were to make a purchase through one of these links, "The Healthy Family and Home" website would receive a small commission.