These healthy Gluten-Free Vegan No-Bake Pumpkin Mini Cheesecakes will be a sure winner this fall because not only are they a guilt-free dessert, but one that everyone in the family will surely enjoy.
I particularly like them because of their small size which is just the perfect amount and good for portion control.
They are super easy to make using only a food processor for the crust and a Vitamix for the pumpkin filling.
The hardest part is waiting for them to harden in the freezer!
They are also versatile because you can just sprinkle some of the crust mixture on top for garnish or top them with some homemade whipped coconut cream for an extra treat.
A typical S.A.D. (Standard American Diet) dairy pumpkin cheesecake can contain the following ingredients:
S.A.D. (Standard American Diet) Pumpkin Cheesecake Ingredients
Typical Crust Ingredients:  graham cracker crumbs, brown sugar, (1) stick of butter;
Typical Filling Ingredients: (3) packages of cream cheese, (3) eggs, 1 1/2 cups of white sugar, pumpkin puree, sour cream, all-purpose white flour
These No-Bake Vegan Pumpkin Mini Cheesecakes are not only filled with nutrient-dense ingredients like healthy fats and natural sweeteners, but they're vegan, gluten-free, grain-free, dairy-free, no-bake, paleo-friendly, contain no refined sugars and best of all, tastes delicious!
Want more healthy dessert recipes?  Check out Vegan No-Bake Peanut Butter Cheesecake, Raspberry Lemon Mini Cheesecakes, Strawberry and Raspberry Cheesecake Hearts or my Clean Eating Cookbook with an entire chapter of 20 healthy, clean eating dessert recipes you will love!

5 Fast Facts Pumpkin:*
high in beta-carotene
full of iron, zinc and vitamin C
rich in anti-oxidants
246% RDA of vitamin C
good source of B complex vitamins
5 Fast Facts About Cashews:*
packed with dietary fiber
rich in "heart friendly" mono-saturated fatty acids
rich source of minerals
high in magnesium and copper
excellent source of antioxidants
5 Fast Facts About Coconut Oil:*
super high in lauric acid
rich in antioxidants
contains natural microbial and anti-bacterial agents
helps to improve metabolism
improves cholesterol levels
5 Fast Facts About Pecans:*
contains naturally occurring anti-oxidants
helps to lower cholesterol
high quality source of protein
contains more 19 vitamins and minerals
excellent source of vitamin E
5 Fast Facts About Dates:*
natural energy booster
high in iron content
rich in potassium
good source of dietary fiber
excellent source of vegan protein
5 Fast Facts About Maple Syrup:*
contains manganese and zinc
super high in anti-oxidants
helps with inflammation
1/4 cups contains more calcium than the same amount of milk
1/4 cup contains more potassium than a banana
5 Fast Facts About Himalayan Pink Salt:*
contains 84 minerals
unrefined, unprocessed, raw
promotes stable pH balance in cells
controls water levels in the body
aids digestion and facilitates better nutrient absorption
*These statements have not been evaluated by the Food and Drug Administration. This information is not intended to diagnose, treat, cure or prevent any disease.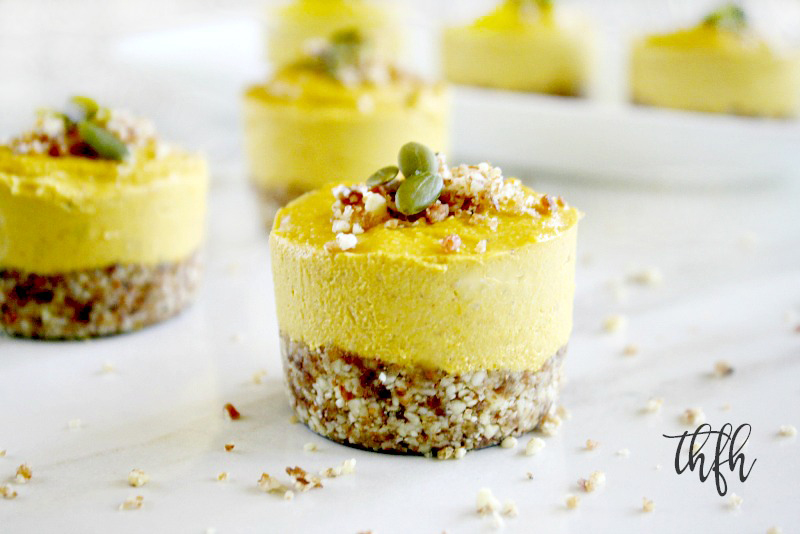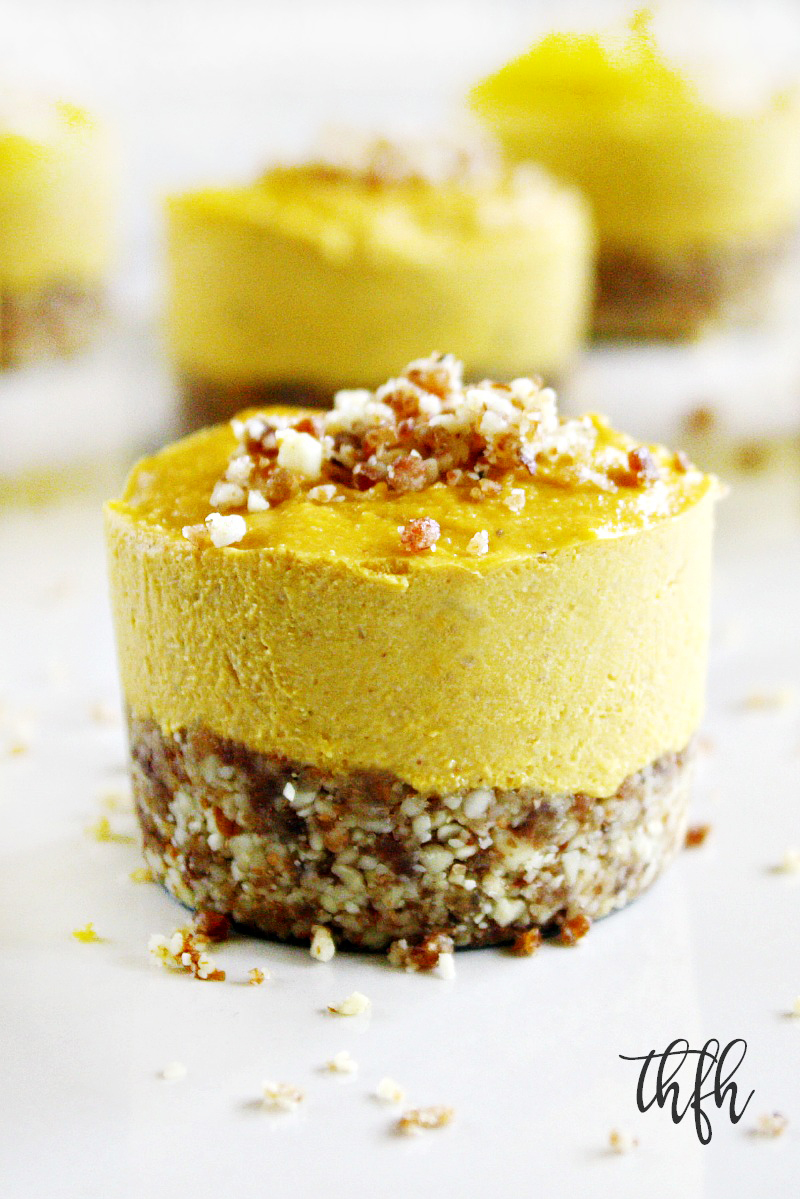 Tip #1:  You can substitute the nuts you use in the crust.  I've used both pecans and almonds and both were good.
Tip #2:  This recipe makes 12 mini-cheesecakes using this Norpro mini-cheesecake pan.  I haven't tried it yet in a bigger 8 – 9 inch cheesecake pan, so I don't know if it would be enough for a single, larger cheesecake.
Tip #3:  Technically canned pureed pumpkin is not considered an official "raw food" because it has been heated over 118 degrees, and this recipe would be considered an "almost raw" dessert for this reason.  However, it is still a no-bake/uncooked dessert.
Print
Gluten-Free Vegan No-Bake Mini Pumpkin Cheesecakes
Yield 12 mini cheesecakes
Vegan / Gluten-Free / Dairy-Free / Egg-Free / Soy-Free / Grain-Free / No-Bake / Paleo-Friendly / No Refined Sugar
Ingredients
For the crust:
For the filling:
Instructions
Prepare the crust:
Add all ingredients for the crust to a food processor and process until it becomes a wet, crumbly texture.
Divide the mixture between 12 mini-cheesecake holders, then press the mixture down firmly and evenly in each bottom.
Place the pan in the freezer to firm while you are preparing the filling.
Prepare the filling:
Optional:  Soak the cashews in filtered/purified water for 20-30 mintues, then rinse and drain.  This extra step will make the cashews soft and the mixture extra smooth and creamy.
Add all ingredients for the filling to a Vitamix and blend until it's well combined and smooth. Adjust the sweetener and/or spices to your preference.
Remove the cheesecake pan from the freezer and divide the filling between the 12 mini-cheesecake holders.
Return the cheesecake pan to the freezer for approximately 1 hour, or until they become firm.
Store in the freezer until ready to serve because they will get soft and lose their shape if left out at room temperature.
Remove them from the freezer about 10-15 minutes before serving so they can thaw slightly.
Optional: Add a dollop of homemade whipped cream topping, organic pumpkin seeds, or leftover crumbs from the crust.
Enjoy!
Notes
Get all your organic ingredients delivered straight to your door at up to 25 - 50% off retail by cutting out the middleman and retail markups with a Thrive Market Membership and save 15% off on your first order.
  The recipe and photographs for "Gluten-Free Vegan No-Bake Mini Pumpkin Cheesecakes" by Karielyn Tillman of The Healthy Family and Home website are licensed under a Creative Commons Attribution Non-Commercial No Derivatives 4.0 International License and cannot be used without my written permission.
How To Make Whipped Coconut Cream Topping (Vegan, Gluten-Free, Dairy-Free, Paleo-Friendly, No Refined Sugar)
Print recipe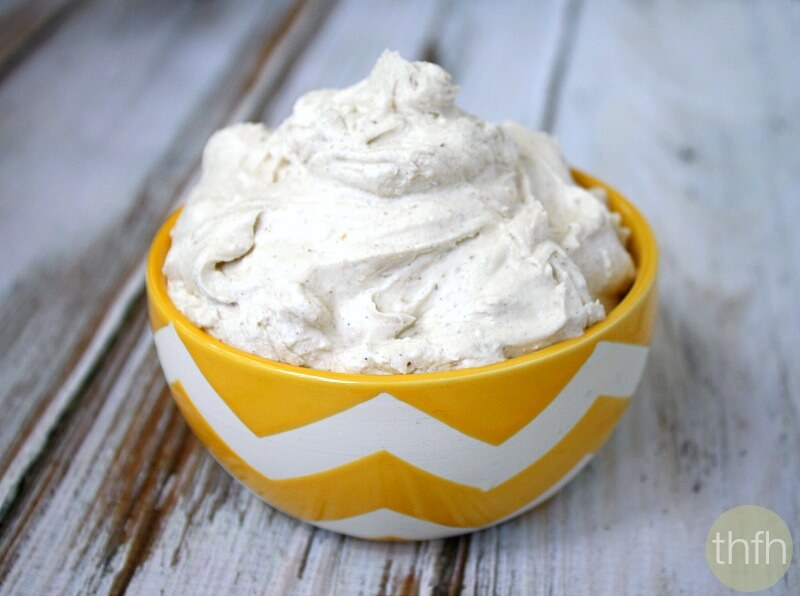 Ingredients
1 can organic full-fat coconut milk (13.5 ounce, unsweetened)
2 - 4 tablespoons organic unrefined granular sweetener
1 teaspoon organic vanilla bean powder (or organic vanilla extract)
Directions
Step 1
Put a can of full-fat coconut milk in the refrigerator overnight.

When you open the can, there will be a layer of thick cream on the top and coconut water on the bottom.

Scoop out the thick cream and put it in an electric mixer bowl (save the coconut water to make a smoothie).

Add the granular sweetener and vanilla of your choice (Note: vanilla bean powder will give it a slightly darker color and/or black specks. If you prefer a pure white color, omit the vanilla bean powder or use vanilla extract).

Mix on high setting with the "whisk" attachment until it becomes thick.

Use as a topping on fruit, granola, pancakes, desserts, parfaits, etc.

Enjoy!
Note

The recipe and photographs for "How To Make Whipped Coconut Cream Topping" by Karielyn Tillman of The Healthy Family and Home are licensed under a Creative Commons Attribution-NonCommercial 4.0 International License and cannot be used without my written permission.
Affiliate Disclosure: This post contains affiliate links. This means that if you were to make a purchase through one of these links, "The Healthy Family and Home" website would receive a small commission at no additional cost to you.
Amazon Disclosure: "The Healthy Family and Home" website is a participant in the Amazon Services, LLC Associates Program, an affiliate advertising program designed to provide a means for sites to earn advertising fees by advertising and linking to Amazon.com.
Thank you for your support of this website!