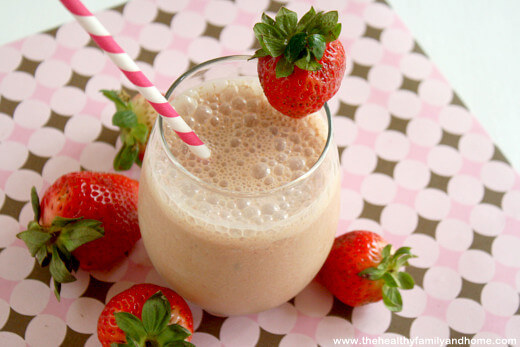 I first saw the Garden of Life "Raw Fit" individual serving smoothie packets at Whole Foods and grabbed one to try because I am a big "Garden of Life" fan.
I use the Garden of Life "Raw Protein" and Garden of Life "Raw Meal Replacement" interchangebly on a daily basis.
What I like most about them is that they are organic, raw, vegan, dairy-free, soy-free and have a sprouted protein blend.
The "Raw Fit" is a little different though, because it's more geared towards weight management and increased energy:
burns fat

satisfies hunger
fights cravings
low glycemic index
I like to add combinations of different things when I make my smoothies like raw maca powder, raw cacao, hemp seeds, Udo's 3-6-9 DHA Oil, hemp oil, chia seeds, fermented cod liver/butter oil, probiotics, coconut oil, etc.
But for this smoothie, all I added was fresh strawberries, homemade almond milk and "Raw Fit".
And in return, I got the following:
28 g of raw, vegan, sprouted protein blend (56% dv)

349 mg of naturally occurring magnesium (90% dv)
100 mg of naturally occurring calcium (10% dv)
5 mg of naturally occurring iron (10% dv)
120 mcg of chromium (100% dv)
4 g of fiber (16% dv)
The other great thing  like about it is that it has less than 1 g of sugar and only 8 net carbs, which is important to me because I'm trying to limit my consumption of sugar.
Here's some more information I pulled off their website:
RAW Fit™ – High Protein for Weight Loss!†
RAW Fit is a USDA Certified Organic, RAW, plant-based vegan high-protein powder that is an easy way to increase your protein intake. It has a mild, slightly sweet flavor that mixes great with your favorite food or beverage and contains RAW, organic and clinically studied ingredients to help you burn fat, maintain healthy blood sugar, boost your energy, lose weight and look great!†
Support healthy blood sugar levels and burn fat naturally with the power of Svetol® Green Coffee Bean Extract, RAW Food Created Chromium, Organic Cinnamon, and Organic Sprouted Grains†
Help regulate your cortisol levels and manage stress related cravings with RAW Organic Ashwagandha†
Build lean muscle mass, help repair it after work-outs and sustain it on a sensible meal plan with 28g of RAW certified organic plant protein—a complete protein with 13 organic sprouts and a biological value of 98.2%!
Naturally filling and satisfies hunger with RAW Organic Soluble and Insoluble Fiber from certified organic grains, seeds, legumes and fruits
Promotes healthy and comfortable digestion and elimination with live probiotics and enzymes†
Why RAW Really Matters:
Heat can denature proteins, reducing their availability to your body. But Garden of Life's USDA Certified Organic plant proteins are different; always gently produced at low temperatures, without any added fillers or carriers (like maltodextrin which can come from GMO corn) preserving their complete amino acid integrity and whole-food, Certified Organic, Non-GMO goodness.
True Sustainability
Garden of Life's commitment to sustainability begins with organic farming. CERTIFIED ORGANIC plant protein from sprouted grains and legumes is truly good for our planet, unlike conventional farming practices that utilize 150+ synthetic pesticides leaching into our water supply and soil, promoting genetically modified seed crops and reducing our planet's biodiversity. In addition to CERTIFIED ORGANIC farming practices, Garden of Life uses recyclable packaging, vegetable inks, sustainably farmed papers and 100% certified renewable wind energy credits to run our company's operations.
Needless to say, it was WAY WAY WAY cheaper to buy online from Amazon than from Whole Foods.
The same sized container was $49.99 at Whole Foods and $28.19 at Amazon with free shipping.
I love Whole Foods, but unless I'm in an emergency situation and need something that I can't wait a couple of days for, I never buy my nutritional supplements there because they are so much more expensive than buying online.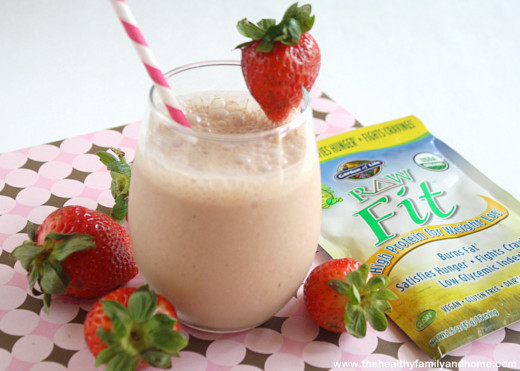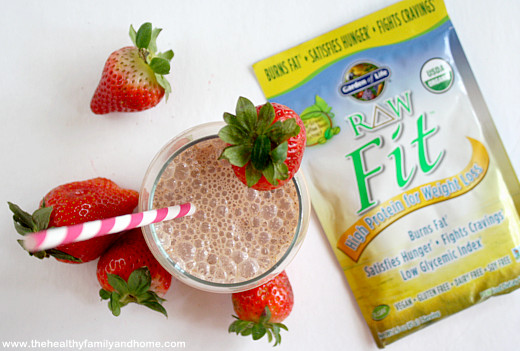 Tip #1:  If you have never tried one of the Garden of Life protein supplements before, they have a slight chalky/grainy texture to them, which doesn't bother me…but just letting you know.
Tip #2:  I used homemade almond milk to make mine, but I'm sure any other type of milk would be fine.  The directions say you could even use just plain water too.
Tip #3:  I used strawberries but you could make the smoothie with another type of fruit (blueberries, peach, bananas, etc) or even without fruit.
Strawberry Smoothie with "Raw Fit" from Garden of Life (Raw/Vegan/GF)
Print recipe
Ingredients
1 cup homemade almond milk
1 cup organic strawberries
1 scoop "Raw Fit" from Garden of Life
6 ice cubes
Directions
Step 1
Put all ingredients into a Vitamix and blend until smooth and well combined.

Enjoy!
Affiliate Disclosure: This post contains affiliate links. This means that if you were to make a purchase through one of these links, "The Healthy Family and Home" website would receive a small commission at no additional cost to you.
Amazon Disclosure: "The Healthy Family and Home" website is a participant in the Amazon Services, LLC Associates Program, an affiliate advertising program designed to provide a means for sites to earn advertising fees by advertising and linking to Amazon.com.
Thank you for your support of this website!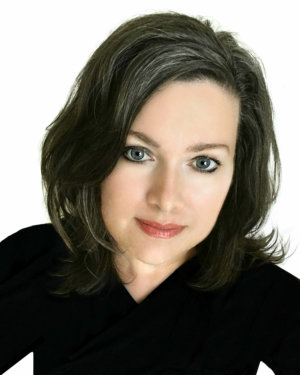 Hi, I'm Karielyn! I'm a cookbook author and creator of The Healthy Family and Home website. I specialize in creating easy, healthy plant-based recipes that are gluten-free + vegan and made with clean, real food ingredients that you can feel good about eating.