This plant-based Wild Blueberry and Mango Protein Smoothie is an easy and healthy recipe that can be made with either fresh or frozen fruit, contains no refined sugar and is Medical Medium compliant.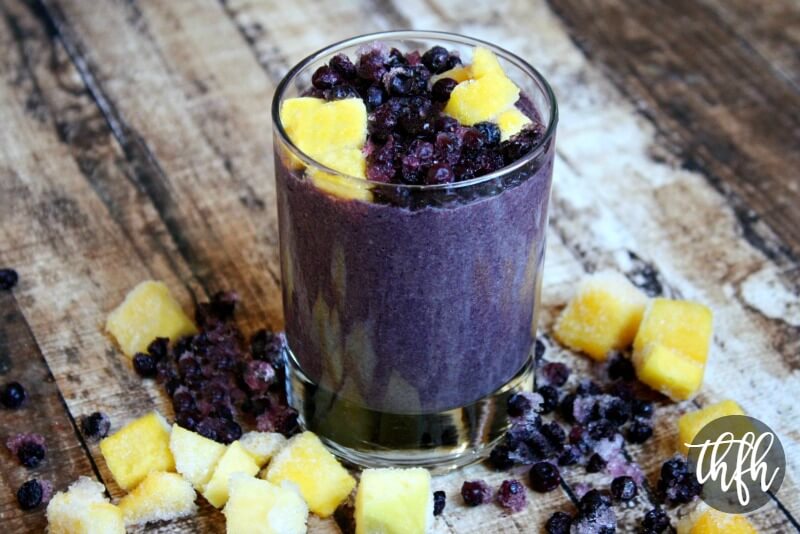 My Wild Blueberry and Mango Protein Smoothie is a great way to start off a new year of healthy, plant-based eating.
It's also the perfect opportunity to introduce you to "wild blueberries" and show you not only one of the ways you can use them, but how they differ from regular cultivated blueberries.
I always, always, always have at least 5 or more bags of frozen organic wild blueberries in my freezer at all times - especially after reading the book, "Liver Rescue".
Why? They make the perfect addition to smoothies, smoothie bowls, and other desserts.
And they just taste better than regular blueberries.
But there's a good reason why too.
Are Wild Blueberries Better Than Cultivated Blueberries?
Yes, they are!
Wild blueberries have 2x the antioxidants than regular cultivated blueberries and more antioxidants than cranberries, pomegranates, and even blackberries.
They are frozen fresh within 24 hours of harvest, so flavor and nutrition are at their peak.
You won't get the same from regular blueberries that have traveled many miles to sit in the produce section at your grocery store before you buy them.
While regular cultivated blueberries are always good to eat because they are plant-based fresh fruit, you should never pass them up if it's all that is available.
But when you have a choice, wild blueberries are better nutrition-wise and for healing benefits.
Here is an excerpt about wild blueberries from Medical Medium's Liver Rescue book, which I highly recommend:
"Not only do wild blueberries have the ability to grab onto plenty of troublemakers (toxins), they also hold onto them as they leave the liver, in a way that most other healing foods cannot. The pigments in wild blueberries have the ability to saturate deep into liver cells and cross cell walls and membranes inside the liver, spreading their blue everywhere. Wild blueberries enhance the intestinal tract, feeding good bacteria there, which benefits the liver greatly". - Medical Medium - Liver Rescue
Is This Wild Blueberry and Mango Protein Smoothie Healthy?
In my opinion, yes!
Let's look at this highly nutrient-dense smoothie recipe I created that's made with these tiny blueberries to start your day off right.
I added my usual smoothie favorites that are nutrient-dense and provide everything you need to keep you satisfied and full and energized all morning long.
We've got:
High antioxidant wild blueberries
High Vitamin C mango
The superfood morninga (read the 5 fast facts below!)
A raw, organic plant-based protein powder with organic superfoods
Homemade almond milk made with 100% raw, organic unpasteurized almonds
Sprouted ground flax seeds with plenty of healthy omega's
Are Protein Powders Healthy?
It depends on what type of protein powder you are using.
I see a lot of judgment and prejudice online in regards to protein powders, so let me share a little bit about the one I use so you can learn about why it's a clean + healthy protein you can add to your smoothies.
Most protein powders on the market are not healthy and should be avoided.
They are highly processed, some contain GMO ingredients, some are not vegan and they contain unnecessary ingredients.
The brand I use (Epic Plant-Based Protein is an ultra-clean, plant-based protein that is organic, raw, vegan, gluten-free, dairy-free, non-GMO and has whole, real superfood ingredients like these:
EPIC Blend (Yellow Pea, Sunflower Seed, Pumpkin Seed, Sacha Inchi, Cranberry Seed)
Vanilla Lucuma Blend (Lucuma Fruit, Cinnamon, Ginger Root, Vanilla Bean)
Coconut Crystals
Heirloom Red Banana
Jerusalem Artichoke
Baobab Fruit
Himalayan Pink Salt
Stevia Leaf
and it has a complete amino acid profile making it a perfect vegan protein source!
So don't hesitate to add a high-quality organic plant-based protein powder to your smoothies to increase the nutritional profile, just make sure you avoid the highly processed mainstream versions.
This Wild Blueberry and Mango Protein Smoothie is a completely 100% raw smoothie using real, whole food ingredients with a superior nutrient profile.
What Ingredients Do I Need To Make This Wild Blueberry and Mango Protein Smoothie?
Here's a list of the basic ingredients needed to make this recipe.
Make sure you look over the recipe below for a complete list of ingredients + directions.
5 Fast Facts About Wild Blueberries:*
2x anti-oxidants than regular cultivated blueberries
higher anti-oxidants than cranberries, pomegranates or blackberries
low glycemic food
quick frozen to lock in nutrition and flavor
3/4 cup provides 4% DV of iron
5 Fast Facts About Mango:*
super high in vitamin A at 25% RDA
good source of copper at 12% RDA
excellent anti-oxidant
contains 46% RDA of vitamin C
contains 10% RDA of vitamin B6
organic, raw, vegan, gluten-free, non-GMO
contains 19 grams of ultra-clean plant-based protein per serving
one serving contains 10% iron
contains 7 organic superfoods
multi-source protein with a complete amino acid profile
17 x the calcium of milk
25 x the iron of spinach
10 x the vitamin A of carrots
9 x the protein of yogurt
15 x the potassium of bananas
5 Fast Facts About Ground Flax Seeds:*
1 tablespoon provides 2,850 mg omega-3 and 900 mg omega-6
1 tablespoon = 3 grams of fiber
1 tablespoon = 13% DV of magnesium
decreases enzyme inhibitors
better bio-availability than regular ground flax seeds or flax oil
5 Fast Facts About Almonds (Almond Milk):*
helps to regulate cholesterol and blood pressure
energy booster
loaded with calcium and fiber
1/4 cup contains 8 grams of vegan protein
high in anti-oxidants
*These statements have not been evaluated by the Food and Drug Administration. This information is not intended to diagnose, treat, cure or prevent any disease.
Dietary Substitutions for Wild Blueberry and Mango Protein Smoothie:
Medical Medium: The ingredients in this recipe are Medical Medium compliant with the exception of the Epic Plant-Based Protein | Vanilla Lucuma - not because of the ingredient list, but because it's not a "real food/whole food" or listed in the Medical Medium protocol. This ingredient is something you will need to review and decide if you want to include it in your smoothie. I am comfortable using it on an occasional basis as a treat in a recipe.
Lectin-Free: This recipe is not Lectin-Free compliant.
Vegan + Gluten-Free: This recipe is 100% Vegan + Gluten-Free.
You can make this recipe with homemade almond milk using a Vitamix. For more recipes that you can make with a Vitamix, visit my Vitamix Recipe Index page for more inspiration. I like to make my own homemade almond milk because I have control over the quality of almonds used (organic, raw, unpasteurized) and there are no added ingredients like the ones found in boxed almond milk, even the organic ones.
I prefer to use frozen wild blueberries and mango because it gives the smoothie a thicker, icy texture, but you can also use fresh fruit. Just add 6-7 ice cubes to give it an icy texture.
Want More Healthy Plant-Based Vegan Smoothie Recipes?
Check out these: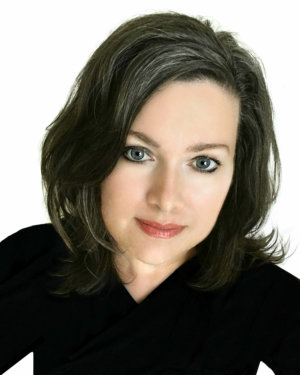 Hi, I'm Karielyn! I'm the published cookbook author of CLEAN DESSERTS and content creator of The Healthy Family and Home website since 2012. I specialize in creating easy, healthy plant-based recipes that are gluten-free + vegan and made with clean, real food ingredients that you can feel good about eating.