Even though this Sweet Tahini and Matcha Spread doesn't look very exciting…the taste is!
I've made several recipes with it, but the possibilities are unlimited!
You could spread it on your favorite bread, bagel or toast, drizzle it over a salad, add it to a smoothie or try it in one of my new recipes…coming soon!
Now just so you will know what to expect, you would really need to like the taste of tahini to enjoy this because…it's tahini, but it's sweet if that helps.
And I added the matcha green tea powder to give it extra antioxidants, without overly changing the flavor.
Tahini is just ground up sesame seeds and it's really easy (and cheaper!) to make at home using only a food processor.
Some previous recipes I've made with tahini are Blueberry Mango Salad with Tahini Ginger Dressing, Roma Tomato and Tahini Dressing and Coconut and Pecan Granola with Goji Berries.
Want more healthy nut butter-type recipes?  Check out Home To Make Homemade Almond Butter, Crunchy Cacao Nib Chocolate Almond Butter, Vanilla Maple Cashew Butter or my Clean Eating Cookbook with an entire chapter of 20 healthy, clean eating staple recipes like this one that you will love!
5 Fast Facts About Tahini (Sesame Seeds):*
high in calcium at 35% RDA
excellent anti-oxidant
lowers cholesterol
reduces inflammation
high in phytosterol
5 Fast Facts About Maple Syrup:*
contains manganese and zinc
super high in anti-oxidants
helps with inflammation
1/4 cup contains more calcium than the same amount of milk
1/4 cup contains more potassium than a banana
5 Fast Facts About Match Green Tea:*
137 times the anti-oxidants of brewed green tea
can help to boost metabolism
excellent source of anti-oxidants
increase focus
can help to improve skin health
5 Fast Facts About Coconut Oil:*
super high in lauric acid
rich in antioxidants
contains natural microbial and anti-bacterial agents
helps to improve metabolism
improves cholesterol levels
*These statements have not been evaluated by Food and Drug Administration.  This information is not intended to diagnose, treat, cure or prevent any disease.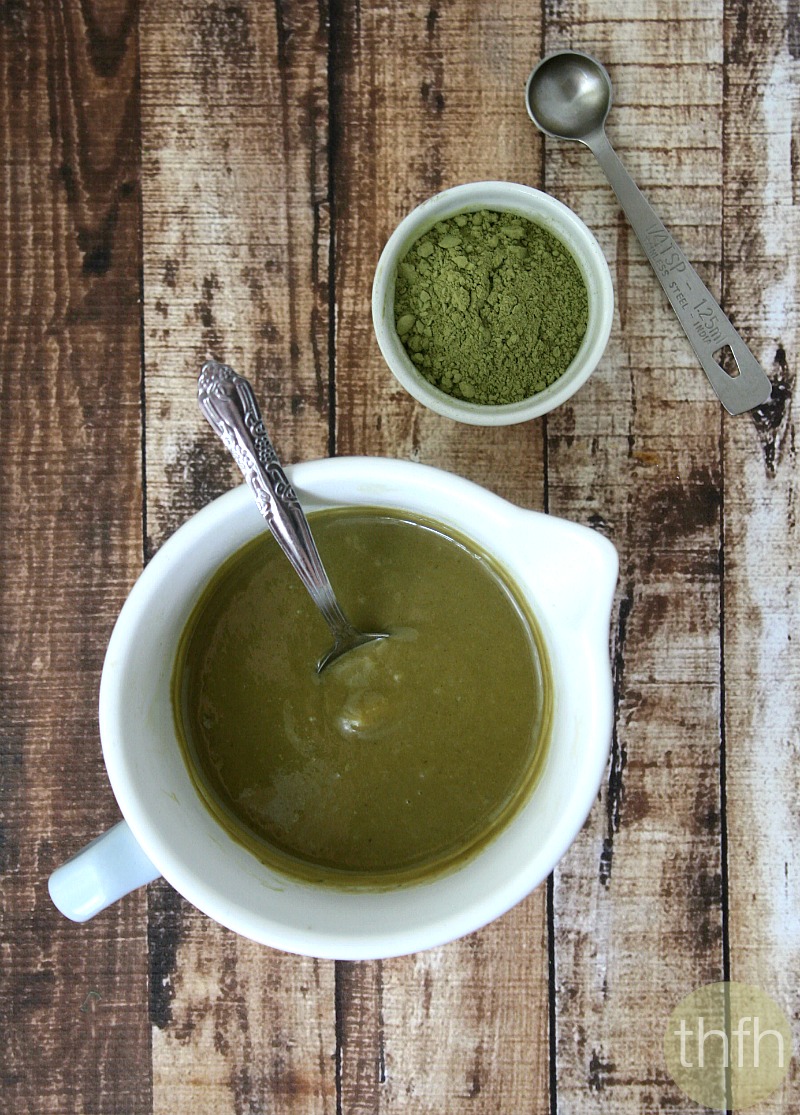 Tip #1:  You can make your own tahini with raw, organic sesame seeds and a food processor…it's so easy to do and cheaper than buying store-bought!
Tip #2:  You will need to store the tahini in a BPA-free air-tight container in the refrigerator, and it may become hard (due to the coconut oil), but just leave it out on your counter top at room temperature before using, or put it in a bowl of warm water to soften it up.
Sweet Tahini and Matcha Spread ("Almost" Raw, Vegan, Gluten-Free, Dairy-Free, Paleo-Friendly, No Refined Sugar)
Print recipe
Ingredients
3/4 cups organic tahini
3 tablespoons organic maple syrup
2 tablespoons organic coconut oil (melted/liquid)
1 teaspoon organic matcha green tea powder
Directions
Step 1
Add all ingredients to a small bowl and stir until well blended.

Store in an air-tight glass container in the refrigerator.

You will need to let it sit out at room temperature or sit it in a bowl of warm water to soften it (due to the coconut oil) before using.

Enjoy!
Note
This recipe will make approximately 3/4 cup.

The recipe and photographs for "Sweet Tahini and Matcha Spread" by Karielyn Tillman of The Healthy Family and Home are licensed under a Creative Commons Attribution-NonCommercial 4.0 International License and cannot be used without my written permission.
Affiliate Disclosure: This post contains affiliate links. This means that if you were to make a purchase through one of these links, "The Healthy Family and Home" website would receive a small commission.
Amazon Disclosure: "The Healthy Family and Home" website is a participant in the Amazon Services, LLC Associates Program, an affiliate advertising program designed to provide a means for sites to earn advertising fees by advertising and linking to Amazon.com.