This Clean Eating Tomatillo and Jalapeno Dip is a perfect and light dip for the summer, is super easy to make and is ready in just a few minutes.
When I posted the review for Simply 7 Snacks back in March, I noticed that on the back of each bag, there was a dip recipe that paired perfectly with the variety of chips that were in that particular bag.
This Tomatillo and Jalapeno Dip recipe was on the back of the Quinoa Sea Salt Chips and the simple, lightly salted quinoa chips were a nice alternative to traditional corn chips.
You may be wondering…what is a tomatillo?
Well, it looks like a small green tomato but it has a think paper-like wrapping around it and the actual tomatillo has a sticky film on it underneath the wrapping.
They are rather small in size and even look like a tomato on the inside too once they are cut open.
You can even roast them before using them, but I like to use mine raw, especially when making a salsa.
Want more healthy dip recipes?  Check out Spinach and Avocado Dip, Fresh Herb and Tahini Pesto, Healthy Artichoke Dip or my Clean Eating eCookbook with an entire chapter of 20 healthy, clean eating dips and dressings just like this one that you will love!
5 Fast Facts About Tomatillos:*
excellent anti-oxidant
helps to reduce coronary heart disease
2 small tomatillos provide 15% dv of vitamin C
rich source of vitamin K, potassium and folate
contains more minerals per weight than a tomato
5 Fast Facts About Onions:*
rich source of healthy sulfur compounds
excellent for cardiovascular health
inhibits bone loss in women
reduces blood pressure
lowers blood cholesterol levels
5 Fast Facts About Limes:*
regulates blood sugar levels
lowers high blood pressure
anti-bacterial and analgesic
anti-viral
helps to lower cholesterol levels
5 Fast Facts About Cilantro:*
contains powerful anti-oxidants
anti-inflammatory
helps to remove toxins and heavy metals
promotes healthy liver function
helps to control blood sugar
5 Fast Facts About Extra-Virgin Olive Oil:*
lowers blood cholesterol levels
rich in anti-oxidants
improves bone mineralization and calcification
excellent protection from heart attack and stroke
contains anti-inflammatory benefits
5 Fast Facts About Apple Cider Vinegar:*
anti-viral, anti-bacterial, anti-fungal
maintains proper pH balance in the body
regulates blood pressure
helps to reduce bad cholesterol
loaded with potassium
5 Fast Facts About Garlic:*
regulates blood sugar levels
lowers high blood pressure
contains anti-bacterial and analgesic properties
anti-viral
helps to lower cholesterol levels
5 Fast Facts About Jalapenos:*
excellent antioxidant
thermogenic food
anti-inflammatory agent
high in vitamins A and C
contains anti-bacterial properties
5 Fast Facts About Himalayan Pink Salt:*
contains 84 minerals
unrefined, unprocessed, raw
promotes stable pH balance in cells
controls water levels in the body
aids digestion and facilitates better nutrient absorption
*These statements have not been evaluated by Food and Drug Administration.  This information is not intended to diagnose, treat, cure or prevent any disease.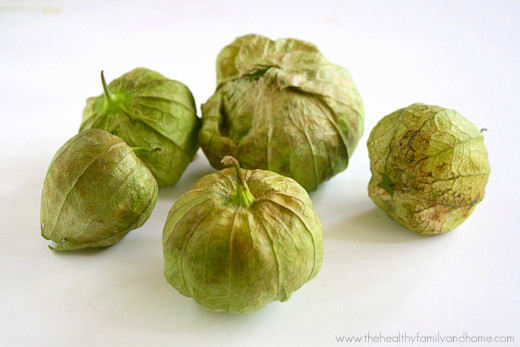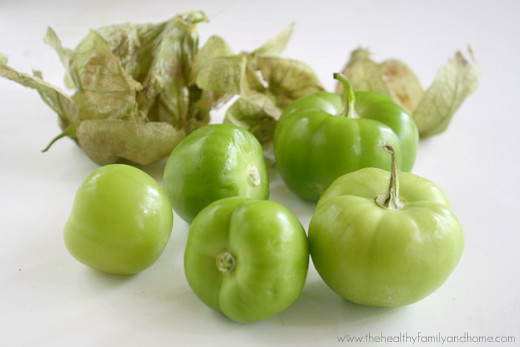 Where to Buy:  If you have trouble finding any of the ingredients to make this recipe, you can order online from Amazon and have them delivered straight to your door!
Tip #1:  Start with the lower amounts of garlic, jalapeno and lime juice and add if you want more.  I used an entire jalapeno and it was very hot.  I also used the full amount of lime juice because I like the tangy taste, but if you don't just use the lesser amount.  Also, I forgot to add the Himalayan salt and I found it didn't really need any, but feel free to add some if you prefer.
Tomatillo and Jalapeno Dip (Raw, Vegan, Gluten-Free, Dairy-Free, Paleo-Friendly)
Print recipe
Ingredients
6 tomatillos
1 organic onion
1/2 cup organic cilantro
1/8 - 1/4 cup organic lime juice (freshly juiced)
1/3 cup organic extra-virgin olive oil
2 tablespoons organic apple cider vinegar
1/2 - 1 organic jalapeno
1 - 2 organic garlic (freshly crushed)
Himalayan pink salt (to your preference)
Directions
Step 1
Add all ingredients to a food processor and pulse until everything is chopped into small pieces.

Adjust seasonings to your preference.

Enjoy!
Note
This recipe will make approximately 2 - 4 servings.
Recipe source: Simply 7 Quinoa Chips (Sea Salt) packaging.

The photographs for "Tomatillo and Jalapeno Dip" by Karielyn Tillman of The Healthy Family and Home are licensed under a Creative Commons Attribution-NonCommercial 4.0 International License and cannot be used without my written permission.
Affiliate Disclosure: This post contains affiliate links. This means that if you were to make a purchase through one of these links, "The Healthy Family and Home" website would receive a small commission.
Amazon Disclosure: "The Healthy Family and Home" website is a participant in the Amazon Services, LLC Associates Program, an affiliate advertising program designed to provide a means for sites to earn advertising fees by advertising and linking to Amazon.com.